The next production at The Guild Theatre is Managing Carmen, Australian playwright David Williamson's 2012 comedy.
Brent (played by Russell Godwin) is a young, handsome AFL star. Brent's ruthless manager Rohan (David Hines) is loud-mouthed, abrasive and loves all the money that Brent is making him. Rohan is being offered hundreds of thousands of dollars for advertisements with Brent's endorsement but he cannot put Brent in front of the cameras; Brent is a completely wooden actor and cannot learn to loosen up.
Desperate, Rohan hires Jessica, a consultant psychologist (played by Donna Randall) to 'unlock' Brent so he can avail of these lucrative advertising deals. Jessica discovers that Brent has a surprising secret; a quirky addiction that could be enough to ruin Brent's AFL career, as well as his already rocky relationship with his self-absorbed trophy girlfriend, Clara (Caitlin Gleeson). To make matters worse, the notorious sports journalist Max Upfield (Chad Smith) senses a story and is continuously digging for clues as to what might be going on with Brent.
David Williamson is a name that almost everyone in Australia with any interest in theatre will have heard. He has been writing plays since the 1960s, including The Removalists, Travelling North, Brilliant Lies and When Dad Married Fury.
Managing Carmen will be directed by Chris Searle. whose wealth of directing experience includes Williamson's When Dad Married Fury at The Guild in 2015.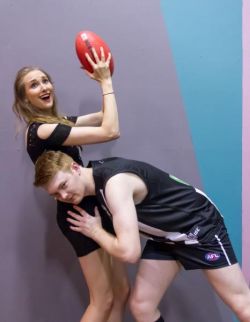 Russell Godwin and Donna Randall, who shared the stage in The Guild Theatre's May 2018 production of A Midsummer Night's Dream (playing Bottom and Titania/Hippolyta, respectively) will again be sharing the stage with each other. Russell also appeared in The Guild's final production of 2018, Silent Night, Lonely Night.
Caitlin Gleeson was last seen on the Guild stage in 2017, playing American air hostess Gloria in the farce, Boeing-Boeing. David Hines and Chad Smith are established performers at the Guild, having performed in many plays throughout the years.
This modern, fast-paced comedy contains 41 scenes, a great deal of original film content and original music composed by cast member David Hines. Come along to the second production in our 2019 season and get caught up in this Australian comedy created by Australia's most well-known playwright.
Please note that there is some strong language in the play.
SEASON: May 17th - June 8th 2019
DIRECTOR: Chris Searle
CAST: Caitlin Gleeson, Russell Godwin, David Hines, Donna Randall and Chad Smith
TICKETS: Ticket Prices include refreshments and programme.
▪Adults ... $25
▪Concessions ... $20
▪Theatre Parties (20 people or more) ... $20
▪Special prices for Wednesday Nights – contact bookings.
BOOKINGS:
9520 7364
www.guildtheatre.com.au/reserve-tickets
More Reading
Community Theatre Seasons 2019