With its April 2017 production of The Diary of Anne Frank, Adelaide Repertory Theatre relives the enduring and tragic story of a brave teenager making life and death decisions beyond her years in war-torn Europe. Lesley Reed reports.
At the end of WWII in Europe the Allies were at last able to release the living skeletons that remained of the traumatised souls imprisoned in Nazi death camps and finally discover the truth; not only had vast, almost unimaginable numbers of Jews died there, but thousands more had been murdered or displaced at the hands of the Gestapo in cities and ghettos throughout occupied Europe. The world had now come to realise the true shameful enormity of Hitler's so-called Jewish Solution.
Among the Jews caught up in this unspeakable tragedy were members of Otto Frank's family, including his daughter, Anne. The Franks had always considered themselves loyal Germans, Otto even rising to the rank of Reserve Officer for the German army during WWI, but in 1933 when Hitler became Chancellor, it was decreed Jews were not to associate with Christians. Soon after this, the Franks emigrated to Holland. Otto did well, manufacturing jam while his two girls attended school. All this was about to change in 1940 when war and German occupation impacted everything. Jews in Holland, too, were now in great danger.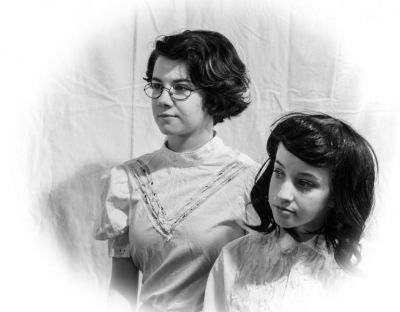 Bravely, Anne kept a secret diary of the events that took place after everything changed for the family and this diary was eventually released to the public by her father. With his initially reluctant gesture the world was privy to Anne's private thoughts. The Diary of Anne Frank soon became a famous and poignant encapsulation of the courage of one family during the tumultuous history of the war years.
The 1955 stage adaptation of The Diary of Anne Frank was written by Frances Goodrich and Albert Hackett and separately revised in 1997. It has been produced all over the world, including Adelaide Repertory Theatre's upcoming production, directed by Geoff Brittain and opening on April 6 at the Arts Theatre.
The play takes place when five adults and three children go into hiding in the annexe above Otto Frank's workplace. At first Anne sees this is a bit of an adventure. When the family has endured the stifling conditions for two years the mood changes. There is regular quarrelling. There's an ever-present threat from overhead bombings together with potential discovery of their hiding place by the many German soldiers who roam the streets. Even so, hopes are raised with talks of an Allied invasion.
With the aid of award-winning designer Ole Weibkin's set, the audience will feel at one with the family as they learn to exist and interact in desperate circumstances within a confined space.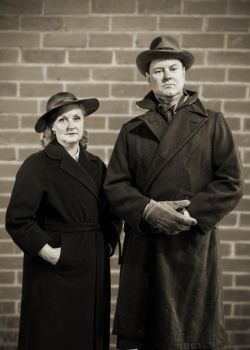 Director Geoff Brittain has secured a strong cast for the production, including Henny Walters (Anne), Tim Williams (Mr Frank), Nicole Rutty (Mrs Frank), Genevieve Venning (Margot Frank), Tim Taylor (Mr van Daan), Therese Hornby (Mrs van Daan), Ronan Banks (Peter van Daan), Chris Leech (Mr Dussel), Stuart Pearce (Mr Kraler) and Esther Michelsen (Meip Gies).
For such a young actor, Henny Walters brings considerable experience to her role as Anne Frank. Henny is a year 10 student at St Ignatius College and recently was cast as Frenchy in the College's production of Grease. Between shows, Henny dances for Xcel Dance Studios and won the Best Stage Presence award in 2014. She also performs with Pelican Productions.
Henny made her professional stage debut in 2013, where she formed part of the children's ensemble in TML Enterprises' production of Chitty Chitty Bang Bang. In 2014 she played Ariel in Pelican Production's award-winning The Little Mermaid and Brigitta in the Gilbert and Sullivan Society's The Sound of Music.
She later returned to the Festival Theatre in the opera Amahl and the Night Visitors, produced by Karen Lettice and Emma Knights Productions.
In 2015, Henny played Lucy McFadden in the award winning The Goodbye Girl, presented by the Therry Dramatic Society and was nominated for the Best Young Actor award by Adelaide Theatre Guide for her performance. She has also performed as Dinah Lord in The Philadelphia Story, again with the Therry Dramatic Society.
I asked Henny what elements of Anne Frank's character have impacted her personally.
"Anne is a very complex character," she said, "and different sides of her surface throughout the play. There are many elements of Anne's personality that intrigue and inspire me, such as her active mind and the way she thinks. But of all the qualities I admire, I love her strength, which sometimes causes friction between her and the others in the annexe."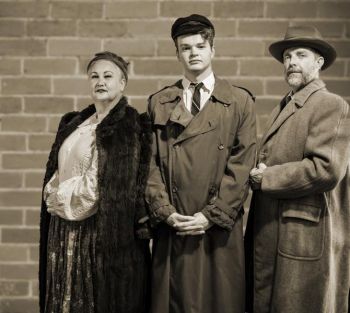 Henny also talked about how Anne was both different and similar to other teenagers, including those of today. "As she says in the play, Anne has to face 'problems that no other people our age have ever had'. Although she displays elements of a typical teenager today, such as clashing with her mother and discovering the young adult she is becoming, she is forced to mature more quickly due to her circumstances, making her maybe more aware and connected," Henny said. "Like many teenagers, she often feels she is misunderstood by adults."
Henny's approach to playing Anne shows she's put much thought into the character. "A challenging factor of playing this role is bringing Anne justice while trying to give the most accurate representation of the person she was," she said. "This means attempting to convey the 'real' Anne to the audience, not the saint-like figure she is often portrayed as being. The fear and emotions Anne and her family would have experienced must have been unimaginable, so for me, delving deeper within myself to best represent these emotions can be challenging at times."
The Diary of Anne Frank is testament to the sentiment 'Never Forget'. By attending Adelaide Repertory Theatre's production of this immersive story we help ensure Anne's brave legacy lives on through her words and that we never forget those times…nor allow them to be repeated.
WHERE: Arts Theatre, 53 Angas Street, Adelaide
WHEN: April 6 – 8 and April 19 – 22 at 8pm with a 2pm matinee April 22.
BOOKINGS: http://adelaiderep.com /or phone 8212 5777
More Community Theatre Reading