Boublil & Schönberg's legendary musical Les Misérables returns to the Sutherland Entertainment Centre this September.
Director (and Australian Musical Theatre royalty) Geraldine Turner OAM, says of Les Misérables, "I think it is so popular because people are very familiar with it, as it has been revived so often. The universal themes in Les Mis of redemption and goodness resound with all audiences. It's such a powerful story. It's messages of hope, love and the triumph of the human spirit transcend decades with its powerful characters who have left their indelible footprint on the stages of countless theatres over many years", Geraldine said.
This has been a mammoth project for the creative team. "There are over 70 cast members including our wonderful principals. I have also added some children throughout, as I want to create a world in which these characters reside. I am trying to be faithful to the text, whilst putting my spin on a few aspects of the story," Geraldine said. She went on, "I think Les Misérables is so popular because people are very familiar with it. Mind you, there are many wonderful shows that don't receive this sort of love, but deserve to. Of course, the universal themes in Les Mis of redemption and goodness resound with all audiences. It is a powerful story."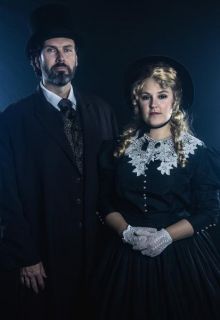 The thrilling score is supported by a professional orchestra and brought together under the baton of Musical Director, Mark Reid. "The sound this cast produces knocks me off my feet," Mark said, "And I've heard this show sung many times, on many stages. This cast is world class."
Andrew Symes plays the iconic role of Jean Valjean. "I'm so thrilled to be playing Valjean in this production of Les Misérables," Andrew said. "With arguably the most breathtaking score in musical theatre history, this show remains iconic and relevant today because it deals with themes of love, courage, the human spirit and the difficult choices we make which define who we are and what we stand for."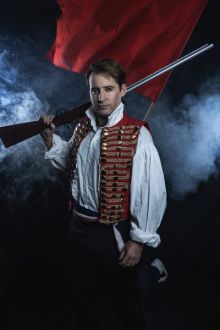 Les Misérables holds a very special place in the heart of Kyle Nozza, who plays the romantic Marius. "I have always loved Les Mis and I met my partner when I was in a production of it seven years ago!" Kyle said. Jennifer Parbery plays the tragic Fantine and told us that this role has been on her bucket list for a very long time.
Rebecca Carter plays the role of Cossette. "I have been performing in musicals since the age of eleven and have been lucky enough to play some amazing roles including Christine in Phantom of the Opera and Laurey in Oklahoma! To have the opportunity to play the role of Cossette is a dream come true!" said Rebecca.
Cheryl O'Brien plays the evil Madame Thenardier. Cheryl was in Miranda Musical's first production of Les Misérables in 1993 as an ensemble performer. "26 years later, with more than 20 shows under my belt, I am thrilled to have been cast in the role of the long-suffering sidekick to Monsieur Thenardier, played by the amazing Gavin Leahy," Cheryl said.
When asked why audiences should see this production, director Geraldine Turner said, "For starters, the singing is exemplary. My cast is splendid. I am storytelling all the while, so there will be an authenticity. It is a new production, so the settings are new, but you will feel the familiar emotions as you watch and listen. Fans of the show will be pleased. If you have never seen it, then definitely come and see this production".
LES MISÉRABLES
SUTHERLAND ENTERTAINMENT CENTRE
SEPT 25 – 29
TICKETS www.mirandamusicalsociety.com.au
More Reading
Community Theatre Seasons 2019