Lane Cove Theatre Company on Sydney's North Shore presents Bare – the Musicalin May 2019. The contemporary cult classic 'coming of age' pop opera is set at a Catholic boarding school in the early 2000s.
Contemporary LGBT pop-rock musical Bare follows a group of students at a Catholic boarding school as they grapple with issues of sexuality, identity and the future.
The Off-Broadway musical takes audiences on an emotional musical journey. Peter and Jason have fallen in love, but they struggle with the fears of revealing their true selves to such an unforgiving world.
​With a unique sung-through pop score, heart-pounding lyrics and a cast of bright young characters, Bare rings with the sounds of youthful repression and revolt. Bare is a provocative, fresh and utterly honest look at the dangers of baring your soul … and the consequences of continuing to hide.
Directed by Kathryn Thomas (Holding the Man, together with Isaac Downey, musical direction by Steve Dula and choreography by Emily Dreyer, Bare features a cast of 17 performers - Matt Shepherd, MacKinnley Bowden, Edan McGovern , Lucy Roschel, Carmel Rodriguez, Chris O'Shea, Adrian Sit, Kathryn Solomau, Rosemary Rodriguez, Katherine Nhea, Mitchell Trott, Lachlan Ceravolo, Kristin Kok, Anthony Mason, Ricki Jade, Rosy Chen and Elisa Lam.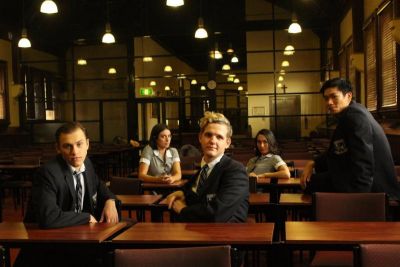 Kathryn says Bare is incredibly important within the current social climate especially regarding attitudes towards the queer community and also mental health.
"I love this show because it captures vulnerability and struggle within all facets of adolescence. From sexuality to body image, these characters remind us what it is to be a teenager and how hard it is to love yourself let alone another person. There is also much fun to be had with this show in its goofiness and joyful soul music.
Isaac is especially excited to share a new story that resonates acceptance, blind faith and love.
"As a gay man having gone through the Catholic schooling system myself, a lot of the content hit hard: what if Peter or Jason were me? With that in mind I wanted to focus on delivering from our actors the authenticity of that high school experience and to outline the honesty and humour of those people you may not know are in your corner."
BARE – THE MUSICAL
Music by Damon Intrabartolo, Lyrics by Jon Hartmere Jr
Directed by Kathryn Thomas and Isaac Downey
Musical Direction by Stephen Dula
10th-25th May, 2019 | Fri & Sat 7.30pm, Sun 2pm
The Performance Space @ St Aidan's
1 Christina Street, Longueville
Tickets $27 / $22 conc / $20 groups $10+ / Add $6 cheeseplate
Online bookings www.trybooking.com/ZFCV
More Reading
Community Theatre Seasons 2019