Tribe Youth Theatre's members from seven Bendigo secondary schools are gearing up for some exciting and entertaining performances in the September school holidays.
The Broadway musical Barnumtells the story of Phineas Taylor Barnum, an American remembered largely for being a 19th century circus owner. But before he was involved with the circus, he chalked up a lifetime of showmanship.
Director, Vanessa Bate, said that the cast are relishing their experience rehearsing this colourful and vibrant musical.
"Barnum is a demanding show. We have a double story set, 35 cast members juggling, twirling and jumping through hoops, and a 25-piece band. A lot of work by a lot of people has gone into this show, and we can't wait to perform it for a live audience"
Historically, PT Barnum was an entrepreneur. He saw that the public would pay to see curiosities and he exploited that, recruiting Siamese twins, albinos, uncommonly tall and short people, and creating sideshow attractions such as the FeeJee mermaid, which was proved much later to be a concoction of a monkey and a fish skeleton. Once, he famously showed a 'cherry-colored cat', which ticketholders soon discovered, was a black cat. The explanation offered was that "some cherries are black". This was Barnum's art of humbug.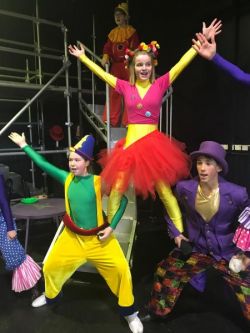 Tribe Youth Theatre offers secondary students the opportunity to participate in theatre programs outside of their school. Tribe organiser, Kristen Beever, said that the Barnum cast are savouring their rehearsals.
"In some cases, these students have just one class per week of performing arts at school and if you're a die-hard enthusiast, that's not enough.
"This cast are rehearsing 3 times per week, learning voice, dance, acting and circus skills, with like-minded peers – it's a hive of creativity.
"As with all performance training they are developing confidence and self-expression and the more they get, the better they become," she said.
Tribe's Barnum plays for 8 shows during the school holidays.
Performances on September 28, 29, 30, October 1, 5, 6, 7, 8.
Tickets are priced from $12 to $20. Family (4) $55
Tickets available from www.trybooking.com/RIMI
More Community Theatre Reading
Community Theatre Seasons 2017