Castle Hill Players present Dark Voyager by John Misto at the Pavilion Theatre April 5-27.
Hollywood, 1962. Bette Davis and Joan Crawford are at war. Between them they've terrorized movie studios for over three decades, married nine husbands, made two hundred films and guzzled enough booze to fill the Hoover Dam. Now their careers are on the skids and Bette and Joan are locked in a titanic struggle for top-billing on their latest movie. When America's most feared columnist, Hedda Hopper, invites them to supper, they call an uneasy truce. But the evening turns chaotic when an unexpected guest arrives – Marilyn Monroe, drunk, drugged, disheveled, the face of "new" Hollywood. Soon Marilyn is drawn into the Davis-Crawford war, and what begins as a game becomes a battle for survival. Will old age and treachery defeat youth and courage? Or is there more to Marilyn Monroe than anyone could have guessed?
Join these legendary ladies when Castle Hill Players continue their 2019 season with Dark Voyager, complete with something for everyone's taste: singing, dancing, party-games… and just a little bit of murder!
John Misto is a multi-award-winning Australian stage and screen writer whose other plays include Harp on the Willow, Shoe-horn Sonata, Gossamer and Sky. His many TV credits include the acclaimed Heroes' Mountain – The Rescue of Stuart Diver, which won the Gold Plaque Award for Best Feature Length Telefilm Drama at the 2002 Chicago International Film Festival and was the first Australian telemovie ever to be purchased by the US Cable Network, Showtime. John's awards include the Rodney Seaborn Playwrights' Award, the NSW Premier's Literary Award and several AFI and AWGIE awards.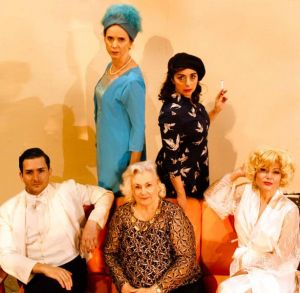 Directed by Annette van Roden (The Sum of Us, Proof, Calendar Girls), Dark Voyager stars Leigh Scanlon as Joan, Faith Jessel as Bette, Annette Emerton as Hedda, Jacqui Wilson as Marilyn and Adam Garden as Skip.
Castle Hill Players present
DARK VOYAGER by John Misto
Directed by Annette van Roden
5-27 April Pavilion Theatre, Doran Drive Castle Hill
Performances Wed, Fri, Sat 8.15pm; Sun 4.30pm
Please note there is no performance on April 19
Tickets $27 adult / $22 concession
Bookings www.paviliontheatre.org.au
Photographer: Gavin Woodford.
More Reading
Community Theatre Seasons 2019