After two years of bringing French language plays to the stage, Growl Theatre will be joining forces with Danteatro to perform a double bill of Italian language plays during October 2017.
In an Australian first, works by world-renowned playwright Dario Fo (winner of the Nobel Prize in Literature 1997) and Stefano Benni will be performed in their original language, with English surtitles.
The short comedies L'uomo nudo e l'uomo in frak (One Was Nude and One Wore Tails) and Il carnevale degli insetti(Carnival of the Insects) have been in rehearsal since August. Co-director Matteo Melzi says the performance will be for lovers of theatre and Italian culture alike. "When I arrived from Italy, I was surprised to see how much Australians love and embrace so many aspects of Italian culture, like food, coffee, fashion, film, language ... I think theatre is yet another way to present Italian culture to a local audience."
While Growl Theatre has been performing since 2011, this will be the first production by the newly formed Italian amateur theatre group, Danteatro - part of the Brisbane Dante Alighieri Society based in New Farm, which offers Italian courses and a wide range of cultural activities.
"We were incredibly excited when Danteatro agreed to do this collaborative project", says Growl Theatre Artistic Director Jason Sharland, "Our French plays were very popular, with sold out performances ... this is a fantastic opportunity for us and, of course, the wider community."
Co-director Eleanora Ginardi says choosing the right play for the inaugural performance took several months. "It was so hard to decide on one, from the many amazing Italian works, so we decided to do two!"
Melzi says that the choice to do comedy, however, was an easy one. "This is our first production, so something joyful is quite appropriate, we think."
Ginardi describes the Italian-speaking cast and crew as a mix of recently and not-so-recently migrated Italians and highly proficient Australians - some with Italian heritage. While she says the actors have varying levels of performance experience, she emphasises they all share "raw talent, intense enthusiasm, creativity and vivaciousness."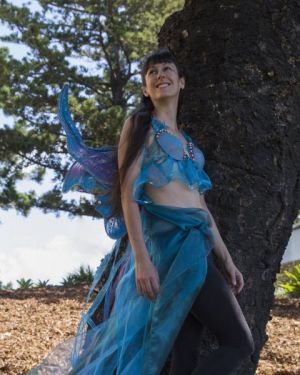 Both directors mention that the combination of Italian performance and projected English surtitles will make the play an ideal opportunity for those interested in learning or improving their Italian, as well an inclusive experience for the deaf community. Ginardi says, "We are definitely keeping in mind that we are creating an equally positive experience for those reading (the surtitles) and those with Italian proficiency."
One Was Nude and One Wore Tailsis a farce commenting on social status, while Carnival of the Insects is a colourful and physical exploration of human nature.
"These short plays are hilarious and very cleverly written - absurd and irreverent at times, but rich in philosophy and meanings and symbols about life and the human condition" explains Melzi.
The show also features music performed by the choir Unicoro, created by the Brisbane Dante Alighieri Society and Griffith University.
"We are deeply appreciative of the enormous effort of volunteers behind this show and the support from Growl," says Melzi. "This is just the beginning for our Italian theatre group."
The production is part of celebrations for the 17th International Italian Language Week, under the patronage of the President of the Italian Republic, and sponsored by the Italian Consulate in Brisbane.
The season runs from 20 – 28 October 2017, at the Windsor School of Arts. Book at www.growltheatre.org.au 
Photographer: Ella St Clair
More Community Theatre Reading