Kicking off the 2017 Season of plays at The Pavilion Theatre, Castle Hill Players (In Sydney's North West) will present Tim Firth's Calendar Girls from Friday 3 February through to Saturday 25 February.
Many people would be familiar with the highly successful 2003 Miramax film based on a true story of a group of Yorkshire women who produced a nude calendar to raise money for Leukaemia Research under the auspices of the Women's Institute in April 1999.
Director Annette van Roden has drawn together a cast of some of The Players most experienced and long standing members, including Life Member, Jean Churchward as Lady Cravenshire, Faith Jessel as Ruth, Leigh Scanlon as Annie, Annette Emerton as Jessie and Margaret Olive as Marie. Megan Hipwell plays Chris and Sandy Velini returns to the Pavilion stage following her performance as Antonia Kersley, Barrister in The Accused last year. The supporting cast includes Todd Beilby, Ben Freeman, Christine Wilson, Gavin Woodford and Luke Hawkins. Jacqui Darbyshire, who plays Celia, originally lived in Yorkshire and the real lady Chris is based on was her Pilates instructor.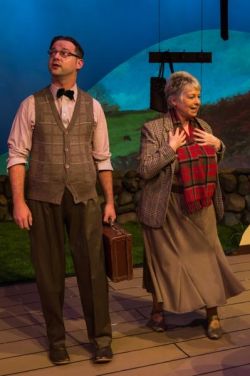 Playwright Tim Firth sat down with Stage Whispers' editor Neil Litchfield in the past to discuss the play, originally created as an amateur production, which developed into a smash hit on the professional stage. Tim Firth has stated regarding his play, "My primary aim in this play is that the pain of loss through cancer is beaten back by the amount of laughter, and that people should laugh so much during the evening that they don't realize that they're also crying at times. It is a real show of emotions - it's about love, laughter and loss."
Of course, a key element of the play is the nudity involved in creating the calendar. On stage, in front of the audience, it's like a fan dance. It's more about what you don't see, rather than a flagrant exposure of these brave ladies. Back in 1999 the women of the WI, similar to the Australian CWA, banded together to raise funds to support cancer patients and their families. They could be considered pioneers in this regard, and certainly created what can only be described as a ground breaking, tongue in cheek fundraising product which has since given rise to virtually everyone creating their own 'nude calendar'.
Chris and Annie's friendship is put to the test under the strain of the media interest in the project and the success of the calendar brings new found fame for the ladies.
Full details and bookings are online at www.paviliontheatre.org.au or call 02 9634 2929. The Pavilion Theatre is located within Castle Hill Showground, entrance is at the lights located between Gilbert and Carrington Roads, Castle Hill, NSW.
Ticket prices: $27/$22. Generous discounts for groups of 10 or more.
Images (from top): L-R Faith Jessel, Annette Emerton, Margaret Olive and Jacqui Darbyshire; Ben Freeman and Sandy Velini; L-R Sandy Velini, Faith Jessel, Ben Freeman, Jacqui Darbyshire, Annette Emerton, Margaret Olive, Leigh Scanlon, and Megan Hipwell.
More reading - Community Theatre Seasons 2017