Who doesn't want to be a star? Stage Whispers spoke to Gillian Peterson, Di O'Ferrall, Christine Heard and Tim Foley - four loyal members of community theatre ensembles who are thrilled to bits to be part of the chorus.
Gillian Peterson
Queensland Music Theatre
Retired Ballet Dancer
"I just love the whole excitement of being on stage. I can't imagine life without it.
"I (especially) like having a little bit of dance as part of the chorus. Any amount I can get I am grateful for, as I have tremendous competition.
"Over the last ten years I have done twenty shows. Sometimes I get lucky and have a few lines. Whatever they give me I am happy for.
"I also do a lot of the costumes. For Miss Saigon I asked if there was any part for me. They said I could walk across the stage in the second act as a tourist but it wasn't enough, so I just did the sewing and still got to mix with the cast."
Gillian is part of the ensemble pictured at the top in Queensland Musical Theatre's Cinderella.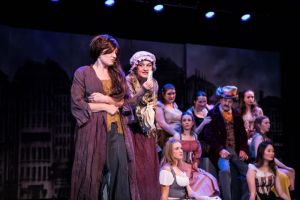 Di O'Ferrall
Coffs Harbour Musical Comedy Company
Office Manager
"I can never understand people who won't take a role in the ensemble if they don't get the role there going for. They miss out on a valuable learning experience, and a great opportunity to make life-long friends. I've enjoyed 10 shows in the ensemble, learning valuable lessons in stage craft, acting and vocal performance.
"I have had couple of major roles (Baroness Bomburst in Chitty Chitty Bang Bang and Frau Blucher in Young Frankenstein). I have had a number of supporting roles, and cameos any character role with a funny accent is usually irresistible."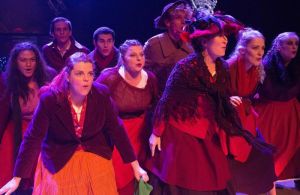 Christine Heard
Manly Musical Society
Journalist
"I've been performing in musicals since I was 17 years old and I've always been in the chorus. I've played many ensemble parts such as a nun, a townsperson, an angry mob, a can-can dancer, a teacher and now in Les Mis, I get to play a beggar woman, a tavern wench, a factory worker, a revolutionary and a streetwise whore.
"One of the challenges to being in the chorus is the number of times you have to change character. You don't want the audience to recognise you from a couple of scenes before because now you're there to tell the story of that scene, and make them believe in that moment in time. And of course the quick costume changes required to pull of that magic trick certainly get the adrenaline pumping.
"I believe a good chorus is one that supports the principals by being so intricately and naturally woven into the scene that the audience almost forgets they're there – until, of course, the time comes to really set the scene or belt out that big number, which is when the ensemble gets to shine. I adore being surrounded by a wall of harmonies and acting dynamites, knowing that I'm part of the energy that's blowing the roof off the theatre."
Christine is the one with the "floppy hat" as she describes it, in the ensemble of Manly Musical Society's Wicked (pictured above).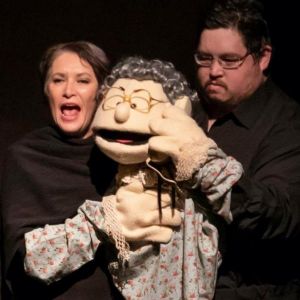 Tim Foley
Holroyd Musical and Dramatic Society.
HMDS secretary Susan Brown says, "Tim has been in the chorus of almost every musical at Holroyd since 1995, when he was a munchkin in The Wizard of Oz. He has also done some lead roles in pantomimes. He always comes to rehearsal early and does everything asked of him. He is always happy and smiling at rehearsal. He helps with bump in and paint day. When he is not in the cast for a show, he will help with front of house. This makes Tim a valuable member of the Holroyd family."
Tim is pictured, left, in Holroyd Musical and Dramatic Society's Avenue Q.
More Reading
Community Theatre Seasons 2019