They are the stars of the little stages, moving from one community theatre to another scoring the plum roles. David Spicer spoke to six of the most popular leading ladies and men in Melbourne, Sydney, Adelaide, Brisbane and Perth.
Nadia Gianinotti hobbled back to work after twisting her ankle in her final performance as Velma Kelly in Fab Nobs' production of Chicago.
The 33-year-old Melbourne graphic designer is plonking around the office in a moon boot.It is not the first time her hobby has impacted on her day job. During her run as Elphaba in PLOS Productions' Wicked she had a tinge of green for three weeks.
"It was nice to explain why to clients when they came in," Nadia said.
Her employer is fully understanding. Nadia works in an entertainment marketing agency (AKA) designing artwork, often for big musicals. The company gives her time off work when a big show is on because "they seem to have an idea of what being in a musical was about," she said with a laugh.
After a dozen years in the ensemble, Nadia's big break came when she was cast in the title role in Mary Poppins for PLOS, the first of a succession of lead roles in the highly competitive Melbourne community theatre scene.
"I got far more confident when I knew I had the goods to lead a show. I focussed my energy on leads after spending many years in ensemble."
Nadia has no formal training at a musical theatre or drama school but has been dancing she was six. She says that strong vocalists and a lot of aspiring professionals leave the community theatre scene to go into formal training.
What is more fun, graphic design or playing Mary Poppins?
"I love my job, don't get me wrong, but if I could be Mary Poppins every day of my life I would be very happy.
"I don't know how people get through without a side hobby or a passion project. I would like to think I could do it for ever, but I am not always going to be appropriate for these roles."
For the time being she is loving riding the musical theatre wave until other aspects of life catch up with her.
Image: Nadia Gianinotti in PLOS Productions' Wicked. Photo: Angela Ginsberg/Mike Fletcher.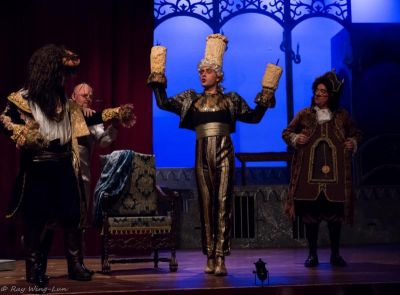 When Stage Whispers spoke to Sydney's Lachlan O'Brien he was rehearsing the role of Lumiere for Miranda Musical Society's Beauty and the Beast, was a week away from playing the Wizard in Manly Musical Society's Wicked, and had just starred as Billy Flynn in Engadine Musical Society's Chicago.
"I love it. There is always an interesting show coming up that I want to do," said the science and music tutor.
The 32-year-old has not had any theatre or singing training.
"I never thought I would learn anything. I just open my mouth and if it sounds good I do it. I don't want to sound like a wanker, but it just comes naturally," he said.
Lachlan said he is very picky about who he works with.
"There are big differences between the societies. But even the top tier community theatres can have hits or misses depending on who is the director or on the committee at the time. You don't really know it is going to be any good until a week out."
He said the golden rule is to never drop out, even if a show is struggling.
"It is a very small world in amateur theatre. If you get a black mark, that reputation spreads and it works against you in auditions."
Lachlan believes loyalty to one community theatre company is unnecessary.
"Back in the 90s everyone stayed in one society, which was not a good thing. You were shackled to one club and you could be blacklisted if you jumped ship. This meant the same people got the leads again and again, which is a recipe for disaster."
He admits that diehard stalwarts in some clubs look at freelancers like him with suspicion. It hasn't helped that he is not usually available for Saturday morning working bees as he has work commitments as a tutor.
However, Lachlan says he makes up for it on stage.
"Every show I do I spend a considerable sum of my own money on my own thing. I don't want to know how much I spent on magic tricks for the season of Chicago."
The extra effort impressed. A fringe benefit was meeting a new girlfriend. Is it any wonder that he can't get enough of community theatre?
Image: Lachlan O'Brien in Strathfield Musical Society's Beauty And The Beast. Photo: Ray Wing-Lun.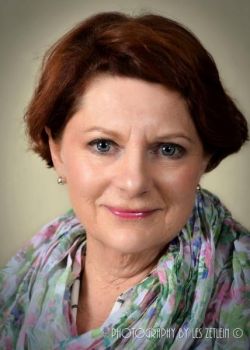 Adelaide's Lindy LeCornu loves making people laugh.
"I am a bit of a character actress; I never get the glamorous roles, but I am told my comic timing is very good," she said. "When I read a script, I see where the comic parts are. I usually make actors laugh in the first read through, which gives me a sense of a job well done."
The retired primary school teacher, now in her sixties with two adult children, admits she is addicted to the energy of live theatre.
"I can feel the audience holding their breath then a wave comes from them; it is invisible and silent."
When Stage Whispers spoke to Lindy she had just finished Palace of Varieties with the Adelaide Repertory Theatre, that included the 'world famous balloon dance', and was preparing for an outdoor production of School for Scandal with the Blue Sky Theatre Company.
Lindy said the standard of community theatre in Adelaide is very high and admits to being a theatre 'whore'.
"I do spread myself around. I go where the parts take me. I have worked with some brilliant people with day jobs who are great teachers of the craft."
Although she does two or three shows a year, she doesn't always get the roles she wants.
"I have had my share of sorry, not this time."
Lindy admits she is not one to help out much behind the scenes.
"I have always felt on stage is where I belong. I only ever prompted once but didn't enjoy it. I am, however, very handy with a quick change.
"I do however highly respect those who work backstage and regularly express my gratitude to them."
One of those who stays behind the scenes is her husband, who has only appeared on stage once.
"Over the years he's always come on opening and closing nights for the parties. He is very well known as Lindy's husband."
When asked about all the time she spends in rehearsal and performance, he replies that "Lindy is happiest when she is doing a play."
"He is very supportive, and I am having the time of my life," says Lindy.
Photographer: Les Zetlein.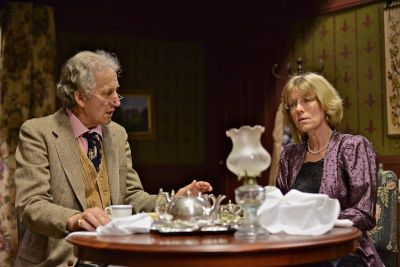 Brisbane's Meg and Brian Hinselwood recently performed together on stage as husband and wife in Centenary Theatre Group's production of A Little Murder Never Hurt Anybody.
"The characters we played had a very different relationship to our real life ones," noted Meg. "In the play, Brian's character had vowed as his new year's resolution to kill me by the end of the year, whereas in real life he hasn't said that for at least a week." (Boom tish – with lots of laughs coming down the telephone.)
Brian said it was a lovely play. "It all backfires on him and by the end of the play they are madly in love again."
Meg, 50, a speech pathology educator at the University of Queensland met her husband Brian, 75, a former professional actor, on the stage of a community theatre production 20 years ago while both were in the play Rumours with Mixed Company.
As well as meeting her husband, Meg said she cherishes "the beautiful relationships you develop in community theatre, many of whom become lifelong friends."
Compared to the world of academia, Meg said she is "far braver on stage than I am in real life. I have a chance to be someone I am really not. I always love the live audience - a living breathing thing. The feedback you get from an audience is beyond comparison."
Her most recent role was the lead in Honour with Villanova Players.
What Brian loves most is the applause.
"I have been doing this for 40 plus years. I worked professionally out of Sydney. I still enjoy the challenge of creating a character and now I am getting into directing."
For Brian, the biggest difference between community and professional theatre is the amount of time it takes.
"Community Theatre can drag on endlessly," says Brian. "You work a couple of evenings a week, and maybe a Sunday, then ten weeks later you do the play. With professional theatre it is much more intense."
And what about the standard of community theatre?
Brian said there are very good theatres in Brisbane, but he is picky about who he works with.
"People always forget lines. The lovely thing is if you trust the other people on stage then if you forget a line somebody will cover for you. Did you mean to ask…blah blah…" he reflected. If you are working with people you don't trust it's a nightmare because you never know what they are going to say next. It can be terrifying coming up to a line which an actor never remembers."
Did Meg and Brian trust each other when they were on stage together? "Yes, yes," was the enthusiastic response.
Image: Meg and Brian Hinselwood in Centenary Theatre Group's Gaslight. 
Photo: Dan Ryan. M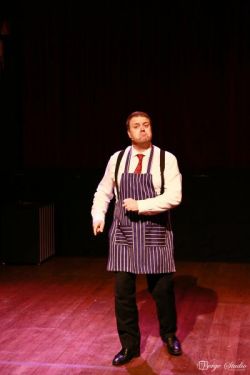 Perth science teacher Chris Gerrish sees a lot in common between his day job and being on the stage.
"I have to stand up in front of a load of people, talk to them and engage them for an hour at a time. It is pretty much the same thing when you are on stage," he said. "(In both) you have make a connection; teach them something new about themselves. Teaching and acting go hand in hand. Most actors would make excellent teachers."
Does he ever break into song or a soliloquy in class?
"I would never perform in class. Sometimes students turn up (at my performances). Once when it happened, a girl that I taught looked mortified. She didn't want to talk to me."
The 45-year-old fits two productions a year into his family and work schedule, choosing to work with directors and musical directors he "can trust to do a good job and not make it too stressful."
"Occasionally" he does not get parts he auditions for and sometimes productions are "not as much fun as they should be."
Chris's recent roles include Javert in Les Misérables and the husband in Mrs Robinson, both with the Stray Cats Theatre Company in Mandurah.
For Playlovers he was King Arthur in Spamalot and William Carney in A Man of No Importance.
"What I love most about community theatre is sharing meals with the cast and keeping in contact with each other. When you are doing a show, you might start off as complete strangers but by the end of it become very good friends.
"I have a friend who, every time he does a show, finishes one relationship then starts another."
Chris says he is not like that.
"I am happily married with two daughters."
Image: Chris Gerrish in Playlovers' A Man Of No Importance. Photo: Verge Studio.
More Reading