Forty-seven years after Wait Until Dark premiered on Broadway, Jeffrey Hatcher adapted Frederick Knott's 1966 original, giving it a new setting. This version gave rise a year later to the movie starring Audrey Hepburn. In Arts Theatre Cronulla's new production, it is Greenwich Village in the 1970s. Susan Hendrix is adjusting to a car accident that has resulted in her blindness, and is newly married to Sam, a photographer she met while recuperating.
Susan becomes a target of three con men searching her basement apartment for jewels that Sam has unwittingly brought home hidden in a doll. Insecure and not a little bitter, she is at first manipulated and then terrorized as the men enact an over-elaborate ruse to locate the doll's whereabouts. Susan must muster her resources to outmaneuver her tormentors and turn her disability to her advantage.
Director James Bruce has put together a cast including four new faces for the Arts Theatre.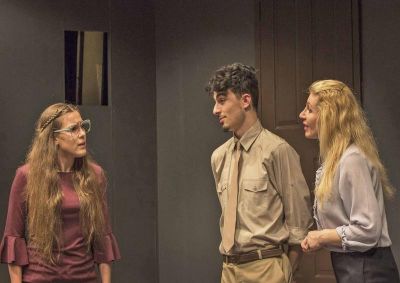 The play's lead, Margareta Moir, is a film, television and theatre actor/writer/director who has performed at the Stella Adler Theatre in Hollywood and in a diverse range of plays in Sydney. Always keen for a challenge, she has never portrayed a character with a disability. Apart from the suspenseful plot, this was one of the main reasons she was drawn to playing the role of Susan.
Keegan Karambelas has worked in a variety of musicals and productions to date and was eager to take on the unique role of Mike, a character with seemingly no ties at all, but all tied up with the situation.
Chiara D'Ambrosio and Kelly McRae share the role of the young neighbour Gloria. Chiara has been a member of both the NSW Junior and Primary Schools State Drama Ensembles and performed in the State Festival of Drama and the Schools Spectacular. She has also appeared in some short films and was nominated in the Outstanding Performance Category at the 23rd Sydney Film School Festival.
This is Kelly's first theatre production, having recently returned from Hollywood where she undertook acting classes and appeared on screen for the first time. She is doing drama as an elective at school and has completed a short course at NIDA.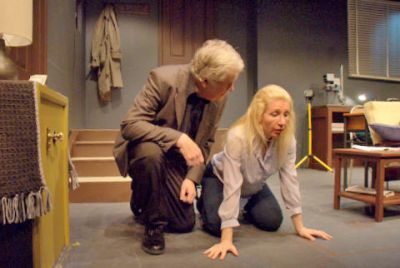 Opening night is Friday 27 October and the play runs till Saturday 2 December. Performances are on Wednesdays, Fridays and Saturdays at 8pm, with three Sunday afternoon matinees.
Tickets are $28/$25 can be booked online at www.artstheatrecronulla.com.au
Cast
CARLINO – David Wrightson
SUSAN – Margareta Moir
ROAT – Gary Clark
SAM – Peter Chappell
MIKE – Keegan Karambelas
GLORIA (shared) – Chiara D'Ambrosio & Kelly McRae
Photo credit: Port Hacking Camera Club
More Community Theatre Reading