STAG (StrahmoreTheatrical Arts Group) presentsThe Dixie Swim Club by Jessie Jones, Nicholas Hope, Jamie Wooten at the Strathmore Community Hall (Victoria) from May 25 to June 4 2017, directed by Kris Weber.
Five Southern women (played by Clare Hayes, Dawn Hinrichsen, Eleni Miller, Errin Hewlett and Gabby Llewelyn-Salter), whose friendships began many years ago on their college swim team, set aside a long weekend every August to recharge those relationships. Free from husbands, kids, and jobs, they meet at the same beach cottage to catch up, laugh, and meddle in each other's lives. The Dixie Swim Clubfocuses on four of those weekends and spans a period of 33 years. As their lives unfold and the years pass, these women increasingly rely on one another—through advice and raucous repartee—to get through the challenges that life flings at them. And when fate throws a wrench into one of their lives, these friends rally 'round their own with the strength and love that takes this comedy in a poignant and surprising direction.
Director Kris Weber returns to STAG, after last year's Killing Jeremy, which received many honours at the Victorian Drama League Awards, including nominations for best production and best director. Weber also directed the well acclaimed The Laramie Project, Speaking in Tongues, Hay Fever as well as Rumours, Cosi and Daylight Saving. She has also directed at Eltham Little Theatre, Heidelberg Theatre Company, Williamstown Little Theatre and Malvern Theatre Company.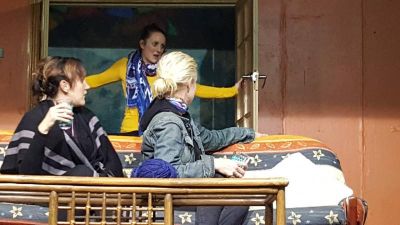 Kris Weber spoke to Stage Whispers about the production.
Stage Whispers: What excited you about The Dixie Swim Club?
Kris Weber: It is a play that chronicles the lives and friendships of five Southern woman over many decades. Their dreams, ambitions, love and loss are discussed as only good friends can. As a comedy, it sparkles with wit but pathos is never far behind. What excites me about the play is this exploration of both the fun and tragedy that defines life.
SW: How have you enjoyed working with the cast?
KW: The "Dixie Chicks", as they have become known, are a wonderfully talented group of actors who are committed to their craft. It has been an absolute pleasure working them. The rehearsal space is a hive of exploration with one and all happy to play as actors should.
SW: What has been your biggest challenge with this production?
KW: The accent - set in North Carolina the accent is Southern but differs slightly from other Southern states. It is a trick to find the nuance and subtlety of this accent.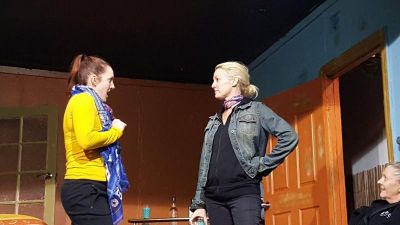 SW: Has it been easy to recreate the world of the play envisioned by the authors?
KW: Well, we start with effectively dead words on a page and begin our journey of giving them life. That's what actors do. I don't know what the playwrights envisioned but we are given clues, we then decipher them (interpret them) and, if we do it right, we create the world of the play. It is a living work of art that has sprung forth from dead words on a page - pretty magical, if you ask me! I believe we have honoured the world that the playwrights envisioned and it has been fun to discover it.
SW: You have directed for STAG a lot in your career. What attracts you to the company?
KW: Yes, I have. Longevity brings trust and familiarity and friendships. All of these things are conducive to a good working environment. Plus, and more pragmatically, the theatre is a short ride from home.
SW: What is next for Kris Weber?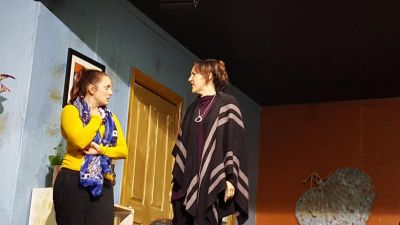 KW: Two more directorial gigs this year. The first is a play written by an Australian playwright called Water Child. It is an indie production but will be staged at Wyndham Theatre in September. The second is another indie show called Mister Man to be staged in Footscray in November
The Dixie Swim Club
By Jessie Jones, Nicholas Hope, Jamie Wooten
Directed by Kris Weber
By arrangement with Hal Leonard Australia Pty Ltd, on behalf of Dramatists Play Service, Inc New York
WHERE
STAG Theatre
Strathmore Community Centre, corner of Loeman and Napier Streets, Strathmore
(Melway Reference: 16 H 10)
WHEN
Thursday 25 May to Saturday 27 May @ 8pm; 1 June to 3 June @8pm
Sundays 28 May; 4 June @ 2pm
TICKETS
$20 adult
$15 concession
$2 discount off full price tickets for groups of 10 or more
BOOKINGS
9382 6284
Images (from top): Eleni Miller and Tania Maxwell; Tania Maxwell, Clare Hayes and Gabby Llewllyn Salter; Clare Hayes and Gabby Llewellyn Salter; and Clare Hayes and Tania Maxwell. Photos by Kris Weber.
More Community Theatre Reading