Sydney's Genesian Theatre has announced an all-female cast for its forthcoming tribute to the late playwright and lyricist, Nick Enright – Enright On The Night.
Enright On The Night is devised by David Mitchell and Melvyn Morrow. The pair were actually introduced to each other by Enright and have devised the show especially for the Genesian Theatre, where Enright made his debut at the tender age of 21.
'It is amazing to look at that stage and know that we are celebrating the life and accomplishments of a man who performed there at the start of his career, some 50 years ago', says co-writer, David Mitchell.
Nick Enright was a firm champion for the creation of strong roles for women. His plays and musicals starred such luminaries as Susan Sarandon, Rebecca Gibney, Nancye Hayes, Sandy Gore, Jacki Weaver, Jill Perryman, Helen Morse, and Noni Hazlehurst.
In this spirit of female empowerment, Enright On The Night features an all-female cast of four, including special guest, Angela Ayers.
Angela has made her name as the star of TV and musical theatre throughout New Zealand and Australia. With many major productions, including Guys & Dolls, Jerry's Girls, and Menopause: The Musical under her belt.
Angela is joined by Canberra performer and recent Genesian favourite, Rosanna Hurley, as well as young artists Juliette Coates and Lana Domeney.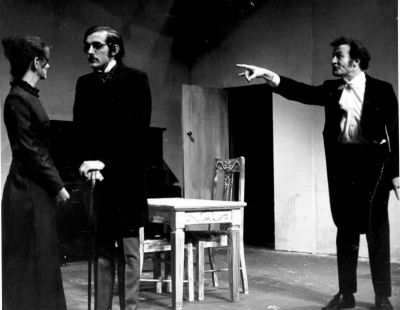 Musical Direction is in the hands of young Dion Condack, already acknowledged for his composition and musical direction of Dorian Gray Naked.
Genesian Theatre Director, Roger Gimblett, reports that the cast has immediately formed a tight bond which reflects the reputation the late Nick Enright had in the industry for kindness and friendship. 'We wanted that sense of family to pervade everything we do. It is there in the lyrics of these wonderful songs and in the interactions between this cast of four extraordinarily talented performers.'
Gimblett added, 'It is also there, within the walls of this iconic, intimate theatre, where so many stars of stage and screen began their careers, that I hope the audience will feel a sense of being at home'.
Enright On The Night opens an 11 performance season on March 23rd 2019.
There are plans afoot for a professional tour however, as Melvyn Morrow observed, 'It will always have a special sense of magic in this venue where Nick's voice once echoed. For us, opening night is going to be a very special and emotional evening'.
420 Kent Street, Sydney
Photo: Pat East, Nick Enright and Peter Hickey performing in Dolls House at the Genesian in 1972.
More Reading
Community Theatre Seasons 2019