Castle Hill Players present the farce Leading Ladies by Ken Ludwigat the Pavilion Theatre from 31st May until 22nd June, Leading Ladies is directed by the company's President, Stephen Snars.
In choosing his play for the 2019 season, Stephen said: "I was looking for a stage play version of 'Some Like It Hot' but only found a 1970s musical called 'Sugar'. I gave up and looked at some Ken Ludwig's: Moon over Buffalo and Leading Ladies. Amazingly enough when I read the script for Leading Ladies it seemed to be (shamelessly) just what I was looking for in the first place. I thought this would be an ideal play for Castle Hill Players and its audience."
Leading Ladies follows two hapless English actors, Leo & Jack, down on their luck and travelling through Amish country, performing in community halls. The money has dried up, there's no work for them in sight and all seems lost. Then Leo reads about a dear old lady whose dying wish is to bequeath her fortune to her two long lost nephews who, by amazing coincidence, grew up in England! After finally convincing Jack this is a great idea, the two head off to York, Pennsylvania, only to learn the 'nephews' are actually nieces! No problem… Jack and Leo are actors!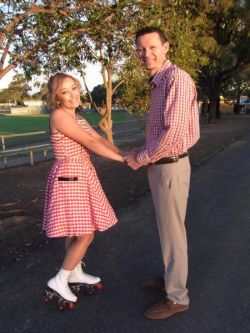 Audiences will love 'Maxine' and 'Stephanie' as they present themselves to the York locals. Romantic entanglements and laughs aplenty are on the bill when Castle Hill Players present the latest farce from Ken Ludwig, author of Lend Me a Tenor, Shakespeare in Hollywood and The Game's Afoot.
Leading Ladies stars Nicole Harwood, Steve Rowe, Dave Went, Peter Gizariotis, Ben Freeman, Turkan Koch, Daniel Boole and Jennifer Leslie, directed by Stephen Snars with lighting design by Sean Churchward, sound by Bernard Teuben.
The Pavilion Theatre is located within the Castle Hill Showground, entrance is at the lights located between Gilbert and Carrington Roads, Castle Hill.
Leading Ladies by Ken Ludwig
Directed by Stephen Snars
Show dates 31st May – 22nd June
Performances: Wed, Fri & Sat at 8:15pm: Sun 4:30pm
Show Tickets online: www.paviliontheatre.org.au or phone 9634 2929.
Ticket Prices: $27/$22 (concession)
More Reading
Community Theatre Seasons 2019