Arts Theatre Cronulla's third production for 2019 is The Female of the Species, a wicked adult comedy that walks the tightrope between satire and farce while exploring how the ideology of writers of the 1970's Women's Liberation Movement era may have affected some readers. The inspiration for the play was a true-life incident involving Germaine Greer being held at gunpoint by a young student in 2000.
In Joanna Murray-Smith's play, feminist writer Margot Mason is at her country home, suffering from writer's block and stressed about an impending deadline for her next book. Former student Molly Rivers arrives unexpectedly, brandishing a gun, and threatens to shoot Mason for warping her mother's mind with her influential hit book The Cerebral Vagina.
Margot's daughter Tess then arrives, exhausted from her house full of children, along with Tess's sensitive stockbroker husband Bryan, and the virtues or otherwise of Margot's best-sellers are debated. Add in the opinionated thoughts of macho taxi driver Frank, and Margot's flamboyantly gay publisher Theo, and a melting pot of diverse opinions is presented for the audience to consider.
The play premiered in Melbourne in 2006, had its London West End premiere in 2008, and was performed on Broadway in 2013.
The ATC production opens on Friday 2 August and runs till Saturday 7 September. Performances are on Wednesdays, Fridays and Saturdays at 8pm, with three Sunday afternoon matinees. Tickets are $28/$25 and can be booked online via the theatre's website: www.artstheatrecronulla.com.au
Cast:
Margot – Lynda Leavers
Molly – Meili Bookluck
Tess – Emily Perry
Bryan – Haki Pepo Olu Crisden
Frank – Kevin Brest
Theo – Graham Yates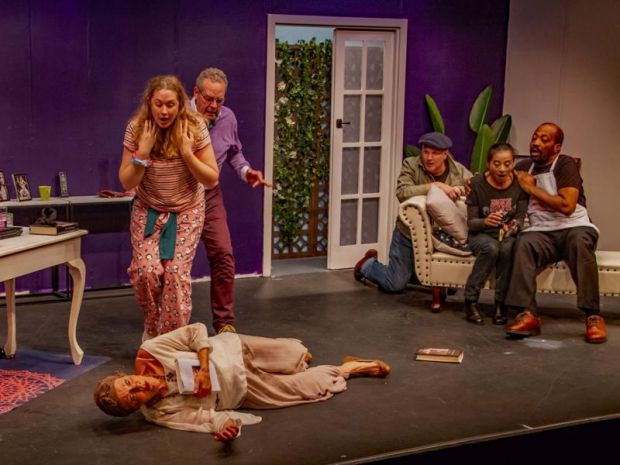 Photos: Port Hacking Camera Club
More Reading
Community Theatre Seasons 2019