Rockdale Opera Company proudly presents The Gypsy Baron at Rockdale Town Hall for a limited run of four performances from November 9 to 17, 2019.
With music by Johann Strauss and libretto by Ignaz Schnitzer, The Gypsy Baron tells the story of the marriage of a nobleman (returned from exile), a beautiful gypsy girl who is revealed as the daughter of a Turkish Pasha and the hunt for hidden treasure. It involves larger than life and colourful characters including a fortune-telling Romany queen, a self-serving pig farmer, a self-important mayor, a rascally commissioner, a band of gypsies, as well as star-crossed lovers.
Since its premiere in 1885 this has remained one of the most popular of all Viennese operettas. It brims with beautiful waltzes, stirring marches and joyous polkas by the celebrated Waltz King.
Rockdale Opera Company's production team features Musical Director Kohki Iwasaki and Director David Brennan.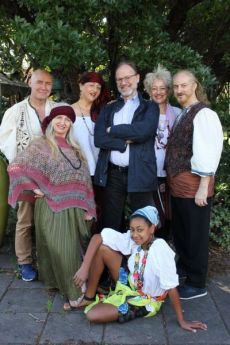 Join Rockdale Opera Company for The Gypsy Baron showing for a limited run this November 9-17 at Rockdale Town Hall, featuring Strauss' iconic Viennese waltzes.
The Gypsy Baron
Music by Johann Strauss II
Libretto by Ignaz Schnitzer
November 9 to 17 at Rockdale Town Hall
http://www.rockdaleopera.com.au
Tickets can also be arranged over the phone on 02 81971796
Tickets range from $35.00 to $50.00
Duration: Approx 3 hrs 10 minutes (includes 2 x 20 minute intervals)
Images: (left to right):Yolanda Altmann, Rose Sapuppo and Tatjana Kroll & (left to right): Fabian Cohnen, Yolanda Altmann, Rose Sapuppo, David Brennan (Director), Tatjana Kroll, Tony Guyot with Miria Kroll sitting.
More Reading
Community Theatre Seasons 2019