IT'S been described as "Grease for Generation Y" and a modern adaptation of Romeo and Juliet – Disney's High School Musical is coming to Roleystone Theatre (WA) in June and July 2017.
Directed by Lys Tickner and Brogan Smirke, it follows a week in the lives of East High students who are learning the highs and lows of being teenagers, finding out where they fit in.
High School Musical features a popular high school basketball star and a shy, academically-gifted newcomer who discover they share a secret passion for singing.
When they sign up together to audition for the lead roles in the school musical, it threatens East High's rigid social order and sends their peers into an uproar.
"It's a high energy, fun-filled teenage drama with all the trimmings – love, laughter and lyrical phenomenons," Smirke said.
"While the script is almost identical to the film version, what sets us apart is the creative flair everyone has given to their characters.
"Keeping everyone's focus and excitement levels in check is a challenge, it just amazes me how much energy the cast has for this show!"
Tickner said the show was written with large casts in mind, especially for schools working with 30 to 50 teenagers.
"As Roleystone Theatre has a uniquely smaller stage, we have gone with a very small but extremely talented cast of 18," she said.
"The challenges are mainly around the ensemble being multi-casted in different roles throughout the show.
"Everyone knows the movie version of High School Musical so, in directing this show, I want the audience to feel they are watching the movie live.
"We have kept many elements in place to achieve this such as replicating costumes and obviously the songs are, for the most part, the same as the movie.
"There are a lot of parallels with Grease but in a more modern setting."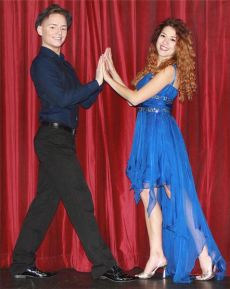 Passionate about youth performance, Tickner said Roleystone Theatre was proud to support and nurture the next generation.
"My kids grew up on High School Musical and, as a mum, of course I would watch it a thousand times over as well," she said. "The songs make you smile every time."
Smirke added: "Lys asked me to join her team and, along with her, I find it so important to have youth shows in theatre.
"I also couldn't pass up the opportunity to sing the songs over and over and have an excuse as to why!"
High School Musical plays at 8pm June 30, July 7, 14 and 15 and 2pm July 1, 5, 8 and 12. Tickets are $25, $20 concession – book on 9490 9306 or at www.roleystonetheatre.com.au.
Roleystone Theatre is located at 587 Brookton Highway, Roleystone, opposite the Croyden Road junction.
Images (from top): Montanna Tickner as Kelsi Neilson; Matthew Walford, left, as Troy Bolton and Mariah Gonzalez as Gabriella Montez; and Charlie Darlington, left, as Ryan Evans and Holly Denton as Sharpay Evans in Disney's High School Musical.
More Community Theatre Reading