There is love and magic in the air when one of Sydney's longest-standing community theatre company presents a fresh take on Shakespeare's most beloved romantic comedy, A Midsummer Night's Dream from May 18 to June 9, 2018.
The Guild Theatre – founded in 1952 and based in itsintimate Rockdale theatre for more than 50 years – offers a troupe of talented Elizabethan players in an exuberant celebration of love and laughter: a four-week season of William Shakespeare's most popular comedy, A Midsummer Night's Dream.
Deep in a woodland clearing, enter a mysterious fairyland and a time of myth & legend where anything is possible… and nothing is it what it seems!
It's almost 40 years since The Guild presented a full production of a Shakespeare play… and director Susan Stapleton knows it's well overdue. Stapleton's own dream of staging this magical Shakespearean classic goes back to her years of studying The Bard at University, including a course at Cambridge in England.
It's the personal quality of Shakespeare's work that fascinates Susan: "He can be very cheeky and bawdy yet, as a poet, frames his ideas in such beautiful imagery that you can't help but see into the human soul. The fact that this insight is over 400 years old – yet both timeless and universal - makes it all the more intriguing. I'm so very excited and can't wait to share it with our audiences," Susan adds.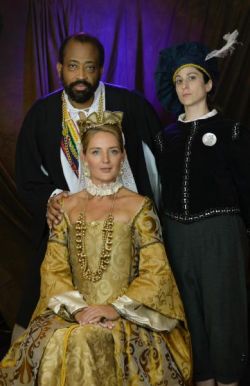 A Midsummer Night's Dreamis outwardly about the events surrounding the marriage of Theseus, Duke of Athens to Hippolyta, Queen of the Amazons. Into this ceremonial period come two other pairs of lovers - each young, silly… and ripe for adventure. They stumble into a parallel world of mischievous fairies and wood sprites with a quarreling king and queen of their own. Add a troupe of bumbling tradies ("rough mechanicals") looking to court favour by presenting a play at the royal wedding… and you have all the ingredients for a thrilling, mystical, romantic and hysterical adventure - all in one!
The Dreamis Shakespeare's funniest and most accessible play and will delight both devotees of The Bard and audience members less familiar with his works. The cast are a wonderful combination of young and more senior members of the Guild Theatre, all brim full of energy to capture the playful wit and fantasy of the play.
Step into the forest be swept up in a dreamy world of rousing medieval music, mysterious, atmospheric sets and elaborately costumed performers. The Guild Theatre's A Midsummer Night's Dream from 18 May.
Photos by Craig O'Regan.
Shakespeare's A Midsummer Night's Dream, Directed by Susan Stapleton
May 18 to June 9 Wed, Fri, Sat 8pm, Sat & Sun matinees 2pm
The Guild Theatre, Railway & Walz St Corner, right at Rockdale Station
Starring Haki Pepo Olu Crisden, Donna Randall, Rosemary Ghazi, Brendan Dallow, Kim Jones, Dimitri Armatas, Rachael Howard, Douglas Spafford, Catherine Waters, Calib James, Russell Godwin, Kathy Goddard, Maxine Solari, Jennifer Tansey and Terry Neenan.
Tickets (including refreshments and programme): Adults $25 | Concessions $20 | Groups 20+ $20
Special prices for Wednesday Nights on application!
Bookings: www.guildtheatre.com.auor call (02) 9521 6358
More Reading