Wollongong theatre company MoonGlow Productions is returning to the stage in 2019 after a four-year hiatus with Broadway favourite musical 42nd Street.
The show, which plays at Shellharbour's Roo Theatre ofrom May 31 to June 9, is another family affair for the popular theatre company, boasting a cast of siblings, partners and parents and their children.!
Director Wendy Glover, who shares production duties with her husband Michael and daughter Bec, said it was a thrill to return to the Illawarra theatre scene.!
"MoonGlow Productions went through a very busy few years, staging back-to-back musicals at the WIN Entertainment Centre including Hairspray and Legally Blonde," she said.
"In that time, Bec had a baby and we decided to do some travel so it was good to have a break and now to return, refreshed and with the opportunity to stage a fantastic musical like 42nd Street with such a wonderful cast - it genuinely has a lovely family feel."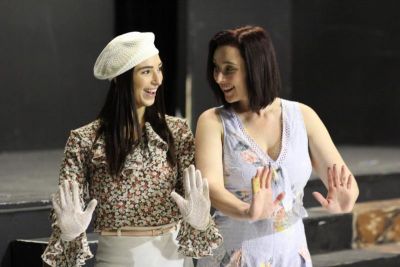 The show, which won the Tony Award for best musical in 1980, focuses on the efforts of a director to mount a successful stage production at the height of the Great Depression.
Mrs Glover said the show featured popular hits like We're in the Money, Lullaby of Broadway and Shuffle off to Buffalo and exciting tap numbers.
"It's a truly classic Broadway musical in every sense - there's the tunes you can't get out of your head, the tricky tap performances and a story set during a difficult period in time.
"This cast have had a ball working on the show and we're lucky to have some of the best tap dancers in the Illawarra involved so it's shaping up to be a fantastic production."
42nd Street runs at Roo Theatre from May 31 - June 9, 2019.
Tickets are available from moonglowproductions.com.au
More Reading
Community Theatre Seasons 2019