THE stage musical adaptation of The Secret Garden is set to blossom anew at Melville Theatre during July 2017.
Written by Pulitzer Prize-winner Marsha Norman and Lucy Simon and directed by husband-and-wife team Katherine and Justin Freind, it is based on the beloved classic children's novel by Frances Hodgson Burnett.
The Secret Garden tells the story of 10-year-old Mary Lennox, orphaned while living in India, returning to England to live with her embittered uncle Archibald, whom she has never met.
Her uncle is a recluse – tormented by insecurities over his physical impairments, plagued by fears he passed those limitations onto his fragile son and constantly haunted by dreams of his late wife.
Feeling abandoned and alone, Mary is befriended by the manor staff who encourage her to find solace in the gardens that need attention.
A compelling tale of forgiveness and hope, The Secret Garden reveals even the cruellest of environments can burst with new life.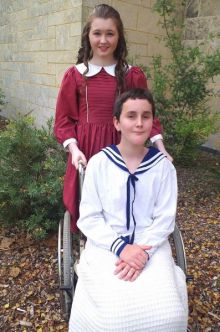 "When offered the opportunity to direct a musical for Melville Theatre in 2017, I was immediately drawn to The Secret Garden," Katherine said. "A long-time favourite of mine, it embodies the best of musical theatre.
"Everything about the show draws me in – the moving story and incredible music and lyrics.
"I also love the fact we're bringing music theatre back to Melville because the company is close to my heart, given my father David J. Burton started it."
Justin added: "I loved the 1993 film but the music in this production is beautiful, especially the famous duet, Lily's Eyes, which is a real showstopper."
One of the main challenges for the two directors was an initial lack of men, which forced them to think more creatively.
"We only had one man turn up to auditions," Justin said. "But we were determined for this show not to fold before it started so we have had to make some interesting changes, which people will see when they come to the show."
Katherine has put both her musical directors into the production – including husband Justin.
"It's definitely been a challenge for them in particular because they're now doing double the work," she said.
"This show also requires the cast to work the set while still remaining in character, which has meant a whole different kind of choreography."
As for husband and wife working together, Justin and Katherine aren't fazed, especially given their three children are also in the show.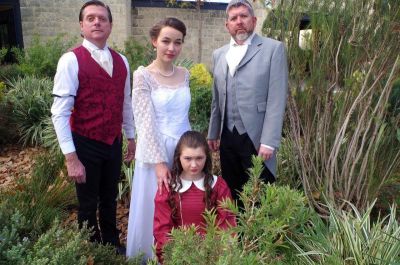 "Obviously, we have our own way on how things should go or look but we always find a compromise somewhere in the middle," Justin said.
Katherine notes: "This is the first time I have directed Justin and so far, so good. I feel very blessed to be able to share my passion and love for theatre with my entire family."
The Secret Garden plays 8pm June 30, July 1, 6, 7, 8, 13, 14 and 15 with a 2pm matinee July 9. Tickets are $25, $20 concession – book on 9330 4565 or at www.meltheco.org.au.
Melville Theatre is on the corner of Stock Road and Canning Highway, Palmyra.
Images (from top): Dr Neville Craven (Ross Burford, left), Lily Craven (Meesha Williams) and Archibald Craven (Justin Freind); Mary Lennox (Christie McGarrity, left) befriending Colin Craven (Joshua White); & Ross Burford, left, Meesha Williams, Justin Freind and Christie McGarrity, front, in The Secret Garden.
More Community Theatre Reading