The Mousetrap Theatre Company Inc. in Redcliffe, Queensland, will present Seussical Jr in November 2018.Horton the Elephant, the Cat in the Hat and everyone's favourite Dr. Seuss characters spring to life onstage in Seussical JR., a musical by Tony Award winners, Lynn Ahrens and Stephen Flaherty.
The story centres around Horton the Elephant, who finds himself faced with a double challenge--not only must he protect his tiny friend Jojo (and all the invisible Whos) from a world of naysayers and dangers, but he must guard an abandoned egg, left to his care by the irresponsible Mayzie La Bird. Although Horton faces ridicule, danger, kidnapping and a trial, the intrepid Gertrude McFuzz never loses faith in him, the only one who recognises "his kind and his powerful heart." Ultimately, the powers of friendship, loyalty, family and community are challenged and emerge triumphant.
Seussical Jr. is a big production of complex songs and dance routines and as such requires a dedicated and experienced creative team. The 34 talented young people are directed by local school teachers Paula-Mary Camilleri and Shirley Budinger. The music is in the hands of James Bovill and rounding out the creative team is Alicia Poulter as choreographer.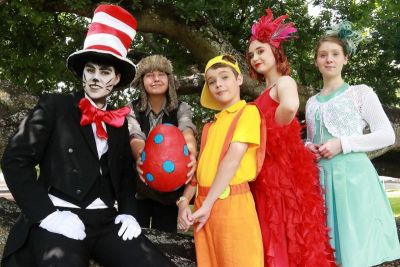 Seussical Jr. is proudly supported by Moreton Bay Regional Council.
Seussical Jr. Dates: 16th – 18th November & 23rd – 25th November
Tickets prices: Adult: $20 Child (under 14): $14 Concession: $17
Family (2A & 2C): $54 Financial & Reciprocal Members: $12
Book online at www.mousetraptheatre.asn.au www.trybooking.com/book/event?eid=418633or phone 0439 954 719
More Reading