Arts Theatre Cronulla director Tom Richards is a clearly fan of playwright Robin Hawdon, a British playwright especially known for the popularity of his comedies. Tom directed The Mating Game in 2014, Perfect Wedding in 2015 and this year is directing Shady Business, ATC's third play in its 2017 season.
Shady Business was written in 2010, and premiered with great critical success in Britain, America, Germany and Poland. This witty comedy has plenty of action to keep the pace fast and entertaining. Mandy and Tania are struggling night-club dancers living in Soho in London and they are in crisis.
Will possessive club owner Big Mack find out about Mandy's affair with Gerry and Tania's affair with Terry?
Will he discover he's owed money that was stolen from him in the first place, gambled on his own roulette table in the second place?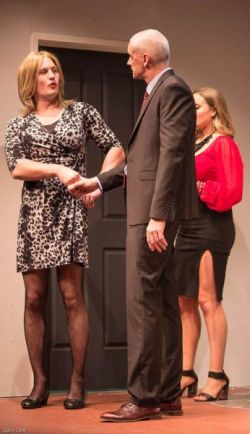 Will Gerry be found hiding in Mandy's bathroom and Terry be caught delivering the dinner?
Will Terry reveal that he is really Gerry and Gerry is Terry?
Will anyone ever find out what the hell is going on?
A cross between Guys and Dolls and Some Like It Hot, the show is packed with high energy and mad comedy that rarely takes a breath. The action doesn't stop until the climactic conclusion.
Opening night is 4 August 2017, and the play runs till 9 September. Performances are on Wednesdays, Fridays and Saturdays at 8pm, with three Sunday afternoon matinees. Tickets can be booked online via the theatre's website: www.artstheatrecronulla.com.au
Cast
Mandy – Kerstyn Walsh
Garry – Luke Austin
Tania – Meili Bookluck
Terry – Santoz Kumar
Big Mack – Brian Jones
Dozer – Alan Smith
Harry – Gary Clark
More Community Theatre Reading
Community Theatre Seasons 2017