The Australian premiere of Stargazers is being presented from August 16 - 31 by Brighton Theatre Company in Melbourne. A romantic, comedic script mixed with a touch of sci fi, it's a look at how universal loneliness can be, and how sometimes what we most seek keeps us apart from what we most want.
Stargazers follows the story of Rupert Knox who just wants two things in life: to make the astronomical discovery of the new millennium and to find a date to his sister's wedding.
He might have found both in Claire, a celestial poet getting over an interstellar break-up. But when a mysterious woman named Elaine shows up at Rupert's door with an offer of her own, these star-crossed losers – sorry, lovers – will have to make big choices about mortality, true love and whether to stick with vodka or switch to beer. Either way, tonight's gonna be a good night.
Directed by Pedro Ramos, the production features Jonathan Best, Katelyn Fitchett and Aimee Sanderson.
Director Pedro Ramos spoke about the play ahead of opening night.
This play is described as a sci-fi romantic comedy – was that something you went looking for?
Definitely! Science fiction is not seen enough on the stage. It's rarely done, and I think mixing it with something like romantic comedy makes it really appealing - gives it a little something extra. I first came across a few of Reina Hardy's scripts a year ago, a lot of which feature love and sci fi, but Stargazers really stood out for me.
I've seen from the bio you're a scientist, how did that go Directing a show about science?
Well I'm an immunologist, not an astrophysicist like Rupert, so I had to brush up on the concepts along with everyone else! It was a lot of fun though, seeing things that are from my everyday life – PhD students, worries about funding, and the hunt for a new discovery – come to life on the stage. Essentially though, these are elements of life - worrying about your career and trying to find love - that everyone can relate to.
What can the audiences expect when they come and see the show?
I'd describe the show as quirky, funny, romantic but also sad. It touches on some very real concepts like loneliness and the consequences of bad choices. But the sci fi elements are super fun, and I think that's going to be something a bit different for the audiences. I'm really looking forward to showing them that.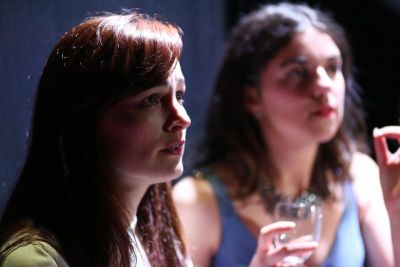 It's the Australian Premiere; how new is Stargazers?
Stargazerswas first put on in 2013 in Austin under the original name 'Stars and Barmen'. It's gone through a couple of revisions since then and the script we're using wasn't finalised until 2015. So pretty fresh! It's really nice to be putting on a show no one has seen before. Though I suspect that won't last long – Hardy's work is getting coverage across a few theatres in the US and Canada this year.
How much sci fi can we expect? Have those elements been a challenge?
The sci fi elements were a big challenge! I've gotten advice and borrowed a bit from magic shows, lighting experts, prop masters, and more than a few audio-visual pros. But I don't want to give too much away. Although it's an element of the show, it feels like a pretty normal part of the narrative, and I think the audience will feel that way too. I really wanted to create immersion.
Stargazers presented by Brighton Theatre Company
Dates: 16 – 31 August 2019 (Wednesday – Saturdays, with matinees Sundays and Saturday 24th)
Time: 8pm evening shows, and 2:15pm matinees (approx. 2 hour run time)
Cost: $23-25
Venue: Brighton Theatre Company, Cnr Wilson & Carpenter Street, Brighton
Tickets: https://brightontheatre.com.au/bookings/#book-online
Facebook event: https://www.facebook.com/events/561031754433366/
More Reading
Community Theatre Seasons 2019