Miranda Musical Society presents a new production of the world's first rock ever musical, Jesus Christ Superstar by Andrew Lloyd Webber and Tim Rice in March 2019 at Sutherland Entertainment Centre.
A global phenomenon that has wowed audiences for over 40 years, Jesus Christ Superstar is a timeless musical set against the backdrop of an extraordinary and universally known series of events which are seen, unusually, through the eyes of Judas Iscariot.
Jesus Christ Superstar grew out of lyricist Tim Rice's long-time fascination with Judas Iscariot, whom he conceived not as a craven betrayer of Jesus, but rather as a dear friend struggling with the implications of Jesus' growing celebrity. "I always thought, if one day I ever became a writer or whatever, that would be a good subject, Judas Iscariot, the story from his point of view," Rice said in the documentary "The Making of Jesus Christ Superstar."
Collaborating with young composer Andrew Lloyd Webber, they originally struggled to find a theatre willing to produce it. "I mean, every single producer in London said, 'You have to be joking. This is the worst idea in history'," Webber said. Jesus Christ Superstar is now one of most frequently staged musicals of all time.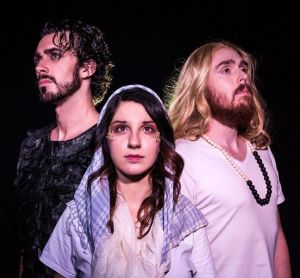 Jesus Christ Superstar finally opened in London in 1970. By the time the show closed, after 3,358 performances, it had become the longest-running musical in West End history. The Jesus Christ Superstar album also spawned a Top 40 single in versions of "I Don't Know How To Love Him" by both Yvonne Elliman and Helen Reddy, and it shot all the way to the top of the Billboard album charts in early 1971, paving the way for a smash Broadway opening later that year.
When it debuted on Broadway in 1971, many Christians, Jews — and even the composer — hated it. Opening night "was probably the worst night of my life," Andrew Lloyd Webber said.
We asked some of the cast and creatives what drew them to this upcoming production.
"Jesus Christ Superstar has been on my playlist since I was in high-school and, believe me, that's a very long time," says director Tim Dennis."I am also excited about the fact that we are presenting a school matinee of this production on Thursday March 21st at 11am. This a something new for our company and we are thrilled that we are able to have this opportunity to introduce young students to this iconic piece of theatre."
"I didn't hesitate to accept the offer of choregraphing this production," says choreographer Stephanie Westbrook. "Superstar is my all-time favourite musical. I simply cannot wait to bring my vision to life on the stage with such dynamic and exciting music to work with!"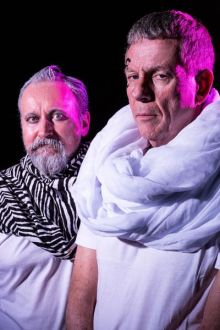 "This is a show that is very close to my heart," says Kyle Nozza, playing the role of Jesus. "I love the music and the way the story has been put together. I also love the fact that it has been reinvented over and over since the 70's, and has endured with audiences through the generations."
For Lachlan O'Brien, his role, "Herod is the best role in the show! You have very little rehearsal time and then you get a big, camp, show stopping production number where you waltz into a rather serious and heavy musical drama, ham up an absolute storm for 3 and a half minutes, steal the show and then bugger off!"
Ilione Pipitone, playing Mary, explains that "Superstar has always been part of my family tradition. We're quite a weird family and every Easter, instead of celebrating like a normal family does, for lunch we arrange a picnic in the middle of the living room and we watch JCS with subtitles having this kind of 'sing out loud' karaoke. So, yes, JCS and the role of Mary Magdalene has been on my 'To Do List' for a very long time."
"Superstar was the first musical I ever saw back in the 70's with the legendary Jon English as Judas," says Mark Gardner (Ciaphas). "I have been such a huge fan of this show ever since."
Jayden Marre, playing Peter, says "My love of musical theatre began in school productions, after which I joined the ensemble for three Miranda Musical shows. I finally built up the courage to audition for a lead role and was so excited when I heard I got the part!"
The stirring, iconic score of Jesus Christ Superstar features songs including 'I Don't Know How to Love Him', 'Everything's Alright', 'Jesus Christ Superstar' and 'Gethsemane'.
Images. Simon and Peter (Ethan Fuller & Jayden Marré), Judas, Mary and Jesus (James Cullen, Ileana Pipitone and Kyle Nozza), Annas and Caiaphas (Rickard Roach and Mark Gardner) and King Herod (Lachlan O'Brien).
MARCH 20-24
SUTHERLAND ENTERTAINMENT CENTRE
Bookings www.mirandamusicalsociety.com.au
More Reading
Community Theatre Seasons 2019