The thrilling story of the world's most infamous barber, Sweeney Todd, will bring a touch of Victorian tragedy, intrigue, love, and dark humour to the Empire Theatre stage next month (September).
Presented by the Toowoomba Choral Society, Sweeney Todd: The Demon Barber of Fleet Street tells the tale of a London barber who returns home after 15 years of exile, and his quest for revenge on the evil Judge Turpin.
When revenge eludes him, Sweeney swears vengeance on the entire human race, murdering as many people as he can, while his business associate Mrs Lovett bakes the bodies into meat pies and sells them to the unsuspecting public.
Director Mary Quade said rehearsals were well underway and audiences could expect to be captivated by the musical thriller, considered to be composer and lyricist Stephen Sondheim's masterpiece.
"It's the type of musical where everyone thinks about this dark concept of murder, mayhem and people in pies, yet there's so much more to it," Ms Quade said.
"There are so many great characters who bring these side stories into the plot and spin an amazing web of intrigue."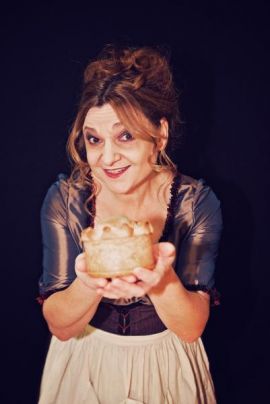 Actor Kyle Dever said he was enjoying the challenge of bringing the brooding, dark character of Sweeney Todd to life.
"Sweeney is definitely one of my favourite musicals and I've had it on my performance bucketlist for many years," Mr Dever said.
"The character itself suits my acting range; he's so outlandish. It's good to have a deep, dark and emotional character to delve into."
Mr Dever has appeared in many Toowoomba Choral Society and Empire Theatre shows during the past 12 years. His highlight roles include Benny Southstreet in Guys and Dolls, Winkie General in Wizard of Oz, Mr Northbrook in Mary Poppins and Che in Evita.
The cast also features Vicki Bravery as Mrs Lovett (Legally Blonde, Mary Poppins, Into the Woods, Les Miserables, Annie, Evita), Justin Tamblyn as Anthony (The 25thAnnual Putnam County Spelling Bee, Wicked, Mary Poppins, Into the Woods), Shannon Gralow as Johanna (Cinderella, Sound of Music, Wicked, Mary Poppins, Into the Woods) and Jon Maskell as Judge Turpin (Opera Queensland – Candide, The Merry Widow, La Traviata).
Songs performed in the musical include The Worst Pies in London, Johanna, By the Sea, Not While I'm Around, Green Finch and Linnet Bird and The Ballad of Sweeney Todd.
Sweeney Todd: The Demon Barber of Fleet Street will be performed at the Empire Theatre on September 1-3. Tickets are available through the Empire Theatre Box Office www.empiretheatre.com.au or phone 1300 655 299.
Images: Kyle Dever as Sweeney Todd and Vicki Bravery as Mrs Lovett.
More Community Theatre Reading