Tantrum Youth Arts' will bring 33 local playwrights, actors and directors to the Civic Theatre Playhouse stage in a festival of new short plays from November 10th - 11th, 2017, with cake and celebrations on opening night to mark the festivals' 5th year running.
An important part of Tantrum's annual program, Hissyfest promotes new writing in the region. As part of this years' festival, Tantrum offered selected emerging writers the opportunity to work with award-winning Playwright Vanessa Bates in a special Writer's Lab to refine ideas before submitting their scripts.
"It's been great offering new opportunities for development of new writing here in Newcastle," says James Chapman, Associate Director of Tantrum Youth Arts and Hissyfest festival director. "The caliber of work that Newcastle playwrights are capable of is outstanding, and having Vanessa involved this year has been a great professional development experience for participants."
"Working with Vanessa has been invaluable in developing my writing," says local playwright Emma Graham. "I was surprised how emotional I felt watching my play performed. The actors and director have perfectly captured not only the characters but the message of the play. Hissyfest has provided me with a platform to further pursue both my acting and writing in a supportive environment. As a working mother, I am incredibly grateful that local opportunities are available."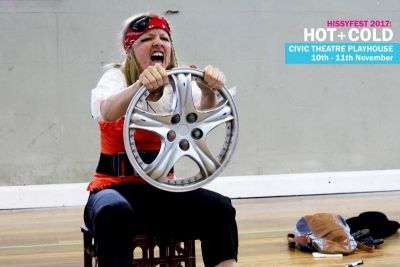 Emma Graham's new short play, Cold Streak, directed by Stephanie Priest and starring Jan Hunt and Patrick Campbell is one of ten 10-minute plays exploring themes of nostalgia, loss, connection and autonomy for an entertaining night of drama, comedy and the absurd.
Hissyfest brings together young, emerging, independent and community artists to showcase the range and depth of new work created locally, the festival features some of Newcastle's most established creatives alongside exciting up and coming talent.
Tickets on sale October 26th from Ticketek. Recommended for mature audiences. Strong themes and language.
HISSYFEST 2017: HOT + COLD
When: November 10 – 11
Venue: Civic Theatre Playhouse, 375 Hunter St, Newcastle NSW 2300
Tickets: $20.40 Concession / Under 30 / Student, $35.70 General Admission
Bookings: www.tantrum.org.au or Ticketek
Images: Patrick Campbell and Jan Hunt performing in Emma Graham's new play Cold Streak, developed through the Hissyfest Writers Lab and Emma Graham, playwright of Cold Streak and star of Juice For A Pirate, in rehearsal for 'Hissyfest 2017: Hot + Cold'. Photos: Eryn Leggatt / Tantrum Youth Arts
More Community Theatre Reading