There's something theatrical for every taste when Lane Cove Theatre Company presents its inaugural 10-minute play showcase: In a Nutshell, over the weekend Friday 27 to Sunday 29 September, 2019.
Part of the Lane Cove Festival, In a Nutshell highlights the talents of local actors, directors and writers in a short series of quickfire performances.
With comedies, thrillers, romances and more, the ten x 10-minute short play format means there's something for everyone over the short, sharp season of three fun-packed performances!
Directors Lochie Beh and Rachael Ashley say the theatre showcase is a platform for writers to tell their stories and for actors and directors to strut their stuff, while entertaining new audiences.
Among the plays are pieces which have won international awards (Slow Dating by Adam Szudrich), major Australian prizes for their performers (Margot's Bench) or which feature the work of award-winning writers, directors or actors (Paulene Turner, Wendy Crew, Lynda Leavers).
What they all have in common is their local roots!
IN A NUTSHELL - THE PLAYS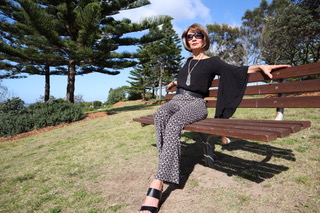 Margot's Bench - Written by Lindsey Brown, directed by Olga Tamara, starring Lynda Leavers.. Margot reflects on the day her life changed… murder is such a chilling word!
Slow Dating - Written by Adam Szudrich. Directed by Megan Spindler-Smith, starring Nicole Smith. When an elderly lady tries speed dating it leads to a night with a charming stranger and a heartbreaking revelation about her husband. A one woman show which explores the beauty of holding on and the vulnerability in letting go.
Sportsball - Written and directed by Jonathon Emmett. Featuring Gavin Brightwell and Kris Fennessy. How far is too far? Tommy is the best up-and-coming player the sport has ever seen, but it's his behaviour off the field that leaves a lot to be desired.
Good Cop, Mad Cop - Written by Paulene Turner. Directed by Justin Buchta. Starring Laura Buxton, Taufeeq Ahmed, Nicholas Jones and Kara Cooper. Two detectives are called on to investigate the death of a man found on a riverbank. Can they conclude from the clues that it was murder ...or something more complicated?
Don't Feed the Lion - Written by Karina Young. Directed by Taufeeq Ahmed. Starring Rod Stewart, Cindy Tran & Bindoo. A trainee teacher goes to talk to a cute kiosk guy and loses 30 children in the zoo. How will the zookeeper keep them from becoming lion food?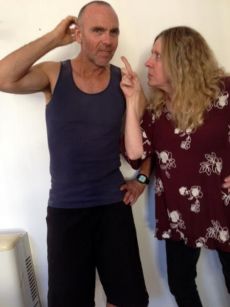 Roger Reconstituted - Written and directed by Wendy Crew. Featuring Nicola Read and Luke Denny. What if technology meant you could "reconstitute" your spouse - just for a short time - what would you want to know? Nancy and Roger talk all things heaven and earth.
Many Apps Make Light Living - Written by Robert Ballinger. Directed by Laura Buxton, with Anthony Slaven and Samantha Camilleri. Can Romance bloom despite electronic distractions and the perils of traffic? Two people meet at a bus stop. Can he break through her absorption in her mobile and will they survive the perils of traffic?
Connecting - Written and directed by David Landsberry – with Mark Massingham & Georgia Golledge Two kids. Two phones. Too much time on their hands. What starts out as a prank, ends up changing lives.
The Theatrical Dead - Written by Bart Meehan, directed by Elyse Landsberry and starring Mark Massingham, Georgia Golledge, Anthony Slaven & Rod Stewart. A local Australian theatre company is about to stage Oklahoma, when their performance space becomes haunted by the dull musings of a dead Shakespearean actor!
The Interview – By Ian Hart. Directed by Trent Gardiner with Belinda Korner, Karina Young & Lochie Beh. What reaction do the interviewing panel have to a young woman's story of harrassment?
Lane Cove Theatre Company presents In a Nutshell
Fri 27 & Sat 28 Sept 7:30pm and Sun 29 Sept 2pm
The Performance Space @ St Aidan's
1 Christina Street, Longueville
Tickets: $27 (Concession $22, groups 10+ $20)
Bookings: www.trybooking.com/BCQPK
More Reading
Community Theatre Seasons 2019