The Guild Theatre in Rockdale, NSW, presents Tennessee Williams' The Rose Tattoo from August 4 to September 2, 2017.
The Rose Tattoo tells the story of Italian-American widow Serafina Delle Rose who lives in Mississippi in America's deep south during the 1950's. Like most Tennessee Williams plays such as A Street Car Names Desire, Cat on a Hot Tin Roof and The Sweet Bird of Youth - his characters, particularly female ones, are deeply felt and fascinating.
Serafina has withdrawn from the world after her husband's death and expects her daughter, Rosa, to do the same. So strong is her devotion and passion to her late husband, Rosario, "a rose of a man", she cannot reconcile rumour with her own beliefs when she learns the "awful truth" about him. Turning to her own sense of faith and beliefs the stage is set for an engaging tale of malicious gossip, despair and new love.
Maria Micallef, playing Serafina, is celebrating 20 years onstage with this exciting role plus 40 years since emigrating from England. Her Cypriot background and Italian speaking in-laws give her an insight into the cultural worlds of the play. Maria has also played Mae in Cat On A Hot Tin Roof at The Woodstock Theatre and so is very familiar with Williams' characters and inspiring storytelling.
Maxine Solari making her debut at The Guild Theatre plays Rosa, Serafina's defiant daughter, trapped between the classic world of superstition and her teenage infatuation with Jack, a timid sailor.
Y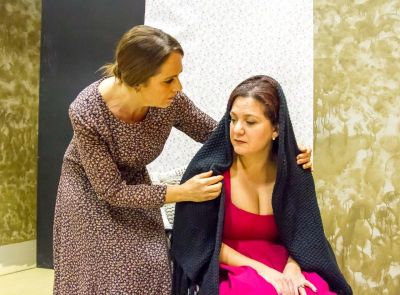 olanda Regueira plays Assunta, Serafina's loyal friend and voice of reason amidst the fanciful and often delusional world that Serafina has created for herself. Yolanda is a real fan of Tennessee Williams' characters and enjoys Assunta's sense of humour tinged with sarcasm. Alvaro, Serafina's unexpected love interest is played by Philip Chaffey. The characters's raw emotion, playful and honest individuality is in stark contrast to Serafina's dramatic outlook and sets up a dynamic relationship that Philip is looking forward to presenting onstage.
Di Mifsud as Estelle, Brendan Dallow playing the salesman and a doctor and Andrew Nicholls as Jack are also making their debuts on stage at the Guild.
Guild veterans Anne McMaster, Peggy Leto and Veronica Bray (Saville) add some comic moments in this play, in contrast to the serious figureheads of the community played by Sally Whitely and Donny Muntz.
Tennessee Williams' The Rose Tattoo combines comedy with drama, taking audiences through a rollercoaster of emotions. This heartfelt comedic drama takes us all to another time and place where rich Mediterranean tradition and brash modernity clash in vivid and spectacular fashion.
The Rose Tattoo
By Tennessee Williams
4 August – 2 September 2017
DIRECTOR: James Searle
CAST: Veronica Bray (Saville), Philip Chaffey, Brendan Dallow, Peggy Leto, Anne McMaster, Maria Micallef, Di Mifsud, Donny Muntz, Andrew Nicholls, Yolanda Regueira, Maxine Solari and Sally Whitely
TICKETS: Ticket Prices include refreshments and programme.
Adults ... $25
Concessions ... $20
Theatre Parties (20 people or more) ... $20
BOOKINGS: 9521 6358
Images: The young lovers, Rosa Delle Rose played by Maxine Solari and Jack Hunter played by Andrew Nicholls, and Serafina Delle Rose (seated) played by Maria Micallef and Assunta played by Yolanda Regueira.
More Community Theatre Reading