URINETOWN THE MUSICAL, the Broadway musical satire will be presented by Mosman Musical Society (NSW) at the Zenith Theatre in September 2017. The winner of three Tony Awards, URINETOWN was created by the award-winning team of Mark Hollmann (Music and Lyrics) and Greg Kotis (Book & Lyrics). It's a musical. With singing and dancing and faxing (and copying). Set in the glorious dystopian future where people pay to pee, one malevolent company is making flushing mean 'flush at the bank'. When the poor denizens of Public Amenity #9 run out of money, patience and hope they get behind one man with no political experience and elect him, above all others to make their town... great again.
Bobby Strong (Daniel O'Connell) has finally got his life on track. No longer needing to dodge Officer Lockstock (Kyle Masson) or his offsider meathead Officer Barrel (Nib Brattoni) while illegally peeing behind the bushes for free, the tough as nails Penelope Pennywise (Julia Dance) has given him a job at the poorest, filthiest urinal in town which she manages. When Hope (Rebecca Carter), the daughter of the tyrannical (but loveable) aqua-mogul Caldwell B. Cladwell (Duncan McDonald) comes to town, she immediately catches the eye of Bobby Strong and inspires within him a rebellion that will change their lives forever!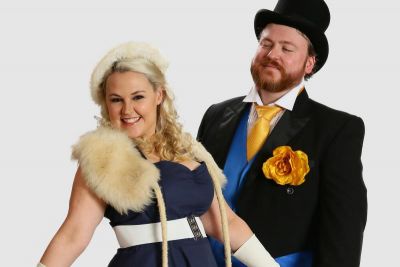 A world wracked by ecological disaster.
A city caught in the throes of corporate greed.
A hero rising, leading us to freedom.
An untempered satire where no musical is safe from scrutiny.
This September see an amazing musical with a TERRIBLE title.
"Somewhere beyond the sublime, beyond the ridiculous, lies URINETOWN. Inspired, fresh, exuberant, even moving."
- Scott Brown, Entertainment Weekly
SEPTEMBER 15-23
Zenith Theatre
Mcintosh St & Railway Street, Chatswood
Tickets can be booked via www.mosmanmusicalsociety.com.au
Images: (top) Julia Dance as Penelope Pennywise and Daniel O'Connell as Bobby Strong & (lower) Rebecca Carter as Hope Cladwell and Duncan McDonald as Caldwell B. Cladwell
More Community Theatre Reading