The Hayes Theatre production of Stephen Sondheim's Assassins had its share of opening night drama when star Bobby Fox suffered a serious ankle injury and left the theatre in agony.
Bobby Fox, portraying Charles Guiteau, the assassin of President James Garfield, was in the middle of a furious skipping sequence when he severely twisted his ankle.
He immediately fell to ground and had to be dragged off the stage by cast members. Fellow star David Campbell came onto the stage a minute later to let the audience know there had been an injury and there would be an un-scheduled interval.
Fox was taken to hospital after being heard screaming in agony. The production continued with an associate producer reading Fox's part from a script.
The company has confirmed the show will go on.
"During last night's performance of Assassins Bobby Fox sustained an injury to his foot. we wish him a speedy recovery," a spokesman said.
"The season will continue as per the original performance shedule with Ryan Gonzalez now performing the role of Charles Guiteau until Bobby recovers."
Neil Litchfield interviewed Bobby Fox ahead of the season at the Sydney Opera House.
Best known for the starring role of Frankie Valli in Jersey Boys, Bobby Fox's first 'ensemble' show was quite a change of pace and style, and that's quite aside from the fact that he and fellow cast member David Campbell have gone from playing iconic popular singers to iconic killers.
"It's certainly the most unique show I've been in, in its production, its preparation and its approach," says Bobby. "There were a lot of conversations, a lot of talk around the table in terms of - What is this show? Why is this show? When is this show? And is there a desired effect, and is there a trajectory? Just unravelling the web of Sondheim's work, in a sense, and going right, what is that and why is that."
With all that round table discussion, did those questions get answered, or did they just keep leading you down other paths?
"Down new paths. It took that time to figure out what show we were all in together, so that when we're on stage we're telling the same story. A lot of that came from running it.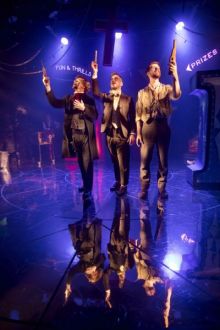 "What you get is quite a unique Australian production – not an American cookie cutter show.
"It's a character piece, and it talks about the nature of the American Dream – you grow up in America being told that anything is possible if you work hard and focus on it – but what if your American Dream is not the majority's American Dream? It fundamentally addresses the idea of an American Dream being an idea within one person, but you can't sell an American Dream to someone whose American Dream is not what you're selling.And what if that American Dream involves killing someone with a gun, or that you need to feel famous. That it's never going to happen – that this is the only way to do it."
It wasn't just Bobby's first ensemble piece, but also his first Sondheim.
"It's so wonderful because it's open to interpretations. I really, really enjoyed "I am Going to the Lordy" – the ballad of Charlie Guiteau and was able to find many different ways of performing the number, when you want to get to a point that you know it so well that you can really let go. It was very difficult and very challenging, but that's where the fun lies."
What does Bobby think about Assassins moving into a larger space?
"To me, the design was spectacular in the clever use of the Hayes, providing depth and maximizing the use of every corner of such a tiny space.
The characters are certainly big enough to fill the space, and we're in the smallest space at the Opera House, so I don't think there's that much stage expanse. I think essentially it will just open up the playground, because the joy of the props was that they were just individual things like ropes and letters and bumping cars and pinball machines and a jukebox.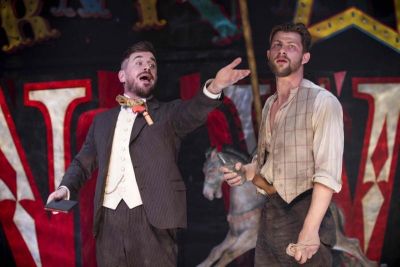 With recent student lead demonstrations in Washington filling the streets with more people than President Trump's inauguration, could this revival be even more powerful?
"Obviously it's so poignant to our current political climate; it's so evocative of the saturation of news, and fake news, and 'he says, she says'. It was very interesting to try and give voice to the characters. The history books are written by the victor, and it's so easy to cast aside the people who are essentially the criminals and look at them as just bad people, and crazy, and that's it. As an actor you have to delve into, yes, this person did try to murder someone, and yes, fundamentally this is wrong, but you have to get rid of that and ask why. You have to understand that people are people, and most of these people came from great pain or misunderstanding. And some of them, quite frankly, had delusions of grandeur.
"It's not just about American Presidents. It's about mass shootings, it's about fame, it's about winning in a culture that doesn't recognize a certain side of society, or just casts them off as crazy. That this is their only option if they want to be remembered.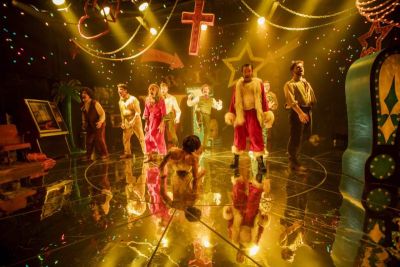 "It's quite ingenious the way that is looked at, and the manner in which (director) Dean (Bryant) has used gun history and culture, and the idealization of guns within the States as part of the show. That theme is tackled with such class, and with a great sense of humour.
"It's kind of the glorification of guns; as kids, guns are toys, and it looks at it in that sense."
What does Bobby hope audiences will take away from the show?
"It becomes as much about your personal conversation afterwards – it's evocative of that – it dares you to think and question yourself.
"It's not one of those shows where you say, hey come and see this, it's the latest blockbuster, it's incredible – yet it is – with jaunty tunes, and a very attractive cast, great lighting, incredible design, spectacular direction, choreography second to none, and an original Australian production of Sondheim's forgotten theatre piece – I'm trying to give you some bells and whistles here.
Photographer: Phil Erbacher
Assassins plays at The Playhouse, Sydney Opera House from June 7 to July 1, 2018.
More reading