Australians will enjoy a mix of replica Broadway blockbusters, fresh interpretations of classics and a sprinkle of locally written musicals in 2018. Independent theatre companies are serving up a some of the tastier productions.
National Tours
Brisbane's Shake n Stir company cooked up a storm with its premiere of Green Day's American Idiot. Stage Whispers' Peter Pinne described it as "the most exciting new rock-opera to appear on a Brisbane stage in over a decade. A blistering no-holds-barred journey that's visceral and anarchic".
From January audiences in Sydney, Adelaide, Melbourne, Perth and Brisbane will able to enjoy the musical, based on Green Day's chart-topping 2004 political pop-punk album, starring Phil Jamieson.
Whereas the 2010 Broadway original was conceived in the George Bush era, this version uses Donald Trump as its whipping boy. Pinne said, "The show feels like a close cousin to Spring Awakening."
Read our review of the original Brisbane season
Image: American Idiot, Original Australian cast. Photographer: Dylan Evans.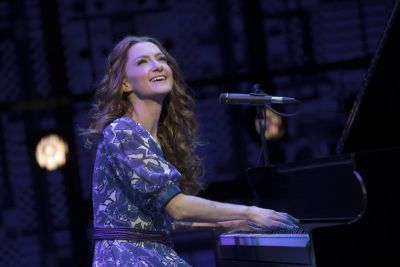 In Beautiful: The Carole King Musical, Esther Hannaford absolutely nails the lead role. Beautiful follows Carole King's journey from awkward teenage prodigy with loads of chutzpah, through professional and personal drama that gives birth to her solo album Tapestry, which conquers the world. Playing in Sydney until the end of January, with seasons announced for Melbourne (February), Brisbane (July) and Adelaide (December).
Esther Hannaford in Beautiful: The Carole King Musical. Photographer: Joan Marcus.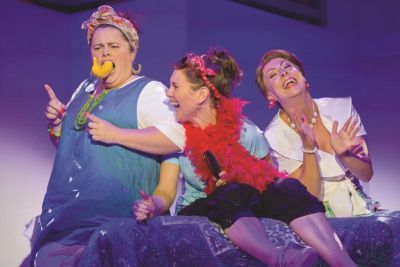 Mamma Mia! commenced Its new national tour in Canberra during November 2017, ahead of seasons in Brisbane, Sydney, Perth, Melbourne and Adelaide. Coming full circle from the original 2001 production, Natalie O'Donnell, who played Sophie in that production, is playing Sophie's mum Donna this time around.
Image: Alicia Gardiner, Natalie O'Donnell and Jayde Westaby. Photographer: James Morgan.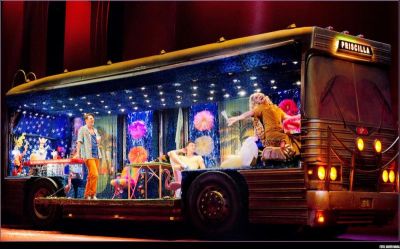 Tony Sheldon will be back on the bus, returning home to reprise his role of Bernadette in the 10th Anniversary Celebration Tour of Priscilla Queen of The Desert. Completing the trio of misfits who hop aboard a battered old bus bound for Alice Springs are accomplished leading man David Harris as Tick and Kinky Boots and Les Misérables alumni Euan Doidge as Felicia. Performances begin on Sunday January 21, 2018 at Melbourne's Regent Theatre, before touring to Sydney, Adelaide and Brisbane.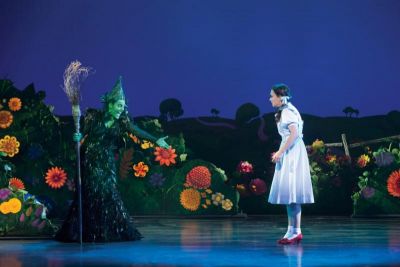 The London Palladium version of The Wizard of Oz continues its national tour at the Capitol Theatre, Sydney from December 30, after opening in Brisbane. Adelaide follows in April and Melbourne in May. Anthony Warlow stars in the title role, while Lucy Durack and Jemma Rix reprise the two witches which they so successfully 'prequelled' in Wicked. It features a lavish new staging and a number of new songs written by Andrew Lloyd-Webber and Tim Rice.
Image: Jemma Rix as the Wicked WItch and Samantha Dodemaide as Dorothy. Photographer: Jeff Busby.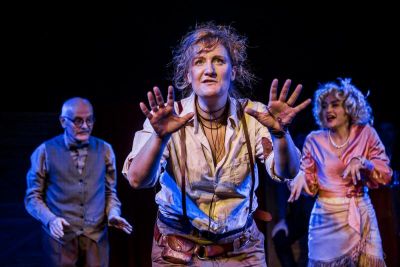 The somewhat creaky musical Calamity Jane became an unlikely hit at Sydney's Hayes Theatre in 2017, thanks in part to the extraordinary performance in the lead role of Virginia Gay, described by Stage Whispers' David Spicer as "a force of nature". The intimate surrounds of the Darlinghurst venue gave it an immersive feel, with the audience coming through the salon to get to their seats. Will the atmosphere be just as exciting in bigger venues? The production is moving to larger stages in Melbourne, Canberra, Illawarra, Parramatta and back to the centre of Sydney at Belvoir.
Our review of the original Hayes Theatre season
Image: Tony Taylor, Virginia Gay and Sheridan Harbridge in the Hayes Theatre production of Calamity Jane. Photographer: John McRae.
Blockbusters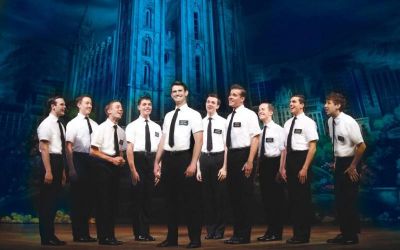 The Book of Mormon – as every bus stop in Sydney tells you - arrives at the Lyric Theatre on February 28. Stage Whispers' Coral Drouyn described it as "Quite simply the funniest musical of all time. This marvellous piece of buffoonery, for all its crudity and brashness, is warm, endearing and positive, with a terrific score."
Be warned that tickets are pricey. Even so, the musical set a record for the highest grossing on-sale of any musical theatre production in Sydney's history. That was 45,000 tickets with a value of over $5,000,000 on one day.
The Book of Mormon - Melbourne cast. Photographer: Jeff Busby,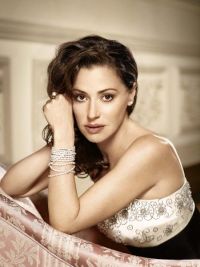 Evita returns to Sydney in 2018. Fresh from their stunning production of My Fair Lady, Opera Australia and John Frost are bringing an Andrew Lloyd-Webber musical to the Sydney Opera House for the first time in September.
Legendary Broadway director Hal Prince, winner of a record 21 Tony Awards, will be joined by fellow original West End creative team members including choreographer Larry Fuller and designer Timothy O'Brien.
In the lead, playing the mother of the nation, Eva Peron, is Tina Arena. At the launch she said, "It is terrifying. There is an exquisiteness in the character. I'm nearly 50 and I'm emotionally ready to take this role."
Tim Rice and Andrew Lloyd Webber's EVITA is iconic, with more than 20 major awards to its credit including the Olivier and Tony Awards for Best Musical, a Golden Globe and an Oscar for the film version starring Madonna and Antonio Banderas.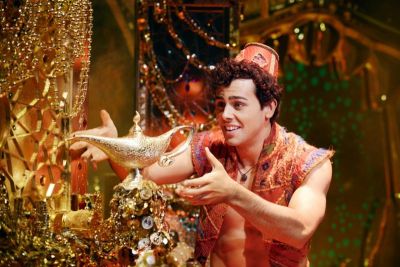 Aladdin is delighting Melbourne audiences until mid-January before the magic carpet takes it to Brisbane in February and Perth in July. When it opened in Sydney, the production got two standing ovations. What pushed the audience out of their seats was an extravagant song and dance routine when young Aladdin steps inside a cave filled with eye popping gold and treasure.It's the best scene in the musical, or, to be more accurate, the elaborate pantomime, with a dash of vaudeville, which Aladdin is.
Image: Aladdin and Lamp - Ainsley Melham. Photographer: Deen van Meer.
Read more about Brisbane and Perth seasons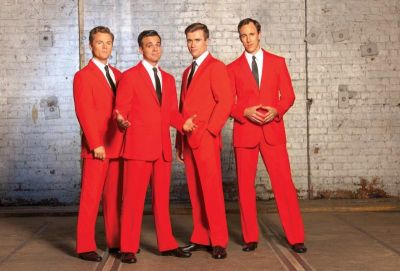 Jersey Boys returns, opening its new Australian tour in September at Sydney's Capitol Theatre. The original Australian production of Jersey Boys opened in July 2009. Its run concluded in Perth four years later having played to 1.6 million people across Australia and New Zealand. Frankie Valli will be played by Bernard Angel, who played Joe Pesci in the original Australian production. He will be joined by Cameron MacDonald as Tommy DeVito, Thomas McGuane as Bob Gaudio, making his career debut after graduating from the VCA and Glaston Toft, reprising his portrayal of Nick Massi.
Image: Cameron MacDonald, Bernard Angel, Thomas McGuane and Glaston Toft. Photographer: Brian Geach.
Craig McLachlan again dons Frank N Furter's legendary fishnet stockings in his Helpmann Award-winning role. The Rocky Horror Showwill re-open the refurbished Festival Theatre at the Adelaide Festival Centre from December 28, 2017, then play at QPAC, Brisbane from January 18, 2018, and the Crown Theatre, Perth from February 17, 2018.
Image: Craig McLachlan with members of the 2014 cast of The Rocky Horror Show. Photographer: Jeff Busby.
Melbourne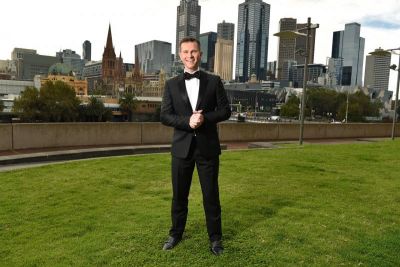 Dream Lover – The Bobby Darin Musical will play at the Arts Centre Melbourne from December 27, 2017 to February 4, 2018.Joining David Campbell as Bobby Darin is Hannah Fredericksen playing Sandra Dee, Bobby Darin's wife and Marina Prior, Marney McQueen, Rodney Dobson and Martin Crewes. The more you learn about Bobby Darin the more intriguing he becomes. The son of a mafia figure who he never met, and being raised by his grandmother who he thought was his mother, are just a few of the fascinating chapters of his life. The songs he composed and sung are big band standards, sweet melodies, and 50's and 60's rock'n'roll.
Melbourne's Independent musical theatre scene starts the year with two productions at Chapel off Chapel. StageArt will present Falsettos from January 31 to February 12, while Humdrum Comedy and Left Bauer Productions will join forces to stage Gilligan's Island The Musical from February 15 to March 4.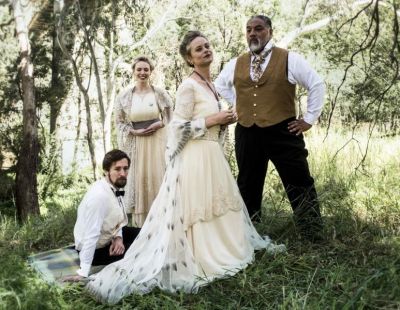 Melbourne-based Sondheim repertory company Watch This will bring in 2018 with A Little Night Music, in association with Geelong Performing Arts Centre, National Theatre Melbourne & Whitehorse Centre during February and March.
Nadine Garner, John O'May, Jackie Rees and Eddie Muliaumaseali'i headline the ensemble cast for the production
After premiering in Geelong, A Little Night Music will open in Melbourne at the historic National Theatre Melbourne before transferring to the Whitehorse Centre.
Photographer: Jodie Hutchinson
StageArt will present three musicals at Prahran's Chapel off Chapel.
First up is multi award-winning Broadway musical Falsettos, showing from 1 February, directed by Tyran Parke . It revolves around the life of an intelligent, neurotic gay man named Marvin (Don Winsor – My Fair Lady, Mamma Mia!), his wife, lover, about-to-be-Bar-Mitzvahed son, their psychiatrist and the lesbians next door. When tragedy strikes and Marvin's lover is diagnosed with AIDS during the 1980's pandemic, all participants must put their differences aside and unite.
Showing from 20 March is the Victorian professional premiere of bare, directed by Dean Drieberg. Set at a Catholic boarding school in the early 2000s, the students are struggling with religion, sexuality and identity. As they rehearse for a production of Romeo and Juliet, parallels are drawn between the play's star crossed lovers and students Peter and Jason.

Nine will show from 12 October 2018. It tells the story of Guido Contini, a celebrated film director who at 40 is suffering a mid-life crisis and subsequent writers block while preparing for his highly anticipated next film. He reflects on the women in his life, from his first sexual encounter at age nine to his various lovers, actresses, wife and mother. Nine is based on Federico Fellni's Academy Award winning semi-autobiographical film 8½.
Sydney
Muriel's Wedding The Musical plays at the Roslyn Packer Theatre in Sydney until January 27, 2017. The production updates the famous story of misfit Muriel Heslop and her escape to Sydney from the fictional Porpoise Spit.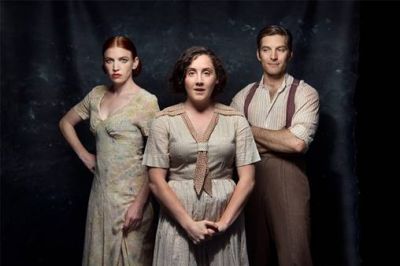 The Hayes Theatre has announced a year-long program for the first time, including two productions actually set in the neighbourhood. Classic Australian musical Darlinghurst Nights takes place on the streets around Hayes Theatre Co itself. Inspired by the works of poet Kenneth Slessor, with a book and lyrics by Katherine Thomson and music by Max Lambert, this January production celebrates the musical's 30th anniversary.
Direct from New York, Invisible Wall Productions and Sugary Rum Productions stage queer hit The View UpStairs at the Hayes Theatre, bringing 1970s New Orleans to Potts Point during Mardi Gras in February. From the opening piano chords of this Off-Broadway musical, the five-piece band and cast of ten blast into the glam rock world of the 1970s. In our ever-changing world, this show looks at the then and now to explore our ideas of love, regret, defiance and resilience.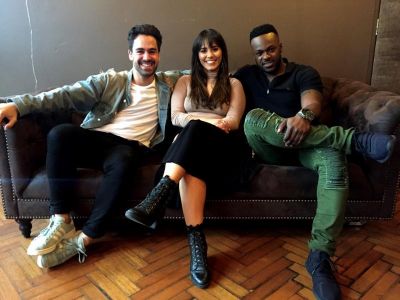 Winner of the 2008 Tony Award for Best Musical, In the Heights, with music and lyrics by creator of Hamilton Lin Manuel Miranda, tells the universal story of a vibrant community in New York's Washington Heights neighbourhood. Staged by Blue saint Productions, it makes its Sydney professional debut in March.
Playing the role of Usnavi De La Vega (played by Lin Manuel Miranda in the Broadway production) is Ryan Gonzalez. Benny will be played Tim 'Timomatic' Omaji, while Olivia Vasquez will play Vanessa.
Image: Ryan Gonzalez, Olivia Vasquez and Tim 'Timomatic' Omaji.
Carlotta, the inspiration for Priscilla, Queen of the Desert, returns to Kings Cross in May with Carlotta: Queen of the Cross, featuring songs and stories from 50 years on and off the stage, accompanied by Helpmann Award winner Michael Griffiths.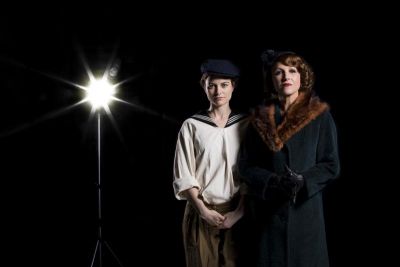 Gypsy, the Broadway musical based on the memoirs of Gypsy Rose Lee, with a celebrated Jule Styne / Stephen Sondheim score, is packed with classic songs including 'Let Me Entertain You', 'Some People', 'Everything's Coming Up Roses' and the iconic 'Rose's Turn'. Blazey Best will play archetypal stage mom Rose, with Laura Bunting as Louise, in an intimate production at the Hayes in May.
Image: Laura Bunting and Blazey Best. Photographer: Phil Erbacher
American Psycho plays at the Hayes in July. Based on Bret Easton Ellis' 1991 controversial best-selling novel, and featuring classic 80s hits from Phil Collins, Tears for Fears, New Order and Huey Lewis and the News, this musical tells the story of Patrick Bateman, a young, handsome and wealthy investment banker living in the epicentre of excess: Manhattan during the Wall Street Boom of the late 1980s.
In October, new Australian musical Evie May: A Tivoli Story takes the stage, telling a tale of the dying days of the Tivoli variety circuit.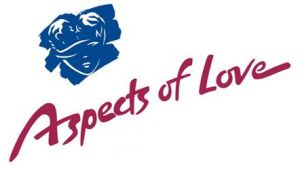 Andrew Lloyd Webber makes his Hayes debut with Aspects of Love. The heartbreaking romantic musical is set against the backdrop of post-war France and Italy from the 1940s through to the 1960s, will receive a new intimate production.
Elsewhere in Sydney, the Old Fitz Theatre hosts the World Premiere of new Australian musical Sherlock & Me by Louis Nowra & Stewart D'arrietta in October. Set in Texas, Queensland during the terrible floods, a New York university professor has escaped to the safety of a railway waiting room where he meets his arch enemy in Sherlock Holmes studies.
Little Triangle will stage Merrily We Roll Along at The Depot Theatre in March, following their acclaimed initial production of Sunday in the Park with George, which played to packed houses at the same venue.
Merrily We Roll Along is just one of four musicals in the 2018 at The Depot Theatre. In July / August Louis Elis Productions will stage Carrie The Musical, Stalker The Musical will be presented by RPG Productions in September / October, while the Depot Theatre will present Stephen Sondheim and George Furth's Company during November / December.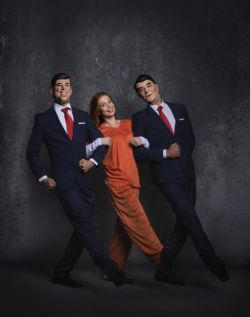 Perth
Black Swan stages Stephen Sondheim's multiple Tony Award winning musical Assassins at the Heath Ledger Theatre in June. Directed by Roger Hodgman, Assassins is described as a timely reminder that those in power ignore the marginalised in society at their peril.
1980s pop culture takes centre stage at Black Swan in October with a most intriguing new work – XENIDES, by Clare Watson and collaborators. It's a musical exposé about Adriana Xenides, the 1980s game show hostess from Australia's 'Wheel of Fortune', with original compositions by electronic pop group The Twoks.
Image: Mackenzie Dunn as Lynette "Squeaky" Fromme in Assassins. Photographer: Cameron Etchells.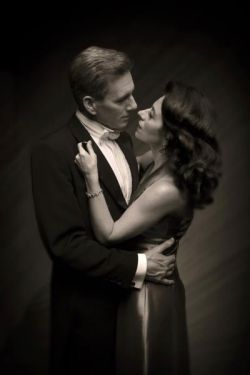 Queensland
In June, art deco design will come to the Lyric Theatre, QPAC, courtesy of Opera Q's production of The Merry Widow. The new production, directed and choreographed by the acclaimed Graeme Murphy, will star David Hobson (Count Danilo) and Natalie Christie Peluso (the Merry Widow).
Opera Q's Ruddigore returns for a regional tour from August. Lindy Hume's production of Gilbert & Sullivan's Ruddigore, or the Witch's Curse! will tour to the Gold Coast, Rockhampton, Mackay, Townsville, Cairns and Toowoomba.
Image: The Merry Widow. Photographer: Stephanie Do Rozario