As the curtain rose on the musical adaptation of Muriel's Wedding, David Spicer spoke to PJ Hogan, whose real life story inspired the movie, and the young actress - Maggie McKenna - playing a lead role for the first time.
It might be hard to believe, but many of the most cringeworthy scenes from the 1994 hit movie Muriel's Wedding were based on real life.
PJ Hogan, the director and writer, can still vividly remember going to a family dinner in a restaurant when his father's mistress turned up.
"I don't know if they said 'what a coincidence' but it was so obvious it wasn't a coincidence. We thought how brazen, who does he think he is fooling," he recalls.
"My Dad used to take us out to restaurants and get progressively drunker and would humiliate us in public."
PJ fled home at the age of 17, but his sister was stuck there and bore the brunt of his father's behaviour. She was the original Muriel.
Tom Hogan was a local Shire President on the NSW North Coast and ended up going to jail for corruption. As in the movie, PJ's mother died prematurely and had a sad life.
"When I went to the funeral, my father was in trouble with the law; all his cronies said (my mother's death) would be great for him, as the Judge would be more lenient on him. My wife and I (overheard this) and were furious."
PJ didn't tell him about the content of the movie and became very anxious when his father arranged a screening of the film at the local Leagues Club, inviting everyone he knew along.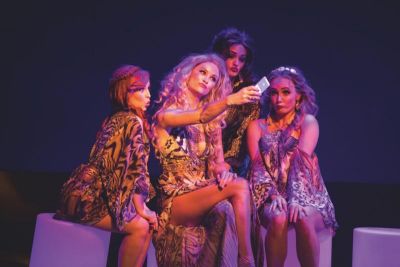 "He ended up seeing the film unprepared. My sister was sitting next to him. The lights came up (at the end) and he looked a bit stunned. All he said was, 'that cut a bit close to the bone'."
The story of Muriel cuts close to the bone for the young actress playing the lead, Maggie McKenna.
"Throughout High School I was definitely Muriel. I did not fit in and had the mean girls bully me."
She was teased sometimes because her mother, Gina Riley, was one of the stars of the TV series Kath and Kim.
"Of course, I always supported my mum and thought she was the most talented woman in the world. Sometimes when I went to school and people would quote my mum back at me and tease me I would hate it.
"I was so shy in High School I could barely speak to people. I didn't feel very smart, so I never spoke up in class. The only thing I was confident of was singing, dancing and acting.
"When I was eight I found there was a circus you could join. My eyes lit up for the first time. I become a different person when I get on stage."
Maggie filled almost every minute of her spare time with different performing arts activities.
"I did ten shows a year."
At the end of High School she scored a scholarship to the American Musical and Dramatic Academy.
"I thought why not have an adventure, jump in the deep end and study in LA."
Maggie famously was cast in the role after urging her agent to send in an audition tape whilst she was still in the United States.
When I spoke to her she was just a few weeks into rehearsal and enjoying the physicality of the role, after earlier just taking part in readings.
"I have a bit of a hunched shoulder (because Muriel) does not want to be seen. The bridesmaids come out tits out, bums out into the mirrors, whereas I am trying to hide everything. I feel a bit awkward."
Thinking about opening night makes her nervous.
"I am completely terrified. I knew, coming into this, there would be a lot of pressure. I haven't even had a moment to breathe or eat. I am in every number and scene. I get home, collapse and fall asleep. But it is the most riveting moment of my life."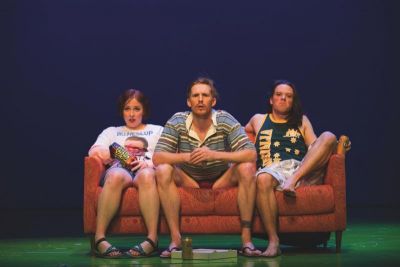 PJ Hogan is also nervous and does not intend to sit in the audience on opening night. "I will only pose for photos on the red carpet."
He also never reads reviews, because he said he tends to always believe criticism of his productions and ignore plaudits.
Producers from all over the world have been lobbying him to turn Muriel's Wedding into a musical for years, but he resisted until now.
"I always thought the material was too dark for a musical. My idea of a musical was Hello, Dolly! or The Producers."
"It was not until five years ago when I started to see musicals having a darker side, such as The Book of Mormon, Once and Fun Home, that I began to think maybe Muriel will work."
The recent decision of ABBA to give permission for use of their songs in the stage production was another major impetus, and he thinks Muriel would love 2017.
"She would love Facebook, and love Twitter because she could lie and get away with it. She would create Muriel, the person she wanted to be.
"A lot of people said to me over the years that Muriel seemed to be a harbinger of a reality TV star. She got married for money, which is very Kardashian.
"She sold the rights and became famous by creating the person she wanted to be."
PJ said he knew adapting Muriel's Wedding into a musical would be difficult, but "didn't know how difficult."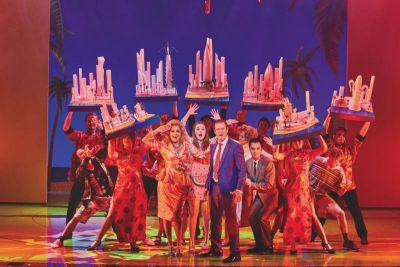 "I have been directing film and TV since I was 20. I think in terms of a close-up and cutting. In theatre it is much more fluid. When I am bored with the scene I can't cut away."
He is leaving the lyrics and music toKate Miller-Heidke and husband Keir Nuttall.
"Story telling is always something I like to study and like to do. Ultimately telling a story is assisted by a song.
Maggie McKenna predicts that audiences will be taken aback by the music.
"It is so beautiful and catchy. They have gotten into the heads of the characters; it flows so well. People are going to be shocked that it is a brand new beast, not the movie on stage."
Should we expect a song 'Your Terrible Muriel'?
Maggie thinks that would be terrible.
"They have done very well to choose the moments to use musically."
What is her favourite?
"When Muriel tries on one of the wedding dresses pretending to be a bride. There is a beautiful song, 'Here Comes the Bride'. It takes your breath away."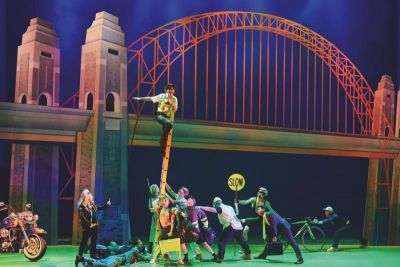 PJ Hogan's father won't ever see the musical as he died ten years ago. According to PJ he denied to his dying days that he behaved as badly as the character in the film.
But family relations improved after he got out of prison. Derision of his children was replaced by a pride in his eldest son's achievements.
"I was the oldest of seven children. To give my father credit he looked after them after my mother died."
Still able to bask in the glory will be his sister.
"My sister put up with a lot of crap. She found Muriel's Wedding cathartic."
When he told her about the looming film, based on her own incident of running away to Sydney after pinching money from her father, she imposed two conditions.
"One, never mention her name, and two, that she was the heroine of the story."
"The moment the film was a success she released a statement to the press. I am Muriel … Muriel speaks."
Now Muriel sings – and not just karaoke ABBA.
Muriel's Wedding the Musical, produced by Global Creatures and the Sydney Theatre Company, plays at the Roslyn Packer Theatre, Sydney until January 27, 2018.
Originally published in the November / December 2017 edition of Stage Whispers.
Photographer: Lisa Tomasetti.
More reading