The cast for Louis Ellis Productions' new Sydney staging of the musical version of the Stephen King classic, CARRIE: The Musical, has been announced. Hayden Tonazzi, Director, said 'alongside Sydney theatre veteran Michele Lansdown, we have found some of Sydney's most promising young talent from NIDA, Brent Street, ED5 International, AIM and the Sydney Conservatorium of Music. Bringing to life this tale of adolescence, we have cast an ensemble of artists with the individuality and skill to capture the intensity of this story and its relevance to high school culture and parenting today. This cast is going to showcase some of the best talent Sydney currently has to offer.'
Carrie White is an outcast. Bullied by the in-crowd, virtually invisible to everyone else, and at the mercy of her cruel and controlling mother. CARRIE: The Musical is a night of theatre that drives home a clear message to today's youth: when pushed to their limits, everyone has their breaking point.
The company engaged for CARRIE: The Musical is Michele Lansdown, Kirralee Elliott, Lauren Anne Paul, Matt Laird, Rachel Tunaley, Zach Selmes, Jasmine Sands, Heather Campbell, Ryan Smith, Kirsty Hooper, Sinead Cristaudo, Hamish Stening, Nic Savage, Sophie McGregor and Jared Pallesen.
The show's original authors have joined together for a newly reworked and fully re-imagined vision of this gripping tale, and Louis Ellis Productions is excited to present this 2012 revival version. CARRIE features a book by Lawrence D. Cohen (screenwriter of the classic film), music by Academy Award winner Michael Gore (Fame, Terms of Endear- ment) and lyrics by Academy Award winner Dean Pitchford (Fame, Footloose).
Emerging theatre director Hayden Tonazzi leads the creative team. Producer is Lucy Allen, Music Director is Zara Stanton, and the Choreographer / Assistant Director is London Academy of Dramatic Arts (LAMDA) graduate Laura Balboni.
CARRIE: The Musical opens at The Depot Theatre on July 25 for a season of 10 performances. Tickets start at $22, on sale now at The Depot Theatre - bit.ly/CarrieAUTix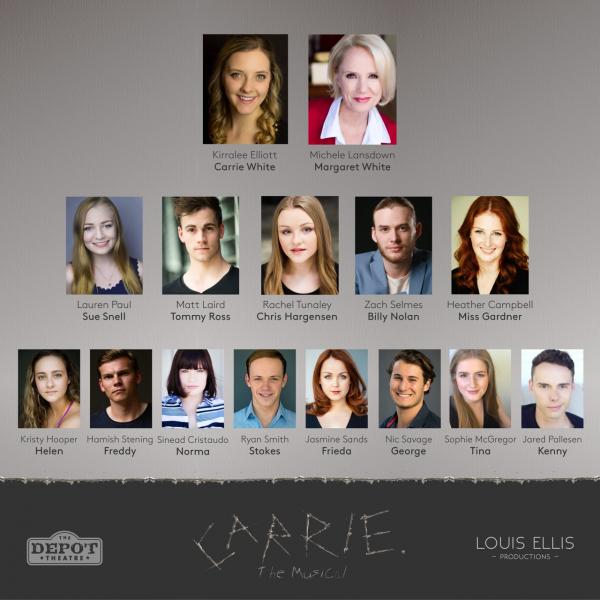 PRINCIPAL CAST
MICHELE LANSDOWN is Margaret White
In 2012 Michele performed the role of Norma Desmond in the Sydney premiere production of Andrew Lloyd Webber's Sunset Boulevard. Other favourite roles include Miss Hannigan in Annie, Desiree in A Little Night Music, Muriel Eubanks in Dirty Rotten Scoundrels, and Agatha Makin in the Riverside season of The Hatpin. In 2013 Michele reprised the role of Velma von Tussle in Packemin's production of Hairspray. 2014 saw Michele take on the titular role of The Chaperone in Squabbalogic's The Drowsy Chaperone. 2015 saw Michele play Madame Giry in Packemin's production of The Phantom of the Opera, Mrs MacAfee in Squabbalogic's Mystery Musical production of Bye Bye Birdie, The Witch in RMS's production of Into the Woods, while in the Big Apple she performed the role of Henrietta in RPG Production's Stalker the Musical at the NYC Fringe Festival. Michele is currently frightening the kids as the evil sea witch Ursula in Birdie Productions Little Mermaid.
KIRRALEE ELLIOTT is Carrie White
Kirralee Elliott is about to undertake her final year of a Bachelor of Music Performance at the Sydney Conservatorium of Music. In 2016 she performed the role of Elle Woods in Legally Blonde and Clara Makin in The Hatpin. 2017 saw Kirralee perform the role of Griddlebone in Packemin's production of Cats, and most recently she has performed in the comedic musical The Colour Orange as part of the Sydney Fringe Festival and the Adelaide Fringe Festival, with upcoming performances at the Sydney Comedy Festival.
LAUREN ANNE PAUL is Sue Snell
Lauren recently returned from the United States, where she has spent the past two years training in the New York Film Academy's Musical Theatre Conservatory program. Whilst training, she was part of her school's productions of Urinetown (Hope Caldwell), and Cabaret (Swing), as well as readings for new musicals; Joni (Leslie), and Anne Of Green Gables (Anne Shirley). Prior to moving to the States, Lauren attained a Diploma of Musical Theatre from Brent Street and performed in productions of Fame (Serena Katz), Joseph and the Amazing Technicolour Dreamcoat (Featured Ensemble), Beauty and the Beast (Belle) and The Wiz (Dorothy).
MATT LAIRD is Tommy Ross
Matt is a graduate from the Central Queensland Conservatorium of Music: Bachelor of Theatre (Music Theatre) program. Originating from QLD, Matt has lived in Sydney for the past two years. Since his relocation to Sydney, Matt's professional credits include: TJ in the US television series Deadly Women (2017), Matthew Lloyd/Alan in Bare: A pop opera with Supply Evolution (2016/2017), Peter in the SBS mini-series Deep Water (2016), touring throughout NSW with Perform! Educational Musicals for their 2016 and 2017 book week musicals and has also performed in the children's musical Fairy Dinkum Tales: Little Red Stack Hat (2016).
RACHEL TUNALEY is Chris Hargensen
Rachel recently graduated from NIDA with her Diploma of Music Theatre. Throughout her time at NIDA she was given many performance opportunities including preforming in the ensemble of Sydney Theatre Company's Chimerica Directed by Kip Williams. Before studying at NIDA, Rachel was involved in numerous high school productions such as Legally Blonde where she played the role of 'Elle Woods'. Carrie The Musical is Rachel's first production since graduating from NIDA and she's very excited for the challenge of playing the relentless mean girl Chris Hargensen.
ZACH SELMES is Billy Nolan
Zach is a Sydney-based musician and writer trained in classical, contemporary and musical theatre voice, having previously studied voice under West End performer Paul Scott-Williams before majoring in musical theatre at the Australian Institute of Music.
His theatre credits include Tony Abbott in the forthcoming production of The Colour Orange (Flaming Howard w/ Sydney Comedy Festival), Charley in Merrily We Roll Along (Little Triangle), Roger in Rent (MACMS), Franz/Dennis in Sunday in the Park with George (Little Triangle), Nick in Fame (Birdie Productions) and Young Tom Lehrer in Poisoning Pigeons in the Park, the third in a three-part cabaret series also starring Andrew O'Keefe, Rob Palmer and Glen Amer (Cabaret in the Day 2016).
More reading