One of the great legacies of Leonard Bernstein's career, Candide premiered on Broadway, at the Martin Beck Theater in New York on December 1, 1956. Although the original season met with mixed reviews, the Colombia Records recording of the original cast album thrived and Bernstein's score gained a sort of cult status.
Over the coming decades Bernstein collaborated on five versions of his operetta, each time adding to the show's song list, and further enhancing the work's increasingly legendary reputation.
Today Candide is acclaimed by music-lovers around the globe who relish its stellar song list, from the lively Overture to the iconic "Glitter and Be Gay", "The Best of All Possible Worlds" and the finale "Make Our Garden Grow". Interspersed throughout with affectionate parodies of opera, Gilbert and Sullivan, tango and Broadway glitz.
Presented as part of a global celebration of 100 years of one of the 20th Century's most acclaimed and influential composers, the Sydney Philharmonia production brings together a star-studded Australian cast including Caroline O'Connor, Alexander Lewis, Phillip Scott, Annie Aitken and Kanen Breen.
Directed by Mitchell Butel, fresh from his work on Sydney Symphony's concert performance season of Funny Girl, the show promises a rich, riotous and ultimately rewarding evening or afternoon of entertainment, based upon one of the world's most respected all-time literary classics.
Inspired by Voltaire's classic 18th Century satirical novella of the same name, Bernstein's Candide takes audiences on a whirlwind international tour in the company of our hitherto sheltered and naïve young hero.
Confronted by disaster, displacement, death, disease and all of the best and worst aspects of the human condition, Candide and his love, the fair Cunegonde, each ride the tide of disappointment and disillusionment, until reuniting and returning home with fresh philosophies of their own, informed by life's learnings and experience.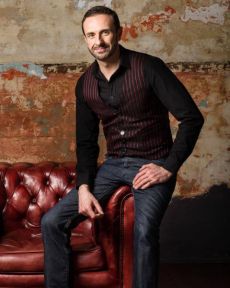 Presented for the first time in the Sydney Opera House Concert Hall, the Sydney Philharmonia concerts also feature the young artists from Sydney's Pacific Opera, performing the additional soloist roles, alongside more than 450 singers from Sydney Philharmonia's Symphony Chorus and 80 musicians from Sydney Youth Orchestra, all brought together under the baton of Brett Weymark.
Book now for this evening or afternoon of entertainment, 8pm Saturday September 29 or 1pm Sunday September 30 at Sydney Opera House Concert Hall, http://www.sydneyphilharmonia.com.au/bernstein- candide/
A free pre-concert talk will be held in the Northern Foyer of Sydney Opera House 45-minutes prior to the performance, for ticketholders to learn more about Bernstein's legacy, including some of the stories behind his greatest operatic work. Presented in association with Fine Music FM and Sydney Opera House.
Curious to know more about the making of Candide? Join Kellie Dickerson at a special Sydney Philharmonia Choirs' Discover workshop, 6pm to 8.30pm, Tuesday 25th September.
This informal 2.5 hour session includes an opportunity to focus in on Bernstein's work in the context of 1950s America – a period that saw working simultaneously on Candide, and his hit Broadway classic, West Side Story.
Discover what inspired Bernstein, playwright Lillian Hellman, lyricist John LaTouche, poet Richard Wilbur and others who contributed to the Candide score, to explore Voltaire's satire.
And finally, have some fun attempting to singing excerpts from some of Candide's best known songs, in the company of other singers and novices. No experience necessary.
Participation costs just $44. Register now at http://www.sydneyphilharmonia.com.au/discover-2018/
Established in 1920 to celebrate and share the joy of singing Sydney Philharmonia Choirs is currently preparing for its centenary celebrations in 2020. www.sydneyphilharmonia.com.au

Images (from top): Brett Weymark (Photo by Keith Saunders), Mitchell Butel and L to R - Phillip Scott, Caroline O'Connor, Alexander Lewis, Annie Aitken and Kanen Breen.
Leonard Bernstein's Candide
Book by Hugh Wheeler
Based on the satire by Voltaire
Lyrics by Richard Wilbur
With additional lyrics by Stephen Sondheim, John LaTouche, Dorothy Parker, Lilliam Hellman and Leonard Bernstein
Orchestration by Leonard Bernstein and Hershy Kay
Musical continuity and additional orchestration by John Mauceri
Brett Weymark Conductor
Mitchell Butel Director
Dan Cottier, Assistant Director
Amy Campbell Choreographer, Assistant Director
Brendan de la Hay, Costume Designer
Caroline O'Connor The Old Lady
Alexander Lewis Candide
Phillip Scott, Pangloss
Kanen Breen Maximilian
Annie Aitken Cunegonde
Sydney Philharmonia Choirs Symphony Chorus
Sydney Philharmonia Choirs Festival Chorus
Sydney Youth Orchestra
Sydney Opera House Concert Hall
8pm Saturday September 29
1pm Sunday September 30
Running time:
2 hours and 45 minutes including a 20 minute interval
Tickets: Premium $117 A reserve $96 B reserve $75 C reserve $55 D reserve $42
Bookings:
http://www.sydneyphilharmonia.com.au/bernstein-candide/
FREE Pre-concert talk for ticketholders:
Held 45 minutes prior to the performance, presented in association with Fine Music FM
WORKSHOP INFORMATION
DISCOVER Bernstein's Candide
Where Concert Hall Northern Foyer, Sydney Opera House
When Tuesday 25th September
Time 6pm to 8.30pm
Led by Kellie Dickerson
Cost: $44
Bookings: http://www.sydneyphilharmonia.com.au/discover-2018/
More Reading