StageArt has announced the first ever Australian production of Garfield: The Musical with Cattitude, in Melbourne. They will be bringing the musical to Prahran's Chapel off Chapel from 3 April to 13 April 2018as part of the Melbourne International Comedy Festival.
Written by Michael Bobbitt and Jim David, with music and lyrics by John L. Cornelius, II, the show based off the much-loved Jim Davis comics starring Garfield, the lazy cat noted for his love of lasagne, snoozing his days away… and his hatred of Mondays!
Luigi Lucente, fresh from performing Muriel's Wedding the Musical for Sydney Theatre Company and Global Creatures, will direct. Luigi has appeared in Jesus Christ Superstar (The Production Company), Guys & Dolls (Donmar/ATG), Jersey Boys (Newtheatricals/Dodgers), Wicked (GFO) and The Rocky Horror Show (ATG/GFO). Other theatre roles include Tony in West Side Story (Packemin), as well as touring his one-man cabaret show, Jim Morrison: Kaleidoscope extensively throughout Australia.
"Garfield is more than just the world's largest tabby cat; he resides in the literal and figurative underbelly of all of us. He's the sarcastic look, the cynical voice and carb-loving glutton, manifest into the most timeless and entertaining feline furball. What's not to love!" says Luigi.
Garfield the Musical revolves around the much-loved chubby and sarcastic tabby fantasising about having the most amazing birthday in the history of birthdays. But, it seems that all his friends - Arlene, Odie, Jon and even his nemesis, Nermal - seem to have forgotten. Feeling rejected, Garfield ventures out to find adventure, but quickly learns that "home is where the heart… and the food is."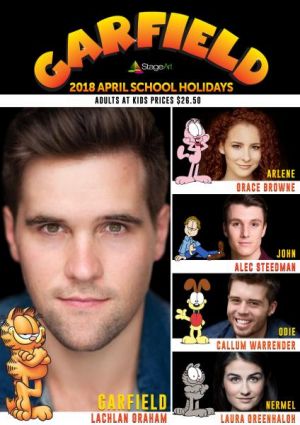 Starring as Garfield is Lachlan Graham. Originally hailing from Bendigo, Lachie graduated from the Victorian College of the Arts with a Bachelor of Fine Arts (Music Theatre). He played Young Ben in the star-studded production of Follies In Concert (StoreyBoard Entertainment) and originated the role of Luke in It's Done as part of the 2016 Melbourne International Comedy Festival. Most recently he was the male swing for StageArt's Falsettos.
Garfield's nemesis, Nermel, will be played by Laura Greenhalgh. In 2015, Laura secured a contract at Universal Studios Singapore, where over the course of 13 months she performed and covered multiple roles in The Mel's Dinettes, Sesame Street Saves Christmas and The Hollywood Dreams Parade. In 2017, Laura toured to Dubai and Singapore with the children's entertainment group Hi-5 and the Chatterbox Playtime! Show. Upon returning to Melbourne, Laura appeared as Meg and a member of the ensemble in Merrily We Roll Along with Watch This and as a member of the ensemble in the Australasian premiere of Memphis with StageArt. Most recently, Laura returned from a tour of Manila with Pen2Stage Productions, where she played the role of Princess Aleah in Aladdin's Adventure.
Garfield's three friends – Odie, Jon and Arlene – will be played by Callum Warrender, Alec Steedman and Grace Browne respectively.
It's a musical fit for the whole family, a fast-paced comedy that spotlights coming of age and the unwavering strength of true friendship.
Even though it's been 40 years since Garfield first graced comic shelves around the world, the show reunites generations of fans with a display that promises playful nostalgia and incredible wit.
Families will be entertained by their favourite grumpy feline who takes to the stage in the show's hilarious musical adaptation with clever songwriting and sharp dialogue; leaving audiences in stitches. Cast members are soon to be announced.
StageArt, led by Katherine Armstrong and Robbie Carmellotti, are excited to be staging their first youth offering and continue to produce groundbreaking musicals that are rarely seen on Australian stages. The company strives to cast its shows with diversity and equality by showcasing the extraordinary talent that exists locally. They are also committed to extending this ethos of inclusion and equality to their audience members by providing a 'relaxed' performance on Monday the 9th April at 10.30am.
StageArt presents Garfield – The Musical with Cattitude
as part of Melbourne international Comedy Festival
From 3 April to 13 April
Chapel off Chapel
12 Little Chapel Street, Prahran
Tickets on-sale from 27 January via http://bit.ly/GarfieldTIX
More Reading.