Three is Ainsley Melham's lucky number. It's the number of wishes his character Aladdin is granted by the Genie and it corresponds with stretches of good fortune in his life that have catapulted the 24-year-old into the title role of the latest Disney extravaganza to land in Australia. David Spicer reports.
Ainsley Melham can honestly say that his job involves flying on a daily basis, but instead of hopping onto a plane, or into a helicopter, his mode of aerial transport is a magic carpet.
"It was a beautiful experience the first time. Arielle (playing Princess Jasmine) and I try to remember what it was like the first time we were on it," he said to me just before he was due to start warm ups for a performance at Sydney's Capitol Theatre.
"We are like little kids every night. I can't believe I get to do it as my job."
It seems that the best view of the theatre is from the carpet.
"All perception of height and depth leave you. The lights go down and it's just you on the carpet, as you can't see the audience or the stage anymore. It's quite fun."
Is he allowed to stand up?
"No, those riding on a magic carpet must be seated at all times. Standing up is a no no!"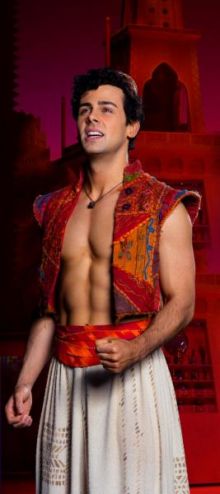 Does he wear a seat belt?
"Yes, we have to make sure we are secured in the correct position."
Ainsley Melham's career has been one happy magic carpet ride. He first caught the performing arts bug as a three-year-old when he commenced dance lessons in his home town of Bathurst, in regional NSW.
Whilst he can't remember when he was not dancing, his parents sent him to what he describes as an "all Rugby school", St Stanislaus College.
"The school supported me and fostered my love of singing and dancing, but I was different to all the other Rugby boys. They were putting on their boots and I'd put on my tap shoes for dance lessons."
After school hours he joined the Carillon Theatrical Society.
"When I was very young I played a little orphan in Oliver! I did Barnum the musicaland played Tom Thumb. It was so wonderful to be involved in a community theatre like that.
"My life has been in the three year stages. I finished my schooling and my drama teacher said, 'if you want to continue this you have to go to this place called WAAPA.' I'd not heard of it before.
"She helped me fill out the forms. So (I auditioned) and there it was. I was spending three years at WAAPA."
He went straight from school to WAAPA, and straight from WAAPA into paid work.
"After graduating I did my final showcase in Sydney and Melbourne. There was an agent looking to cast for kids TV. I was in the right place at the right time and got cast in (the children's television series) Hi-5. I thank my lucky stars as I wouldn't be here without that.
"I spent three years with Hi-5 and now we're in this wonderful production of Aladdin (which hopefully) might be another three year project."
The audition for Aladdin was at another level entirely.
"It was a process. I spent a couple of months in and out of the audition room - dancing, reading and singing all through December and January this year. It was nerve-wracking and a big learning experience."
What did he learn from it?
"The main thing is to have a go and be yourself. You can't fake it. You just have to hope you are what they are looking for."
Now that the show has settled in, he can relax and enjoy the ride.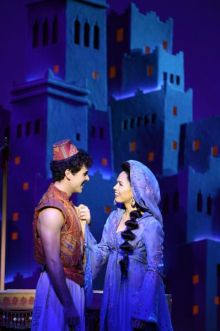 "Disney does not do anything by halves. They have such big hearts and pour their energy into the show.
"They also take pride in treating the company in a beautiful way. It makes you excited to come to work and perform at your best."
Helping Ainsley make his main stage debut are two Broadway leads – Michael James Scott as The Genie and Arielle Jacobs as Jasmine.
"I have been soaking up their knowledge and experience. They have such a great energy on stage; they just go for it and I have followed to make Aladdin my own."
This was a very diplomatic response from Ainsley, as the casting of two Americans in the leads put some noses out of joint in the Media, Entertainment and Arts Alliance (they don't complain, however, when Aussies get lead roles on Broadway or in the West End).
Ainsley also reads from Disney's manual on the interpretation of Arabian culture in the musical. The almost constant appearance of buffed male chests and female midriffs is one aspect that doesn't look very authentic.
"When dealing with material like this it is heightened and fantasized to a certain degree. This style of theatre is an escape. The audience is coming to forget about what is happening in their lives."
He says, even so, the look, feel and energy of the show and clothing are taken from Middle Eastern influences.
When I spoke to Ainsley it was two weeks after opening night. The production is expected to tour after it finishes in Sydney.
Ainsley's favourite part of the musical is not riding the magic carpet (maybe you can feel like that when you have clocked up lots of flying hours).
What excites him most is the Cave of Wonders, when his character walks into a cave filled with eye popping gold and jewels.
"Turning around and seeing that stunning set just shine back at you blows my mind every evening. You can hear the audience sitting there with you and the gasps coming from them after the set flies in.
"It's a dream come true, and a big wish, that I am doing this."
Aladdin is on stage at Sydney's Capitol Theatre, with a Melbourne season to follow from April 2017.
Photographer: Deen van Meer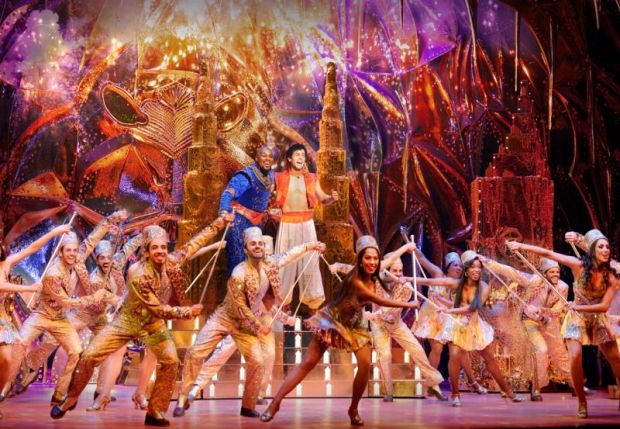 Originally published in the September / October 2016 edition of Stage Whispers.
More reading