The Sydney Opera House Concert Hall will be transformed into a vibrant Manhattan street corner during January 2019 for the Sydney return of In the Heights, Tony Award-winning musical from one of America's most acclaimed writers and producers, Lin-Manuel Miranda (Moana, Hamilton).
Combining the sounds and rhythms of salsa, soul, hip-hop and merengue with street dance and rap, this revolutionary musical had its Broadway debut in 2008. In the Heights takes audiences on a journey into the lives of the residents of Washington Heights – a New York City neighbourhood on the brink of change – and in the process poignantly captures what it means to chase your dreams while staying connected to your community.
The characters of Washington Heights grapple with love, lust, identity and ambition – from Usnavi: the first generation Dominican-American kiosk owner facing rising rents and gentrification, to Nina: forced by poverty to drop out of her Ivy-league school, and Benny: the ambitious wannabe entrepreneur. All the while, the promise of a life-changing lottery ticket hangs in the air.
Sydney Opera House Head of Contemporary Performance, Olivia Ansell, says: "In the Heights will thrill audiences this summer. The wit of Lin-Manuel Miranda's lyrics and playful dexterity of a Grammy Award-winning, rap-infused Latin score, together with a diverse all-Australian cast, shows us what a real modern musical should be. This exhilarating production filled with heart, energy and a melting pot of cultures will take over the Concert Hall with enough salsa-fuelled sass to leave you begging for more."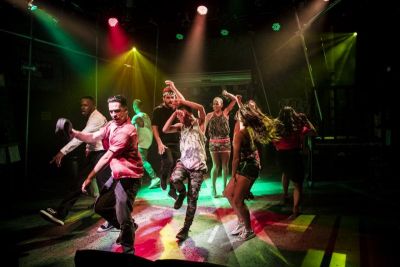 These Sydney Opera House performances as part of Sydney Festival follow a sell-out season at the Hayes Theatre Co. earlier this year, which saw tickets disappear before the opening night. Directed by Luke Joslin and produced by Blue Saint Productions in association with Neil Gooding, In the Heights at the Sydney Opera House features a diverse cast of Australian performers.
Featured Artists: Stephen Lopez (Usnavi), Joe Kalou (Benny), Olivia Vasquez (Vanessa) and Luisa Scrofani (Nina).
Performing Company: Marty Alix, Monique Montez, Libby Asciak, Alexander Palacio, Ana Maria Belo, Margi de Ferranti, Richard Valdez, Stephen Tannos, Will Centurion, Michelle Rozario, Samantha Bruzzese, Romina Villafranca, Keanu Gonzales, Romina Villafranca and Dayton Tavares.
Nominated for 13 Tony Awards in 2008, and winning four including Best Musical, In the Heights is a unique musical experience.
EVENT DETAILS
WHAT: In the Heights
WHEN: 16- 20 January 2019
WHERE: Concert Hall, Sydney Opera House
PRICES: From $49 + booking fee
TICKETS: Tickets on sale to the general public Friday 28 September 2018
Photographer: Grant Leslie.
More Reading