Desperate times call for desperate measures. During previews for Love Never Dies, line changes came so fast and furious that Ben Lewis, playing the Phantom, jotted them down on the handiest prop. Lucy Graham went backstage to peak behind the mask.
STOP PRESS: Ben won the award for Best Actor in a Leading Role in a Musical at the 2012 Sydney Theatre Awards.
Backstage at the Regent Theatre is a rabbit warren. Costumes line the walls: wigs, feathers, tulle, and an array of moustaches hang on the wall. Ben Lewis strides confidently ahead: blundstone boots, black beanie, and coffee to go. He oozes confidence, but not the gung-ho variety. It reads,this is who I am, take it or not. Two costume attendants sit on the floor, mending, and smile as we pass. Three hours out from curtain, and backstage is effervescent. Voluptuous singing rolls along passageways, and laughter trickles through change room doors.
Landing the role of Phantom in Love Never Dies at Melbourne's Regent Theatre means English-born Ben Lewis, 31, has "never been pushed to this extent before". While he doesn't describe himself as superstitious, Lewis admits a preference for fairly structured ways.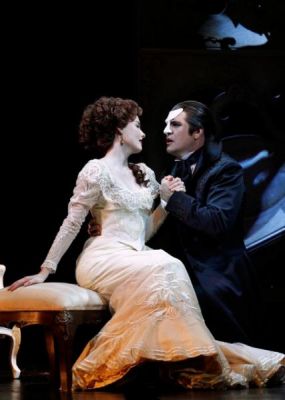 "We didn't do two shows exactly the same until opening night and the second night. Preview week, I had 6 or 8 line changes. One of them was four completely new lines to be swapped at the end of Act 1. I got back from the dinner break and realized I had no chance of remembering them. They wanted them in that night, so I wrote them on the mask cause it's the bit where I take the mask off. I shamelessly acted hard into the mask and read the lines straight off the back. It was a pretty crazy week."
Lewis has a history of scribbling lines onto things. At St. Georges College in Hertfordshire, UK, Ben was cast in his first play as Dandy Dan in Bugsy Malone.
"Bugsy Malone got appendicitis on opening night, and I had to do it. I literally had one day, and I was not anything to write home about at all, and wherever we could we literally wrote lines on the backs of set. I sort of joined the dots for the night. When you're that age it's water-off-a-duck's-back. These days it would drive me to tears."
Lewis was born into an operatic family in Hampstead, London. During his childhood his family went back and forth between England and Sydney's North Shore. Growing up was "noisy – we were a pretty loud bunch". Ben's parents used their substantial contacts to raise funds for Warrawee Primary School where Ben and younger brother Al attended.
"My parents started doing fundraising concerts at Warrawee. They were generally called Richard Bonynge and Friends. We got Richard to come and conduct, and mum and dad would get anyone who was available from the opera company to come and sing up at Chatswood Town Hall. They used to raise lots of money for the music department and now there's an award named after my parents that's given to one of the young music students."
"I wanted to be a conductor for a while. I remember I went to a day where you had to dress up as what you wanted to be and I went as a conductor, because I was quite infatuated with what my parents did."
"I'm very proud of my family. As a kid I grew up in the Opera House, before the days of security. I just used to walk in and out of stage door. I kind of grew up sitting on the perch of the Opera House, which was amazing. But then as I grew older I drifted away from that."
From the age of 13, Lewis was a keen sportsman, with cricket, tennis, golf and athletics, and three games of rugby a week for about three years.
"That was my real passion. I did my final two years at Newington College in Sydney. They take their rugby very seriously. That was when I stepped back and realized that I probably lacked the commitment to go any further with it."
Lewis had long been infatuated with the idea of English universities and undergraduate societies, so on finishing school he began an Arts degree at Sydney University, connecting with the Sydney University Drama Society, and smoking a lot of cigarettes before dropping out three-and-a-half years later.
Next Ben enrolled at ATYP (Australian Theatre for Young People) – a "cool place" - won a scholarship and flew to London to study rudimentary vocal technique at The Royal Academy in music theatre. At this time Lewis was introduced to the Estill method, an approach that remains the basis for what he does today. Returning home, he auditioned at WAAPA, alongside his brother. Both were successful.
But Ben was not certain life was on the right track. During his second year, motivation waned. His partner, and now wife, had graduated from WAAPA and returned to the east coast. They had pledged to try to stay together, and he was "depressed" and "uninspired".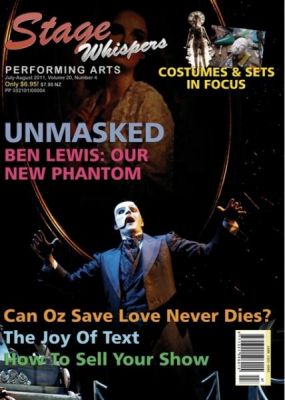 "WAAPA were very generous and gave me a few weeks off in the middle of the second year. I just needed to have a think about it, and when I came back Tony Sheldon was our visiting director. To this day Tony is an inspiration to me. It really picked me up and I just flew through the remaining time there, and I didn't struggle. I owe him a lot. He's a special guy."
Singing the Phantom after the likes of Anthony Warlow, providing cohesion and making his own mark on the role, is a tension Lewis has not found insurmountable. Warlow, the original Phantom in Phantom of the Opera, is a longtime family friend who "used to do Astro Boy impressions for me when I was a kid".
"He's been my hero for a long, long time. If you're a guy in Australia, most look to Anthony. He's an incredible performer. I feel privileged to have a crack at the same role."
Lewis reckons the key to approaching the role in Love Never Dies is to recognise it offers a completely different perspective on the Phantom.
"In Phantom he appears all over the place. He kills people. But in Love Never Dies it's much more about him as a man. He talks to people in this show. He doesn't have that same power and is forced to communicate.
"The things that happen in our show are monumental in terms of a person's life, and they could happen to anybody. There are revelations, questions of mortality and the point of your existence, and what you can offer other people. In that sense its quite universal subject matter.
"When I approach things I always look for something I can relate to rather than it being some intangible thing," says Lewis. "Michael Jackson came to me very early because in our production the Phantom has created a world for himself, a playground surrounded by freaks like himself, but for the entertainment of children, and there are lots of children in our production as well. The Phantom is part of the freak show. He never had a childhood. He had very little human contact, and I just saw the links with Michael Jackson, who suffered in the same way."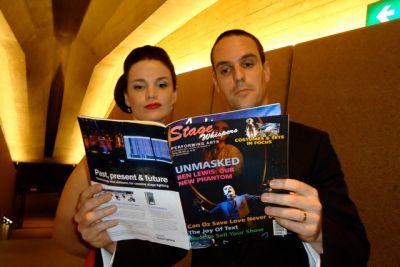 Costume and make-up preparation alone for the show takes best part of an hour. On a one-show day, Ben eats at about 4pm, and undertakes a physical warm up for about 30 minutes, building up a sweat stretching, running around, and doing push ups. "I find the physical part more important than the vocal, and I can't really warm up the voice until everything else is really working for me."
Ben begins his vocal warm ups at about 6pm. "There are people who don't warm up ever. I'm normally pretty good, but with a show as demanding as this, I find I have to really pump myself up. Then I spend the hour before the show sitting in a chair. I go hard, then sit in a chair, and I'm ready to go.
"I'm working with a company that does everything properly. As actor and an employee that's a great feeling. Shows don't always have the support they deserve. I feel very lucky to be involved in this and to have all these people, who are great at their jobs, looking after us."
As for advice for anyone starting out, Ben Lewis barely hesitates before he says: "Just be brave, be passionate and back yourself in. Don't try to be anyone else. It's a constant battle to have faith that you're enough. Let people see you for who you are. Don't make small choices when big bold brave ones are there to be had."
Ben Lewis in 60 seconds
Worst habit – making my wife repeat questions, because I have vagued out at an important moment in a sports match.
Favourite item of clothing – blundstones or Sydney Swans scarf
Favourite singer - Kurt Elling (jazz).
Role you'd like to play someday - Catch me if you canrole Norbert Leo Butts is playing.
Pets – not since I was a kid. I love dogs but the lifestyle does facilitate it I'm afraid.
Best gift – the first day I met my wife.
Least favourite household chore – dusting – it's bad for the voice.
When all else fails…….? - squeeze harder.
Hero – Tony Sheldon and Harry Connick Jr.
Hidden talent – mouth trumpet.
World's biggest problem – lack of free to air AFL in Sydney.
Images: Production images including our May / June cover by Jeff Busby. Ben Lewis and wife Melle Stewart check out this article, originally printed in our May / June 2011 print edition.
Further Reading
Smon Gleeson: The Dark Side of Raoul