On September 11, 2001, the terrorist attack on New York and Washington forced 38 planes and 6,579 passengers to land in Gander, Newfoundland, almost doubling the population of the remote Canadian town. Their experience inspired the Tony Award winning musical Come From Away. David Spicer spoke to the producers of the musical during auditions, ahead of the Melbourne opening.
When I met the Sue Frost and Randy Adams in a hotel lobby, the producers were in a jolly mood. Every time they discussed how unlikely the success of this project was, they giggled.
"The writers came to us with their first show - My Mother's Lesbian Jewish Wiccan Wedding - and our advice to them was - change the title," said Sue, before she burst into laughter.
"They said no, we won't do that. We stayed in touch and later met in Toronto. They said we are going into workshop with this new musical called Come From Away. It is about all these planes being diverted to Gander during 9/11."
"Good luck with that!" quipped Randy.
"We thought, another bad title. Then a year later we saw a 45 minutes excerpt of it in a festival and just went crazy for it," said Sue.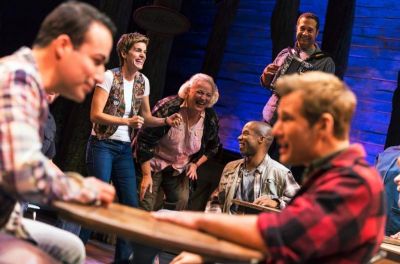 "We told them we don't know what this is. We love it. It is a great story. Not sure it is a Broadway musical, but we think it will have a big life," said Randy.
Michael Rubinoff, a Canadian lawyer with a passion for musicals, had the original idea.
"He approached a number of writers who thought that a 9/11 musical is not a good idea," said Sue.
"David Hein and Irene Sankoff were just intrigued enough and just starving enough to say let's try it."
"They got a grant to go out to Gander, Newfoundland, on the 10th anniversary of 9/11. People came back from all over the world because their experience was life changing."
"They were there for almost a month, and they interviewed anyone who could talk to them in depth. They came back with hundreds and hundreds of hours of stories and started to put it together."
The truth is this is not really a 9/11 story, but rather a 9/12 story.
Gander in Canada is unique in that it is a small, isolated country town on the east coast of Canada but it has an enormous military airport that used to be a major re-fuelling stop.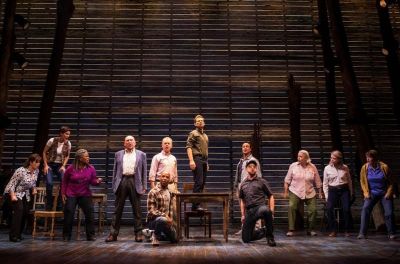 "It is a town of 9000 people and they literally had 7000 people land on their doorstep. They just opened every community centre, every church and hall," said Sue.
"Then they said, we don't want you sleeping on that door step, why don't you come to our house and have a meal. A lot of friendships developed out of it.
"The Newfoundlanders don't think they did anything special. (They think that if) somebody needs something you get it for them. They need food, shelter and emotional support, that is what you do."
"They still get surprised at the reaction. (The people say) we just made them sandwiches. It is no big deal," said Randy.
What would have happened if the planes landed somewhere in America? Would they have been treated as well?
"That is the question. You would want to hope so," said Randy.
"We both grew up in small towns. I think that in small towns it is prevalent that everyone takes care of everyone else. What is unique is that Newfoundland is an isolated place. The folks there are so used to taking care of each other, because of that isolation," said Sue.
In some cases the stranded passengers formed lifelong relationships.
"Everything about this is absolutely true. It came from interviews with the real people," said Sue.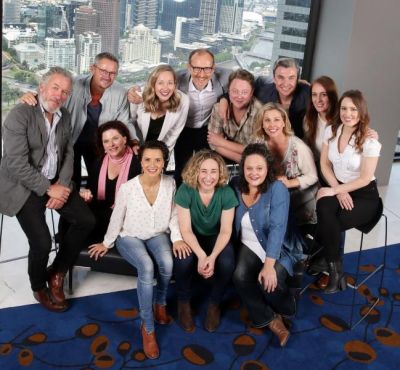 "One of the stories in the musical is about a Texas woman and a British guy who met there and fell in love. They are still married. They are huge in the story. They have seen the show 30 or 40 times.
"There is a story about having to come out and get diapers for the little ones. One of the little ones came to see the show. She is like 18 now. The stories just keep coming."
In Australia for the auditions, the producers were looking for cast members who could reflect the authenticity of the characters. Some musicals require athletic looking 42nd Street dancers – this one needs random looking passengers.
"An audience member said it was so refreshing to see real people up there. I think they are all shapes and sizes and ages," said Randy.
"It is not about finding carbon copies of people. It is about finding the spirit of these people and finding the essence of folks who are unassuming and take care of people."
"Everyone in that original company was over 40 years old," said Sue.
It also led to a spooky coincidence.
"What was crazy is that the woman we cast as the pilot looked so much like the pilot we based the role on. (At the audition) the actor came in and nailed the song, then when the two of them met and eyeballed each other, they both said I know who you are."
Come from Away is 100 minutes long with no interval. There are 12 actors in the musical who become 80 or 90 characters.
"They switch (character) on a dime. There are eight in the band, who are on stage as well," said Sue.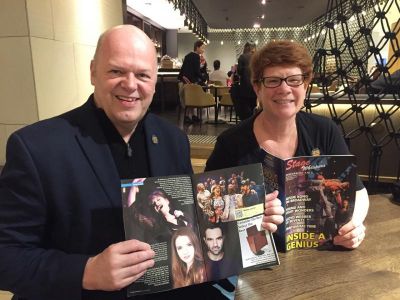 The music is described as a mixture of Broadway ballad and Celtic rock.
"There are a lot of Celtic instruments. There is hand drum, a guitar, mandolin fiddle and accordion. It is a cool sound and there is nothing like it."
The musical went on a very long journey before it made it to Broadway and won the Tony Award for Best Musical. A quarter of a million people had seen the musical in Canada and the US prior to New York. The most ecstatic reception was at an ice-skating rink in Gander, which, according to the producers, went crazy.
The musical is only scheduled so far in Melbourne – the Producers would like to take it to Sydney but are having trouble finding available theatres.
Sue Frost said the lack of available theatres in Sydney is short-sighted.
"Industries bubble around a vital theatre community. We do the demographics of what Broadway means to New York. It is massive to restaurants, shops and hotels."
But if a theatre is not available, the producers might need to go looking for an ice skating rink or a vacant church hall.
Come from Away opens at the Comedy Theatre Melbourne in July 2019.
Images: (top three) Original Broadway cast (photographer: Matthew Murphy); at the Australian cast announcement and producers Sue Frost and Randy Adams.
More Reading