Revivals of classic musicals dominate the landscape in 2019. Musicals new to Australia are harder to find, but provide the highlights of the year.
Charlie and the Chocolate Factory
Capitol Theatre Sydney from January.
Roald Dahl's most popular book sold 20 million copies and spawned two movies. Now Australia gets the chance to see a replica of the Broadway musical production of the classic.
Critics applauded the lavish sets and costumes, especially on those repulsive Oompa Loompas. The darkness of Dahl's original vision, however, has been sweetened.
Willy Wonka will be played by Paul Slade Smith, who is currently appearing in the Broadway revival of My Fair Lady.
Four Sydney boys - Tommy Blair, Ryan Yeates, Oliver Alkhair and Xion Jarvis (pictured above with Lucy Maunder) - will play the role of Charlie.
Ninety-and-a-half-year-old Grandpa Joe will be played by Tony Sheldon. In the role of Mrs Bucket will be Lucy Maunder. This is sure to be a sugar hit for musical theatre lovers.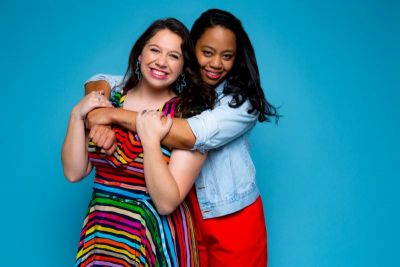 Muriel's Wedding The Musical
Melbourne's Her Majesty's Theatre from March. Sydney Lyric in July.
The opening season of PJ Hogan's musical adaptation of his famous film was described by Stage Whispers as an "Abbasolutely fabulous night in the theatre, that is as refreshing as a popsicle on a hot summer's day, with as much heart and warmth as your mother's baked dinner."
Not only are the songs of the famous Swedish quartet seamlessly integrated into the narrative, but the four band members make frequent return visits as Fairy-Godmother like characters.
Taking on the lead role of Muriel Heslop, in her very first professional stage production, is Natalie Abbott. Like Muriel, Natalie left her small coastal town and moved to the big smoke – Sydney.
"I honestly cannot think of another character I relate to as much as her. This is a dream come true."
Image Images: Natalie Abbott (Muriel) and Elizabeth Esguerra (Rhonda). Photographer: James Green.
Behind the Scenes at Muriel's Wedding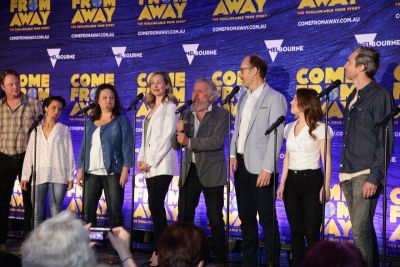 Come From Away
Comedy Theatre Melbourne in July.
This Tony Award winning musical tells a true September 11 story about how 7,000 passengers became stranded in a small town in Newfoundland, Canada.
It was described by the New York Times as a "big bearhug of a musical … even the most stalwart cynics may have trouble staying dry-eyed during this portrait of heroic hospitality under extraordinary pressure."
This musical has a welcome diversity of "normal looking people" in the cast and a fresh sound that is a mixture of Celtic rock and Broadway ballad.
Image Australian cast members of Come From Away.
Read more - Australian cast announced
Read our interview with the Producers
Feature story - Come From Away – the musical that began with 16,000 true stories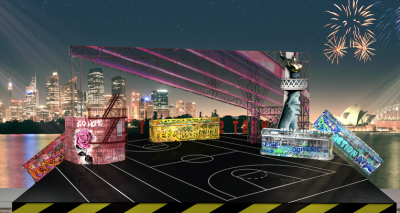 West Side Story
Sydney/Melbourne and Handa Opera on Sydney Harbour.
Too much West Side Story is barely enough.
The modern retelling of Romeo and Juliet, set in a New York City enveloped by bitter tension between two teenage gangs, is having two different productions.
First will be Handa's Opera on the Harbour, opening in March, with an "extravagant" set promised to complement the backdrop of the Sydney skyline and Opera House.
Then an indoor season, with a completely different cast, kicks off first at the Arts Centre Melbourne in April then at the Sydney Opera House in August.
Image: Brian Thompson's design for West Side Story on Sydney Harbour.
Read more about casting of the indoor season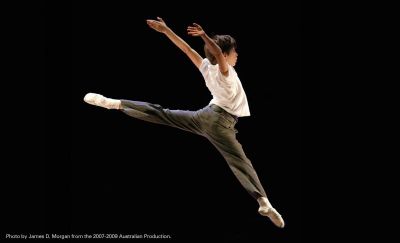 Billy Elliot the Musical
10th Anniversary Tour. Sydney Lyric, October 2019; Regent Melbourne, February 2020; Crown Perth, June 2020; QPAC, July 2020 and Adelaide Festival Centre, September 2020.
Based on the film of the same name, Billy Elliot the Musical follows the journey of a young boy raised in a small British mining town, set against the backdrop of the 1984/5 miners' strike. With music by Elton John, it follows Billy's journey from the boxing ring into a ballet class.
The Producers say that with "clever adjustments" they are able to tour the musical outside of Sydney and Melbourne.
Image from the original Australian production by James D. Morgan.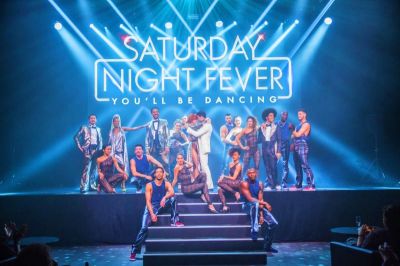 Saturday Night Fever the Musical
Lyric Theatre Sydney in March then an expected national tour.
Based on the 1977 movie starring John Travolta, this is the story of Tony Manero and his quest to break free from conformity and become king of the club.
The movie is credited with defining the 1970's, while the soundtrack remains the best-selling soundtrack of all time with over 45 million copies sold.
Packed with disco classics including the Bee Gees' hits "Stayin' Alive", "How Deep Is Your Love", "Night Fever", "Tragedy" and "More Than A Woman".
Read more - Full Cast Announced.
Interview with Euan Doidge and Melanie Hawkins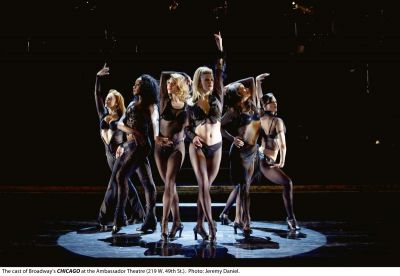 Chicago
Capitol Theatre Sydney then touring.
Based on real life events back in the roaring twenties, jazz slayer Roxie Hart shoots her lover and along with Cell Block rival, double-murderess Velma Kelly, they fight to stay off death row with the help of smooth talking lawyer, Billy Flynn.
Created by the musical theatre talents of John Kander, Fred Ebb and legendary choreographer Bob Fosse, Chicago's sexy, sassy score includes "All That Jazz" and "Razzle Dazzle".
It's been running on Broadway since 1997 and shows no signs of slowing down.
Image: Broadway cast of Chicago. Photographer: Jeremy Daniel..
Tom Burlinson to play Billy Flynn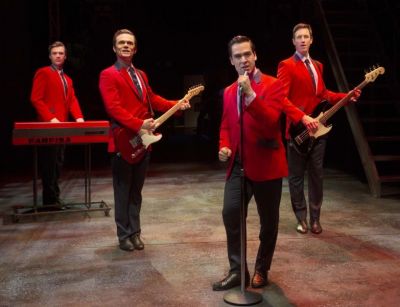 Jersey Boys
Now playing Capitol Theatre Sydney, QPAC in January, then Regent Theatre Melbourne in February.
Jersey Boys has made a return a decade after it first opened here and the show still packs a punch.
The story of Franki Valli and The Four Seasons - four American teenagers with police records who moulded themselves into one of the best selling music acts of all time - is a riveting 'rags to riches' yarn.
All their hits are in the show. The four leads shine and Ryan Gonzales (Franki Valli) has a voice from heaven.
Image: Current Austraian cast (Photographer: Jeff Busby).
Feature story - Musical of the Mob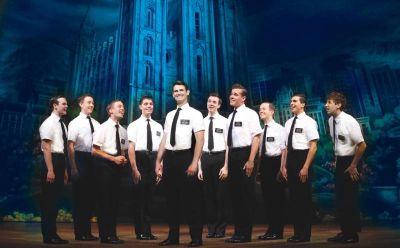 The Book of Mormon.
The Book of Mormon plays at Sydney Lyric until February 8, before moving to QPAC in April, then Adelaide in June.
Praise the Lord, this is one hell of a musical. The first thing to make your head spin is the Mormon church itself. The musical gives a thumb nail sketch of the origins of the Church of Jesus Christ of Latter-Day Saints.
The Mormons deserve a medal for turning the other cheek and ignoring this musical rather than declaring a Holy War on what is clearly blasphemous to them.
Now door knocking with our very own Aussie Elder Price Blake Bowden.
Image: Ryan Bondy, A.J. Holmes and Company in The Book of Mormon. Photographer Jeff Busby.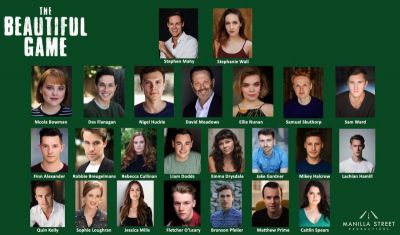 The Beautiful Game
Manilla Street Productions is excited to announce the complete cast of 24 actors who have been chosen for the Australian premiere production of The Beautiful Game by Andrew Lloyd Webber and Ben Elton at Chapel off Chapel from 13-29 September 2019.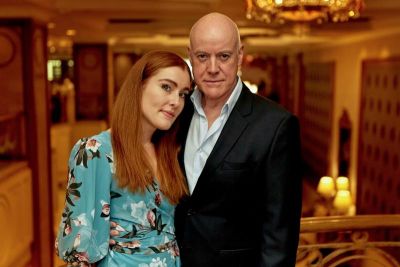 Anthony Warlow and Jemma Rix in Jekyll & Hyde
Concertworks has announced that two of Australia's most popular musical theatre performers, Anthony Warlow and Jemma Rix will star in the first Australian concert production of Jekyll & Hyde in Melbourne on Friday 25 October and in Sydney on Saturday 2 November 2019.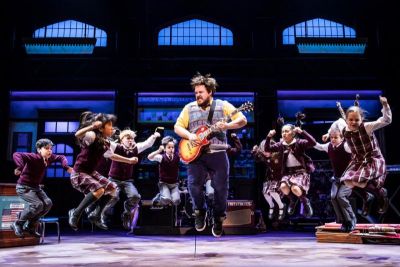 School of Rock.
After a successful season in Melbourne and an Asian tour, School of Rock will tour to Brisbane and Sydney in 2019.
Sydney-based actor, composer and musical theatre performer Brent Hill is playing wannabe rock star Dewey Finn, made famous in the movie by Jack Black.
Andrew Lloyd Webber's new musical is his first major hit of the 21st century.
The real stars are the multi-talented kids who will knock your socks off.
Photographer: Matthew Murphy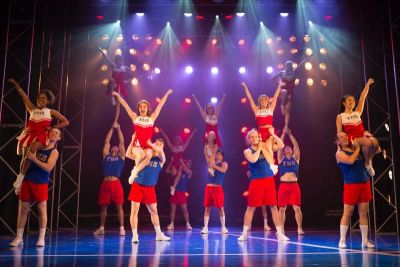 Bring It On The Musical Tours
Producer David Venn has announced the Australian cast for the 2019 tour of Bring It On The Musical. Following an extended premiere season and three Green Room Award nominations, including Best Production of a Musical, the stage show inspired by the cult classic movie of the same name, returns for a national tour with a cast of 28 triple-threat actor-singer-dancers and high-flying cheerleading champions.

Barnum
Comedy Theatre Melbourne in April
A revival of this musical based on the life of the legendary circus showman P.T. Barnum will star Todd McKenney and Rachael Beck.
Producers promise that the spectacle will include Jumbo, the largest elephant; Joice Heth the oldest woman to ever live; a great white whale from Labrador; General Tom Thumb, only twenty-five inches from toe to crown; and the rarest and most beautiful bird in captivity, the Swedish nightingale, Jenny Lind.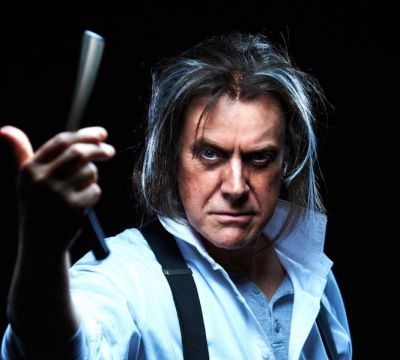 Sweeney Todd
Anthony Warlow and Gina Riley will join forces in a re-imagined concert version of the musical thriller Sweeney Todd: The Demon Barber of Fleet Street. Warlow – Australia's original Phantom – is set to play the 'demon barber' Sweeney Todd, while Gina Riley plays landlady and pie-shop owner Mrs. Lovett in Stephen Sondheim and Hugh Wheeler's 1979 musical masterpiece, playing Sydney and Melbourne in June for six performances only per city.
Celebrating the 40th anniversary of Stephen Sondheim and Hugh Wheeler's ground-breaking work, the production transports audiences into the atmospheric underbelly of 19th century London as the exiled barber Sweeney Todd enacts revenge on those who have wronged him.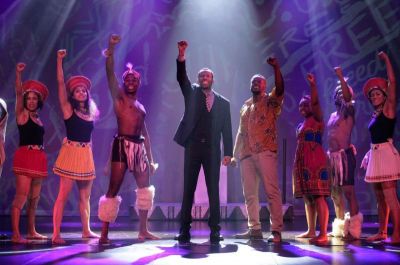 Madiba the Musical - a Celebration of the Life of Nelson Mandela.
On stage in Sydney and Canberra in November 2018, then Perth and Adelaide in January 2019.
Inspired by the life of Nelson Mandela who went from prisoner to President, this show is full of surprises. There is a love story, many funny moments and a mixture of musical styles.
This show has everything from rap, reggae and traditional African to a little Broadway for good measure. The final songs of the show reach fever pitch, culminating in one last rendition of Freedom that will stay with you long after the curtain falls.
Image: Perci Moeketsi and the Australian cast.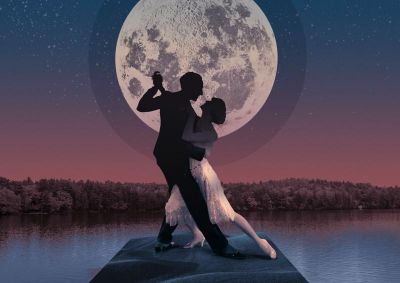 A Little Night Music
Victorian Opera at Arts Centre Melbourne in June / July
Victorian Opera presents Stephen Sondheim and Hugh Wheeler's A Little Night Music in June ,with a cast headed by Ali McGregor, Simon Gleeson, Nancye Hayes and Samuel Dundas. This bittersweet musical comedy speaks of the follies of human nature with heartbreaking accuracy.
Read more about the Victorian Opera season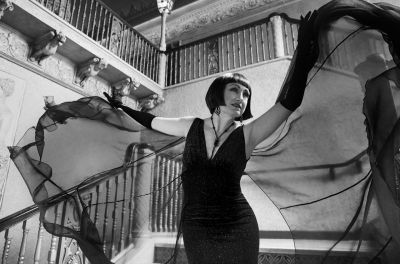 Kiss of the Spider Woman
Melbourne Theatre Company in November / December
The Melbourne Theatre Company closes its 2019 season with Kander & Ebb's Tony Award-winning Best Musical, Kiss of the Spider Woman, based on the powerful and emotive story made famous by the original novel and an Oscar-winning film. The production will star Caroline O'Connor, Adam Jon Fiorentino, Natalie Gamsu and Bert LaBonte.
Photographer: Justin Ridler
Read more about the MTC season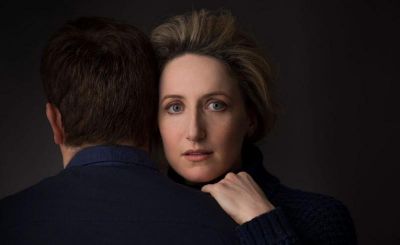 The Last Five Years
Ensemble Theatre in March / April
The Last Five Years, written and composed by Jason Robert Brown, will play at Sydney's Ensemble Theatre. The cult musical about modern love and relationships will feature Elise McCann (Miss Honey – Matilda The Musical).
Read more about the Ensemble Theatre'a 2019 season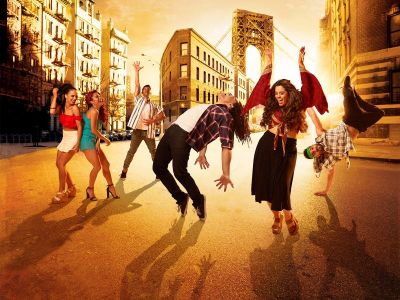 In the Heights
Return season at Sydney Opera House.
The original season of In the Heights by Lin-Manuel Miranda (Hamilton) at the intimate Hayes Theatre sold out before opening night. Now the musical, combining the sounds and rhythms of salsa, soul, hip-hop and merengue with street dance and rap expands onto the Concert Hall stage at Sydney Opera House for a return season from January 16 to 20 as part of the Sydney Festival.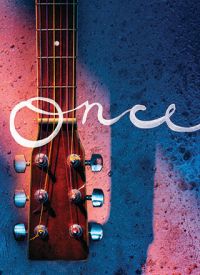 Once
Darlinghurst Theatre in June
Once, based on the John Carney film, is a tender love story of a struggling Irish musician on the verge of giving up and a piano-playing Czech immigrant who reminds him how to dream. The show features an ensemble of performers playing instruments live on stage.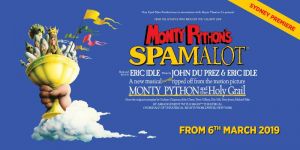 Spamalot
Hayes Theatre Co in March
Monty Python's Spamalot, staged by the team who created Calamity Jane, is lovingly ripped off from the film Monty Python and the Holy Grail. It re-tells the legend of King Arthur and his Knights of the Round Table, who battle their way past various cows, killer rabbits, and French people in pursuit of claiming the legendary Grail.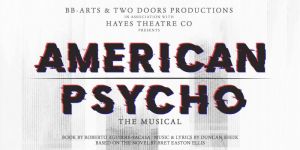 American Psycho
Hayes Theatre Co in May / June
Based on the novel by Bret Easton-Ellis, which also inspired the 2000 film, American Psychois set in the epicentre of excess, New York City, where Patrick Bateman fulfils his dark desires with terrible consequences. It features classic 80s hits from Phil Collins, Tears for Fears, New Order and Huey Lewis and the News. Director: Alexander Berlage (Cry-Baby)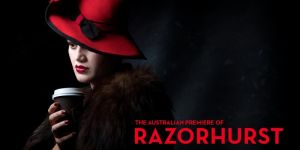 Razorhurst
Hayes Theatre Co in June / July
The Australian premiere of Razorhurst, a new musical with book and lyrics by Kate Mulley and music by Andy Peterson. Set in and around the streets of Darlinghurst, it tells the story of crime queens Kate Leigh and Tilly Devine, examining their famous feud and the criminal empires they ruled over for more than 20 years.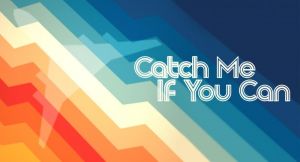 Catch Me If You Can
Hayes Theatre Co in July / August
Catch Me If You Can, with a book by Terrence McNally (The Full Monty, Ragtime) and a score by Marc Shaiman and Scott Wittman, is based on the biographical film of the same name, about con man Frank Abagnale Jr, which starred Leonardo DiCaprio and Tom Hanks. It will be directed and choreographed by Cameron Mitchell.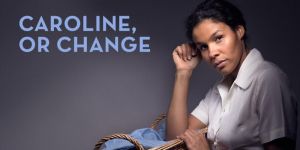 Caroline, Or Change
Hayes Theatre in August / September
Caroline, Or Change starring Zahra Newman (The Book of Mormon) is set in Louisiana at the beginning of the civil rights movement. This musical by Tony Kushner (Angels in America) and Jeanine Tesori (Fun Home, Violet) examines what it means to just want to survive in a world turned upside down by change.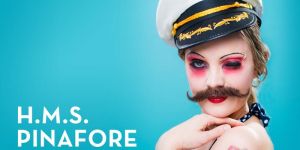 H.M.S. Pinafore
Hayes Theatre in November
Director Kate Gaul will make her Hayes Theatre Co debut with a new production of Gilbert & Sullivan'sH.M.S. Pinafore. Featuring a gender-bending cast, this production promises to be unlike any version of G&S you've seen before.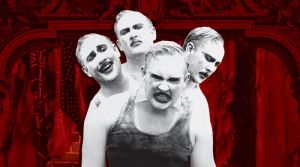 Herringbone
Kings Cross Theatre in January
Squabbalogic Independent Music Theatre returns to the Sydney stage in January 2019, with their first full production since 2017, Herringbone - A Vaudevillian Ghost Story by Tom Cone, Skip Kennon and Ellen Fitzhugh, in association with KXT and Bakehouse Theatre Company.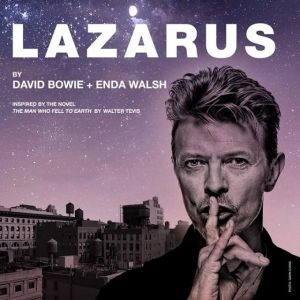 Lazarus
The Production Company has announced that they are bringing the David Bowie and Enda Walsh musical Lazarus to Melbourne in May 2019.
Lazarus was David Bowie's final project, first staged in New York in late 2015. This will be the Australian premiere of this musical. Lazarus features 18 David Bowie songs including 'Changes', 'Heroes' and 'Absolute Beginners'.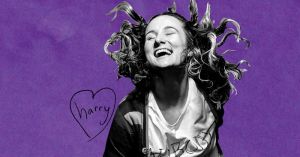 Fangirls
Brisbane Festival, Queensland Theatre, Belvoir and ATYP at Bille Brown Theatre, QPAC in September.
A world-premiere musical by new talent Yve Blake, Fangirls will delve into the intense world of hardcore fan girls. The show is Beyoncé concert-meets religious revival with a wicked sense of humour, exploring love and other big feelings in the age of the internet.
Read more about the 2019 Queensland Theatre season
Read more about the 2019 Belvoir season
2020 and 2021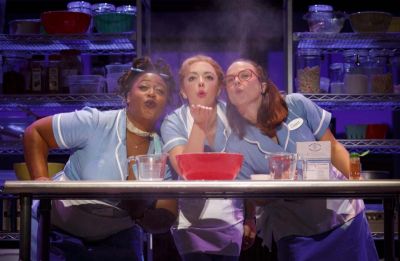 Waitress
Sydney Lyric Theatre - 2020
Waitress, inspired by the film of the same name, tells the story of Jenna, a waitress and expert pie maker who dreams of a way out of her small town and loveless marriage. Waitress is the first Broadway musical in history to have four women in the four top creative team spots, with a book by Jessie Nelson, a score by five-time Grammy Award-nominated singer-songwriter Sara Bareilles, choreography by Lorin Latarro and direction by Tony Award-winner Diane Paulus.
Image: Charity Angel Dawson, Desi Oakley and Lenne Klingaman in the U.S. National Tour of Waitress (photographer: Joan Marcus)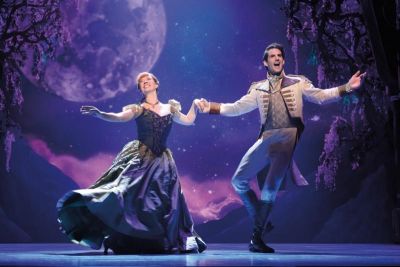 Frozen
Capitol Theatre, Sydney - 2020
Disney Theatrical's Broadway musical Frozen will have its premiere Australian season in Sydney July 2020.
Based on the 2013 film written by a trio of Oscar® winners, Frozen features music and lyrics by the creators of the film score Kristen Anderson-Lopez (Up Here, Winnie the Pooh, In Transit) and EGOT-winner Robert Lopez (Avenue Q, The Book of Mormon, Up Here) and a book by Jennifer Lee (Zootopia, Wreck-It Ralph), the film's screenwriter and director (with Chris Buck). Frozenwon 2014 Oscars for Best Song ("Let It Go") and Best Animated Feature.
Image: Patti Murin (Anna) and John Riddle (Hans) in FROZEN on Broadway. Photographer: Deen van Meer.
Shrek The Musical
Theatre producer John Frost has announced that the Broadway hit SHREK THE MUSICAL is coming to Australia. This lavish multi-million dollar musical will open at the Sydney Lyric Theatre, The Star in early January 2020, followed by seasons at Her Majesty's Theatre, Melbourne and the Lyric Theatre, Brisbane.
Ben Mingay and Luck Durack to star in Shrek
Hamilton
Hamilton will make its Australian premiere at the Sydney Lyric Theatre in beginning March 2021.
Moulin Rouge! The Musical
The Australian production Moulin Rouge! The Musical, will open in Melbourne at The Regent Theatre in 2021.