Earth Angel, a mystical physical theatre production combining dance, aerial circus and live song, will be presented as part of the 2011 Sydney Fringe.
It depicts an epic battle of Light versus Dark, following the journey of an Angel (Tara played by Natasha Marconi) who is sent to Earth in a quest to save the planet against the Dark Lights. In her journey she falls in love with a human, Christopher (played by Chris Tsattalios).
This original production is directed and devised by Maggie Kelley and presented by Wild Spirit Productions. It has original music composed by Angela Little (recipient of APRA nomination for her work on Baz Luhrman's Australia) and dance choreography by Marko Panzic who was a choreographer on So You Think You Can Dance.
We asked director Maggie Kelley about the production.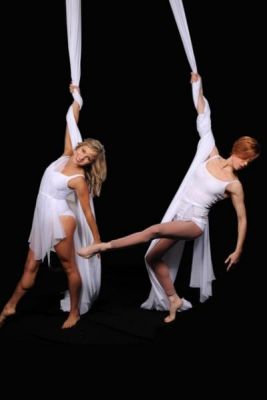 Stage Whispers: Where did the idea for Earth Angel spring from?
Maggie Kelley: I went to a meditation class and we were meant to "still" our minds. As the meditation music floated across my mind I kept thinking of aerial circus and dancing and them being angels. We were meant to meditate for an hour and as I was particularly bad at "stilling" my mind a story played out in my head. It began with the angels dancing and then an angel gets abducted by the "Dark Lights," the bad characters in the story. The story continued to unfold where an angel is sent to earth on a mission that will result in the Dark Lights being eradicated. On her journey she falls in love with a human guy. The story played out during the mediation class and I quickly wrote it down. The story kept popping up in my head from time to time as I thought it would be a great aerial circus/dance production.
SW: What inspired you to combine dance and aerial skills to tell this story?
MK: I think in the initial vision of the story the angels were dancing. I am an aerialist so it was combined. I met with Marko Panzic and we were on the same wavelength, so the project could be brought to life.
SW: How seamlessly can you blend the two disciplines?
MK: It is based on the characters. Two of the angels are aerialists with a strong background and Natasha Marconi, the female lead was willing to learn aerial so we were able to blend the two. Other characters are aeralists due to their character - such as the air spirit is a trapeze artist, Simon Shields, water spirit is Lauren Howes on aerial Lyra, Ashlee Thompson is the fire spirit on Spanish web and Matty Shields is the earth spirit on acrobatic pole. The Dark Light Guards, Mashum Liberta and William Keohavong are dancers, and the Dark Light Queen, Melise Avion is an aerialist with a strong dance background.
SW: Can you tell us a little about the music?
MK: It has an ethereal feeling in the music and rock when the Dark Lights appear. The singer/composer is Angela Little. When I met her, I entwined her into the story so she appears on stage with the cast as the High Priestess Angel and sings ceremonies, such as when an angel is killed by the Dark Lights there is a very touching song she sings which is about finding peace.
SW: Without giving away too much, do you have a favourite moment?
MK: The duo dance - Natasha Marconi and Chris Tsattalios. It makes me cry and choked up the other cast members who were present watching it. It is quite a sensitive emotional moment of overcoming adversity.
Earth Angel plays as part of the Sydney Fringe Festival 2011, at the Seymour Centre Reginald Theatre from 20-24th September.
www.wildpsiritproductions.com.au
To keep up with the latest news and reviews at Stage Whispers, click here to like us on Facebook, or follow us on Twitter.
More Sydney Fringe 2011