The buzz was evident around the rehearsal room at the ABC in Ultimo, Sydney this morning (August 13) as the media gathered for Producer John Frost to introduce the cast of Legally Blonde on their first day of rehearsal.
In between the photo opportunities, and a brief preview from the show, Neil Litchfield had the chance to chat to a few of the performers before their read-through got underway, about their expectations for the first day of rehearsals, and what they love about the musical Legally Blonde.
Is the first day of rehearsals still special for Helen Dallimore (at right in the cast picture above), playing Paulette, after so many wonderful experiences, including creating the role of Glinda in the West End production of Wicked?
"It definitely is. It's like the first day of school, because you're a bit nervous, but you're very excited," Helen answered. "You're going to meet all the people who are going to be your family for however long the show goes for, so it's sussing everyone out.
"Also you sing through and read through the whole show, so it's like auditioning again in front of everybody."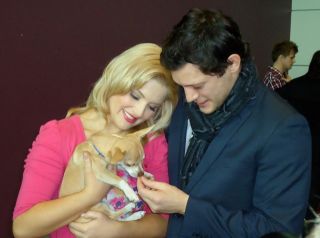 But for your peers!
"Exactly. You've already got the part, and you're sitting there thinking that your understudy is thinking, 'I'm much better than her,' which no doubt she is," she responded, with a joyful cheeky chuckle.
And what is special about Legally Blonde for you?
"What I really like about Legally Blonde is it's got really strong female characters. There's so many shows where the girls and wives are accessories to a plot about the men, but this is about the girls – it's about three women who are judged on their looks, and are all blonde, but you find out that they have a lot more underneath that. And they win out, and challenge everybody's preconceptions about them. So I like, it, because I'm a blonde too."
And your character?
"Paulette has had a bad of luck in life. She's got such a good heart, but she's easily taken advantage of. She finds it difficult to get out of the rut that she's in, but Elle comes along and helps her to become the person she ends up as."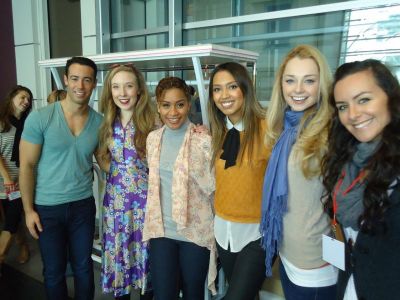 I also had the chance to chat briefly to some of performersplaing supporting roles and in the ensemble about their thoughts on first day of rehearsals and the show.
"I'm looking forward to learning who everyone is, and just interacting with the new cast and new friends," Michelle Barr told me. "The first day of rehearsals is usually really exciting because everything's new and fresh."
As for Legally Blonde itself, she added, "What I love about the show is that it's so positive, and everyone will come out with big smiles on their faces."
"I'm excited to be starting," Renee Burleigh explained. "It's been 18 months since we got cast. Margot is an hysterical role, so I look forward to getting my teeth into something this funny. Legally Blonde is a beautifully constructed musical – it's hilarious, but it's got heart at the same time, which I think is the key to success for a good musical."
As for first day of rehearsals, Renee said, "You can cut the air with a knife, but it's fantastic – getting to meet our new family. By the end of a tour of a musical you get so close. So this is it – this is day 1 of a huge adventure."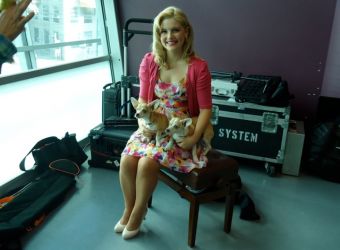 "I'm playing Pilar, Chloe Zuel explained.I can't wait to do the read through, and properly meet everyone. I think I heard the cast recording first, and I loved it like a pop album. Then I saw a video of it – an MTV version, and then I just fell in love with it. When I heard it was coming to Australia, I said, I must get into this show, somehow."
"I'm really excited, because this is my first show," Ashley Bee explained."I'm an unknown, and I'm very nervous and excited."
I asked if that was because she had just graduated recently.
"No, I did a degree in Dance and Education, then I was a teacher, and now I've made the switch."
And attracts Ashley to Legally Blonde?
"I know it's been said before, but the message of being true to yourself is the biggest thing for me."
Legally Blonde plays at Sydney Lyric Theatre, the Star, from September 21, 2012, with Opening Night on October 4.
More photos from first day of rehearsals on our Facebook page