The coveted role of Australia's Elle Woods in the musical Legally Blonde, which premieres on October 4, has gone to Lucy Durack, with Rob Mills as Warner, David Harris as Emmett, Erika Heynatz as Brooke Wyndham and Cameron Daddo as Professor Callahan, it was announced by producers Howard Panter and John Frost, together with the NSW Minister for Tourism, Major Events and the Arts George Souris on March 5, 2012.
It has now been announced (June 1, 2012) that the role of kooky beautician Paulette will be played by Helen Dallimore.
The final ensemble roles have gone to Steve Danielsen, Euan Doidge and Adele Parkinson, joining Michelle Barr, Ash Bee, Renee Burleigh as Margot, Ali Calder as Vivienne, Ryan Gonzalez, Ed Grey, Matt Hamilton, Glenn Hill, Shaye Hopkins, Zoe Jarrett, Nicole Melloy, Ashlea Pyke as Serena, Elenoa Rokobaro, Andrew Ronay-Jenkings, Mike Snell as Kyle, Darren Tyler, Stephen Wheat, Teagan Wouters and Chloe Zuel as Pilar.
Lucy Durack is best known as the good witch Glinda from Wicked. Her other stage roles include Sophie (Mamma Mia!), Peggy Sawyer (42nd Street), Miss Dorothy in the Australian Premiere of Thoroughly Modern Millie, Lois Lane/Bianca (Kiss Me, Kate), Rikki Rose (Respect) and Laurey (Oklahoma!). She also plays Cherry in the feature film Goddess, due for release this year.
Playing alongside Durack are two leading men from the Australian musical theatre stage, Rob Mills as Warner and David Harris as Emmett. Currently hosting Young Talent Time on Network Ten, Rob Mills first came to prominence on TV's Australian Idol, and was later cast as Fiyero in the original Australian production of Wicked, a role he played for two years. David Harris is best known to Australian audiences for his portrayal of Chris in Miss Saigon, and has also appeared in The Boy from Oz, Mamma Mia!, Damn Yankees, Little Women, The Pajama Game, The Full Monty, Wicked and Fiddler on the Roof (with Topol).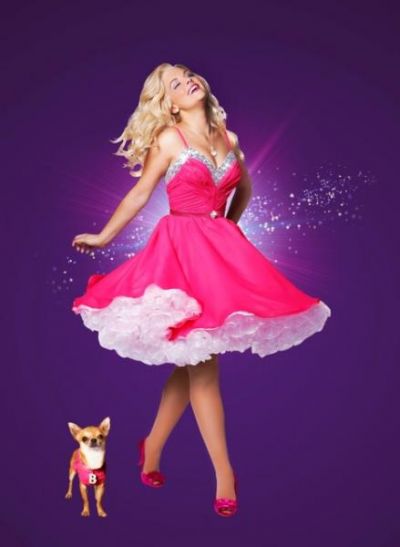 In her musical theatre debut, international fashion model Erika Heynatz will play the role of Brooke Wyndham. Heynatz was the original host of Australia's Next Top Model and went on to win the first series of Channel 7's celebrity singing show It Takes Two, which led to a record deal with EMI Music.
Cameron Daddo returns to the Australian stage for the first time in 20 years to play Professor Callahan. After performing in the musicals Big River and The Wizard of Oz, Daddo relocated to Los Angeles where he performed on the big screen in Big Momma's House 2 and David Lynch's Inland Empire, and guest starred on television in Models Inc, FX - the series, CSI: Crime Scene Investigation, Boston Legal, 24, The Mentalist, Without A Trace and NCIS.
Helen Dallimore, who is a favourite of Sydney Theatre Company audiences from roles in The Wharf Revue, Pentecost and David Williamson's Up For Grabs, made her West End debut as Glinda in the original London cast of Wicked. Her film and television credits include Mr Accident, The Day of the Roses and the 2001 television remake of South Pacific alongside Glenn Close and Harry Connick Jnr.
Howard Panter, joint Chief Executive and Creative Director of Ambassador Theatre Group, the UK's largest theatre group with 39 venues, said, "Legally Blonde The Musical has been a roaring success on both sides of the Atlantic, critically acclaimed, getting standing ovations night after night, and record repeat business. With this stellar cast I have no doubt Australia will take Legally Blonde into their hearts as well and have an Elle of a party at the theatre. I am thrilled to bring Legally Blonde The Musical to Australia, and that I am producing it with John Frost in our first collaboration."
John Frost is very excited with the casting of Legally Blonde. "Lucy Durack proved withWicked she is one of Australia's top musical theatre performers. With her fabulous voice and comic timing, Lucy is the ideal choice as Australia's Elle Woods. Rob Mills and David Harris have both rapidly become the leading men of the Australian musical stage – Rob did a fantastic job as Fiyero in his first musical role, and David has an enviable list of credits. They'll both be terrific.
"Erika Heynatz blew us away in her audition. I love finding talent in unexpected places and I know she is going to make a wonderful Brooke. And I'm overjoyed to be working with Cameron Daddo again after giving him his musical theatre break so long ago in Big River. This is the perfect role to bring him from LA where he has been so successful, and back to the Australian stage. I love Legally Blonde. It is 100% pure entertainment, and I know Sydney will fall in love with the show as much as I have."
The Australian Premiere of this award-winning Broadway and West End musical was secured for Sydney with the assistance of the NSW Government through Destination NSW and the City of Sydney.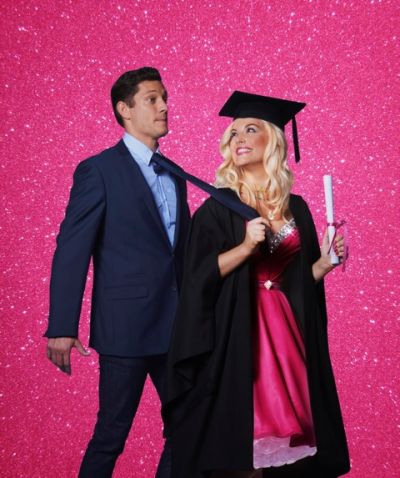 The NSW Minister for Tourism, Major Events and the Arts George Souris said, "Pursuing blockbuster musicals forms a key plank in the NSW government strategy to boost the economy," he said. Mr Souris said Destination NSW estimates that internationally renowned musicals can generate close to $20 million over a 6 month run in direct economic impact.
"We are getting runs on the major events board and further enhancing the NSW Events Calendar. We will ensure that Sydney, the gateway to Australia and NSW, remains number one when it comes to securing and hosting major events in Australia," Mr Souris said.
Legally Blonde is the winner of seven major awards including Best New Musical 2011 (Olivier Awards®).
This all singing, all dancing romantic comedy about knowing who you are and showing what you've got, was based on the movie of the same name starring Reese Witherspoon.
College sweetheart and homecoming queen Elle Woods can handle anything. So when her boyfriend, Warner, dumps her for someone serious, Elle puts down the credit card, hits the books, and heads for Harvard Law School to win him back. With some help from new-found friends Paulette and Emmett plus her Chihuahua, Bruiser, she learns that it's so much better to be smart.
The creative team behind Legally Blonde the Musical is led by Tony Award® winning director and Olivier Award® nominated choreographer Jerry Mitchell (Hairspray).
Legally Blonde the Musical promises to take audiences from the social whirl of California Campus life to Harvard's Halls of Justice with Australia's brightest new heroine (and of course, her Chihuahua, Bruiser).
Legally Blonde had its Australian Premiere at the Sydney Lyric Theatre on October 4, 2012.
Images: Lucy Durack / Rob Mills and Lucy Durack. Photographer: Brian Geach
Bookigs: 1300 795 267 or ticketmaster.com.au Groups of 12 or more (02) 8240 2290
Brisbane season - from March 14, 2013 - Lyric Theatre, QPAC
Melbourne Season - Princess Theatre from May 9, 2013
More Reading
Elle's Legally Blonde Sorority Sisters
Interview with Producer Howard Panter
Musicals in Australia in 2013 and Beyond