Book by Heather Hach. Music and Lyrics by Lawrence O'Keefe and Nell Benjamin. Directed and Choreographed by Jerry Mitchell. Lyric Theatre, Sydney. Opening Night: October 4, 2012. Lyric Theatre, QPAC from March 14, 2013.
It has shopping, a cute Chihuahua, lots of pink and plenty of hunks on display.
Legally Blonde The Musicalpresses all the right buttons for a demographic which is overwhelmingly female.
It's based of course on the movie about a blonde who enters Harvard Law School in a bid to win her snobbish boyfriend back.
The question is does this adaptation work as a musical? The answer is Omigod this is a hit!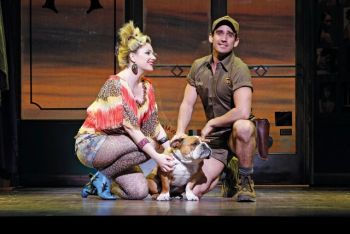 It has lashings of fundamental silliness. Auditioning for Harvard with a song and dance routine for one and camp reunions in a courtroom for another. These moments are invariably accomplished with very clever lyrics and cute music if not any tunes you go out whistling.
Just as the musical is weighted towards women – so too are the performances. With better material to work with, the girls outshone the boys.
Lucy Durack shone brightest as Elle Wood. She won the audience from the outset – waiting hilariously at a posh restaurant for a proposal, then defiantly heading off to Harvard. Lucy Durack has laid the groundwork to be the new diva of music theatre in Australia.
Helen Dallimore as kooky beautician Paulette was another stand-out. She milked every joke to perfection.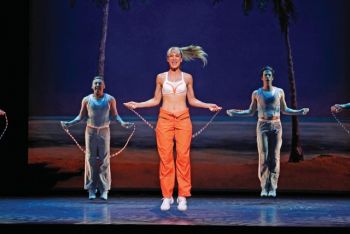 Also impressive was international fashion model Erika Heynatz, making her music theatre debut as fitness queen Brooke Wyndham.
Rob Mills looked perfect for the role as the silver spoon in his mouth sleaze bag boyfriend Warner. However he was a little too nice. To make the most of this role the audience needs to loathe him. Maybe he should take more posing off lessons.
As a result we didn't barrack enough for the real Mr Nice – the character of Emmett – played by David Harris.
Likewise Cameron Daddo as the Professor Callahan was a little underwhelming.
But this is a musical where the female characters develop and the men are at times cardboard cut outs.
Given the weight of drama and music theatre is often in other direction – Legally Blonde The Musical should be celebrated as the ultimate chicks musical.
David Spicer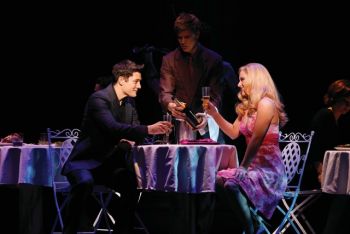 Neil Litchfield adds
The smile didn't leave my face from start to finish, during this feel-good escapist musical. The 'ultimate chicks musical', probably, but as a bloke who loves his musical theatre, this one landed splendidly for me too.
Honed in the West End and on Broadway, Legally Blonde is slick, polished piece, affectionately tongue-in-cheek and impressively performed by a top notch Australian company.
David mentions the 'hunks', but the female supporting performers and ensemble rate special mention too. While their work as sorority sisters sets the show off to a sparkling start, the rope-skipping Whipped Into Shape, led by Erika Heynatz is an absolute showstopper.
Personally, Lucy Durack and David Harris make Elle and Emmett's shopping scene a huge highight, while the dogs, Bruiser and Rufus, are absolute show-stealers.
Delightful musical theatre entertainment!
Images: David Harris as Emmett and Lucy Durack as Elle; Helen Dallimore as Paulette and Mike Snell as Kyle; Erika Heynatz as Brooke; Rob Mills as Warner and Lucy Durack as Elle & blow, the cast of Legally Blonde. Photographer: Jeff Busby.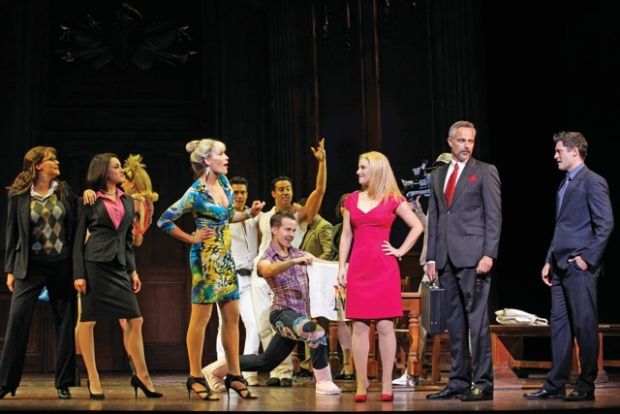 Our earlier coverage
Legally Blonde The Musical: Australian Cast Announced
Elle's Legally Blonde Sorority Sisters
Our preview video