Coral Drouyn reports.
Several thousand years ago King Midas made everything he touched turn to gold (which must have made showering difficult!). But King Midas is a myth. Entrepreneur John Frost, however, has the same skill, and he is very much alive and kicking buttocks in the theatre world.
One can almost imagine the conversation between the amazing Frost, as Producer, and much lauded Director Simon Phillips….with some liberties taken.
'In a perfect world what would we do next? It's the lead up to Christmas, so how about a pantomime for adults. Something crazy with a three strand storyline….kind of like "Neighbours", only funnier…much, much funnier. And it wouldn't hurt if we could find a STAR….a really big star to play the lead. One who doesn't mind showing his knees, because Togas would be great! WE should wear them too. Better still two or three stars; hey, it's an imaginary perfect world, why not NINE…with a swag of awards between them? Oh, and we need a score by the greatest musical comedy lyricist and composer of all time. And let's invite him to the opening. After all, it's a perfect world, let's go for it. Now where's the doctor with our medication?'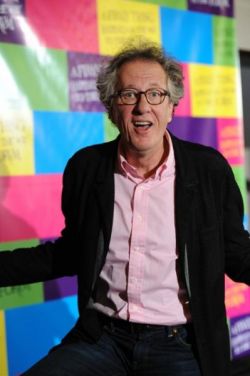 It may sound like pie in the sky but, yesterday, that imaginary perfect world became a reality for all of us. Geoffrey Rush (do I really need to say Australian Of The Year, Oscar, Tony, Emmy awards?), arguably our greatest actor ever, introduced a stellar cast of principals – brilliant comic actors all – to launch the classic "A Funny Thing Happened On The Way to The Forum" with music and lyrics by Stephen Sondheim and a hilarious book by Burt Shevelove and the wondrous Larry Gelbart ( Mash, Tootsie). It was made more special by us all gathering in the upstairs bar of Her Majesty's (The Maj) where the show premiered nearly 50 years ago, and where current cast member Bob Hornery was part of that original cast. I saw that production and still smile at the memory of a magical night of theatre, and this promises to be so much better.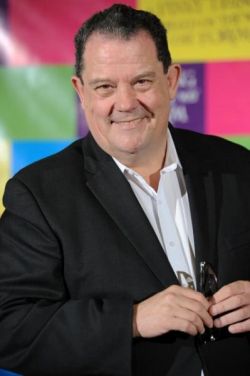 Rush, a consummate master at holding an audience, was almost upstaged by the effusive Shane Bourne – a household name to all of us; and Magda Szubanski, looking curvy and younger than ever, but still with her biting wit. Gerry Connolly was beamed in from Edinburgh on a monitor, (No, there is no truth to the rumour that it was HE, as Her Majesty, who jumped from James Bond's helicopter at the Olympics – though I'm sure he would have loved it) as was Packed To The Rafters favourite son Hugh Sheridan who was clearly excited at being in a show he had seen as a child (NOT the original production).Christie Whelan, she of the long legs and outsized talent, almost dwarfed the cast. Last seen in Melbourne only last month in "The Producers", she's been described by Mr Rush as "delicious" and "a joy". Avid theatre goers will cheer at the inclusion of Mitchell Butel….surely one of our most versatile and awarded comic actors (what a joy in Avenue Q). Adam Murphy is one of New Zealand's finest exports and he and the 80+ Bob Hornery round out this astonishing cast of principals…."something for everybawdy – comedy tonight."
I haven't mentioned the roles they'll be playing because we are all going to see it anyway, aren't we? That is, if we're quick enough to get tickets for a season which only runs 12 weeks from Oct 27th. It is going to be the hottest ticket in all of Australia, as it is NOT going to other states according to Mister Frost – so start looking for cheap airfares if you're not in Melbourne.
There was an overwhelming sense of excitement and anticipation as we all mingled over mineral water and finger food once the formal part of proceedings was over. "What's not to love?" Shane Bourne said. "It's a fabulous show with a dream cast. It's going to be a hoot and I'm planning to have a ball. It's a toss up who will have more fun – us or the audience."
My money is on the audience, and Mr Frost's judgement is on the money. Pure Gold!
Photographer: Jim Lee Photo
August 14, 2012