Lucy Graham reports.
Stephen Sondheim will attend opening night of A Funny Thing Happened on the Way to the Forum starring Geoffrey Rush at Her Majesty's Theatre in Melbourne this October 27th.
Sondheim will also appear at Her Majesty's on October 22 in One Evening with Stephen Sondheim.
The announcement was made at Melbourne's Old Treasury Building this morning (June 18, 2012) by director Simon Phillips and producer John Frost, suitably attired in togas and sporting a jovial mood.
Director Simon Phillips said he was "pixelated at the thought of working on this show", describing the script as "a perfect musical confection".
Phillips laughingly said when conceiving of the season they wanted to "put together a group of the most irresponsible actors we could find on the grounds that the boundaries between scripted text and improvised text would be blurred to the point of unidentifiability."
Phillips said Geoffrey Rush was "born to play Pseudolus", the central character in a comical farce played at breakneck speed, revolving around a cunning slave who will stop at nothing to win his freedom.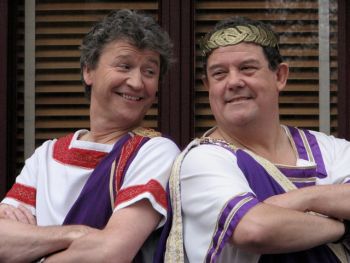 Frost described Her Majesty's as the 'spiritual home' of Forum, as when JC Williamsons put it on 1963 will a full cast of imported artists.
Regarded as one of the silliest, funniest farces ever to be written, 'Forum' is limited to a twelve week Melbourne-only season because of theatre availability and Rush's schedule.
Phillips said the "spirit of the show" would be embraced by Australian audiences because "there's something rough and unexpected and mischievous about the way the show plays," he said.
Forum will also star Mitchell Butel (Hysterium), Shane Bourne (Senex), Magda Szubanski (Domina), Gerry Connelly (Marcus Lycus), Adam Murphy (Miles Gloriosus), Bob Hornery (Erronius), Hugh Sheridan (Hero) and Christie Whelan (Philia).
Gabriela Tylesova will design the costumes and sets, while the creative team will also include Andrew Hallsworth (Choreographer), Matthew Frank (Musical Director), Guy Simpson (Musical Supervisor) and Dean Bryant (Associate Director).
Official launch with cast photos