Melbourne's Forum To Premiere Sondheim's Unsung Lyrics
Lucy Graham was at the media preview of A Funny Thing Happened on the Way to the Forum at Her Majesty's Theatre, Melbourne today (October 25), where she spoke with cast members including Geoffrey Rush.
According to Geoffrey Roy Rush, Melbourne audiences will be treated to Sondheim's 'as yet unperformed lyrics' when the show opens at Her Majesty's Theatre this Saturday.
Speaking to Stage Whispers this afternoon, the 61 year-old actor revealed the song in question is 'one of the major numbers, which has always traditionally been done as a choreographed dance number for all the courtesans in the brothel. [Sondheim had] originally written verses for them to sing. So Simon [Phillips] said, We're going to reinstate that.'
After a forty-year acting career, it's surprising to learn it is possible to astonish the Triple Crown actor (with Academy, Tony and Emmy awards to his name), and yet last Friday night's preview was something of a revelation.
'As we discovered at our first preview, when you have 1800 people [in this theatre] they bark. They bite back at us with an energy that I don't think I've ever experienced at quite that level,' Rush mused. 'The show's got some ingredient that's above and beyond what's on the page. It kind of ignites in the house and it gets a bit out of control. It felt like a rock n roll stadium the other night. People were clapping along in the first number. I've never experienced that.'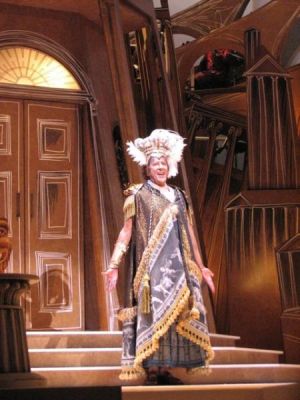 Rush is top billing in a comedic cast that oozes hilarity, hijinks and mayhem. Speaking to Stage Whispers today was another of the show's drawcards, the inspirational Magda Szubanski (Domina). Wearing an extraordinary red wig, Szubanski said she was 'loving playing such a haughty bitch'.
'I haven't managed to get through one show yet without laughing,' she smiled. 'This is a funny, funny bunch of people. It's rare in the theatre that you really belly laugh, but this show has got really big laughs. That's kind of an indication of the kind of night you're in for. But really if you put this bunch of people together its either gonna fall apart and degenerate, or its going to work. And its going gang-busters.'
Asked about her favourite moment in the show, and Magda chuckles, barely pausing for breath.
'Look, I think I was born to do this and I want to do it all the time - I do like being taken around in a chariot by a slave. I love that. I've just taken to it a little too well, it just feels so right,' Szubanski murmured.
Announcing the show last June director Simon Phillips had said he wanted to gather a cast of the 'most irresponsible actors' he could summon. It seemed pertinent to ask if the goal had been realised, and the only cast member who wavered was Adam Murphy (Miles Gloriosus).
'I think he has, but not with me. I'm very responsible. I turn up on time, do my job and try and keep it all together cause everyone's crazy,' he grinned. 'It's great because in front of an audience things happen and things become something else and you can't control it. It's different every night.'
While Stephen Sondheim's planned patronage of the Melbourne-only season has been delayed by medical advice after a broken wrist, Geoffrey Rush has relished the chance to engage directly with the show's creator.
'It's a great opportunity to talk straight to the horse's mouth, you know, What does this mean this gag here? And he'd say, Oh in the original production it happened like that, etcetera etcetera, so its been very good.'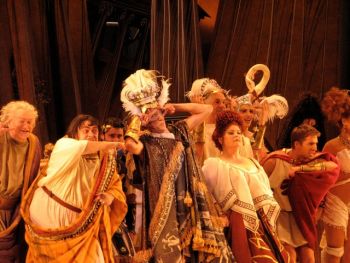 According to Rush, Sondheim regards the Melbourne production as the 'global 50th anniversary official production'.
'It was nice to be accoladed in that way,' said Rush.
As to why the preview audiences been so tickled pink, the Australian of the Year has a theory.
'Theatre is a public space. In our newspapers and blogs and tweets and facebook the public discourse has become very manicured and very polite, annoyingly tragic, and uninspiring. I think people are ready to laugh at the preposterous and at how ridiculous everything can get.'
Ask for Mr Rush's favourite moment in the show? Hmmm, well he dances quite a bit, including a 'bit of tap', and has pulled out a few old tricks, but no.
'This is a burlesque, show tunes score, and particularly when the great brass players we've got here let rip and when you're down stage. Feeling that behind you its pretty special.'
Forum stars Geoffrey Rush as Pseudolus, Mitchell Butel (Hysterium), Shane Bourne (Senex), Magda Szubanski (Domina), Gerry Connelly (Marcus Lycus), Adam Murphy (Miles Gloriosus), Bob Hornery (Erronius), Hugh Sheridan (Hero) and Christie Whelan (Philia).
Simon Phillips is drrector, Gabriela Tylesova is costume and set designer, while the creative team also includes Andrew Hallsworth (Choreographer), Matthew Frank (Musical Director), Guy Simpson (Musical Supervisor) and Dean Bryant (Associate Director).
Forum began previews at Her Majesty's on October 20, with opening night on Saturday October 27.
Photo Gallery - Photographs by Lucy Graham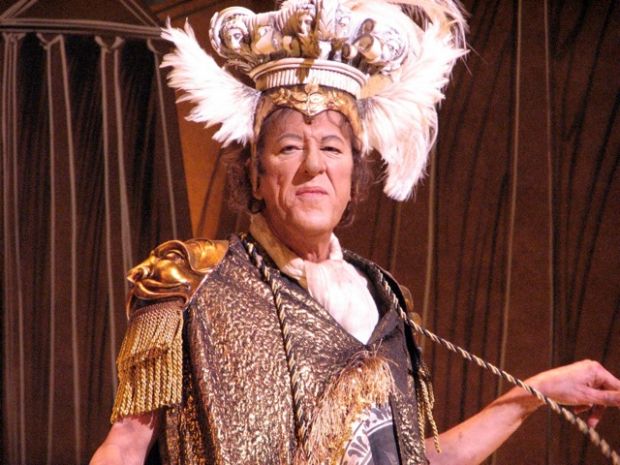 Geoffrey Rush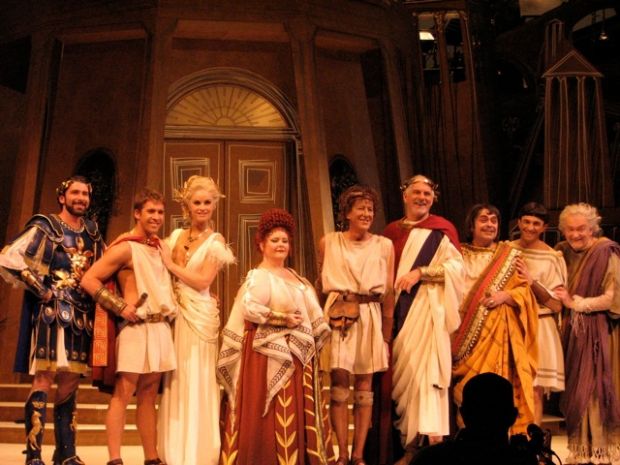 Forum's Star-Studded Line-up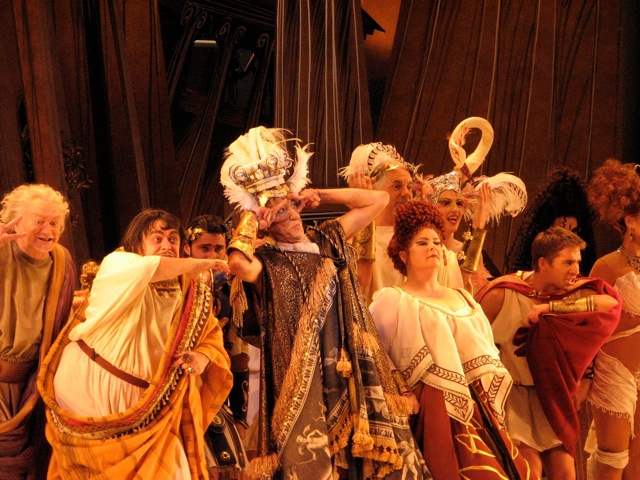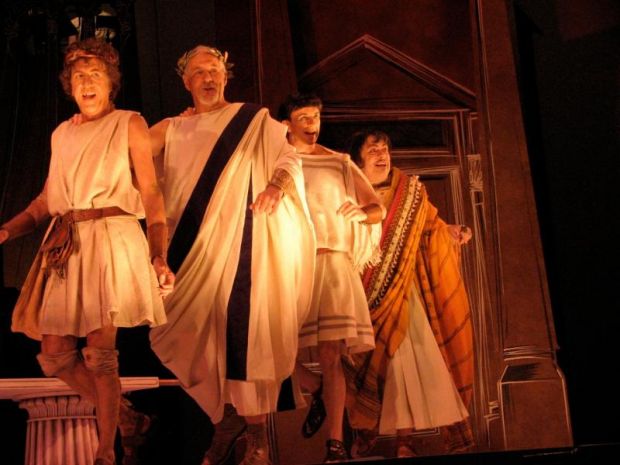 Geoffrey Rush, Shane Bourne, Mitchell Butel and Gerry Connolly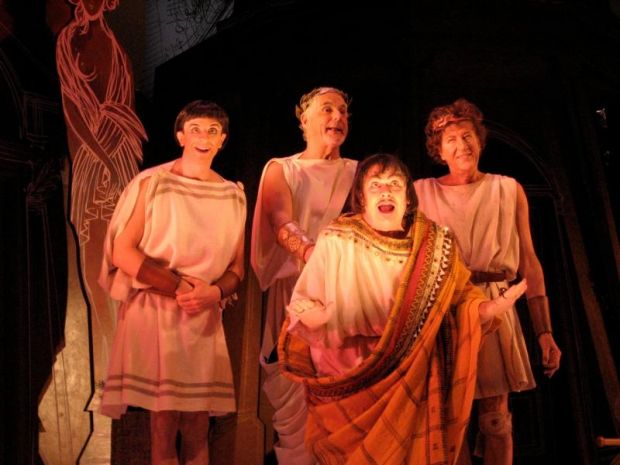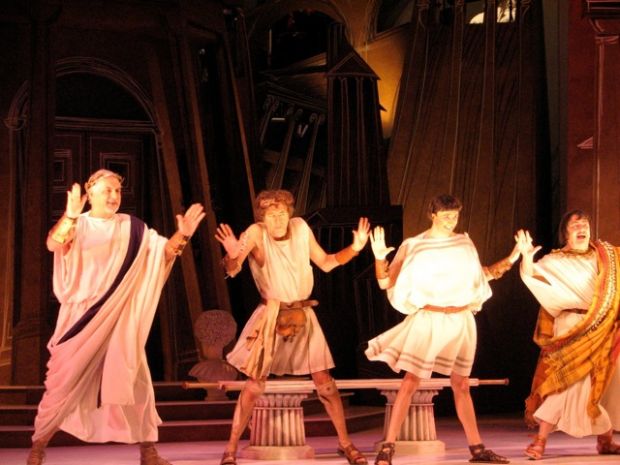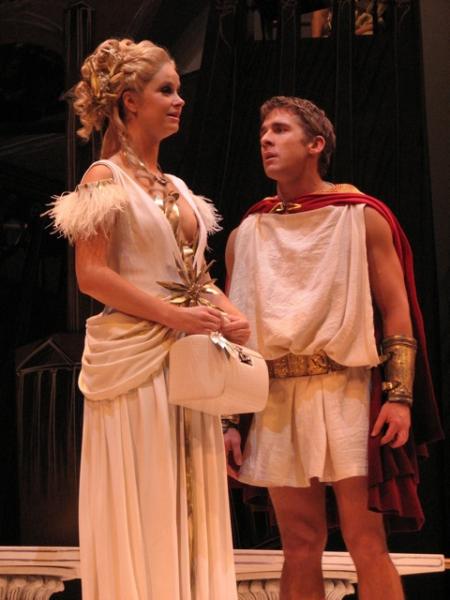 Christie Whelan and Hugh Sheridan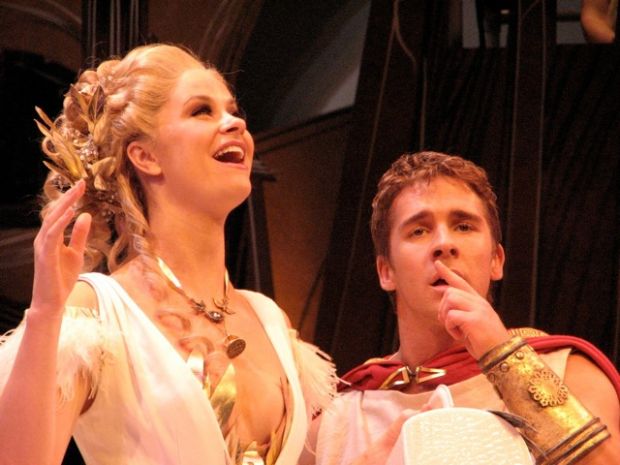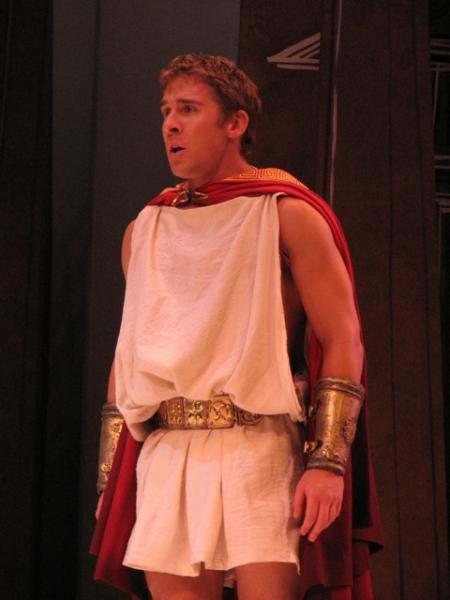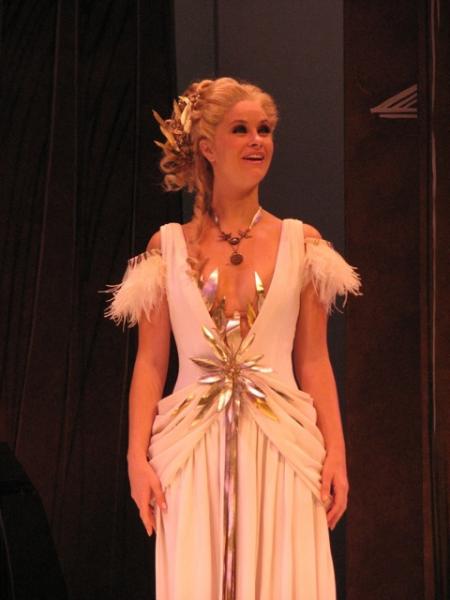 Magda Szubanski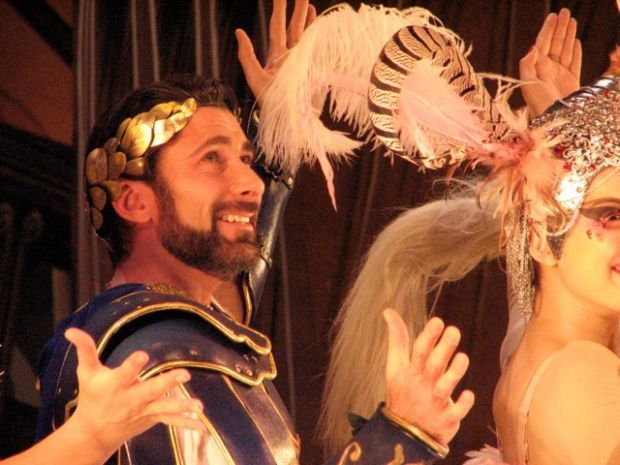 Adam Murphy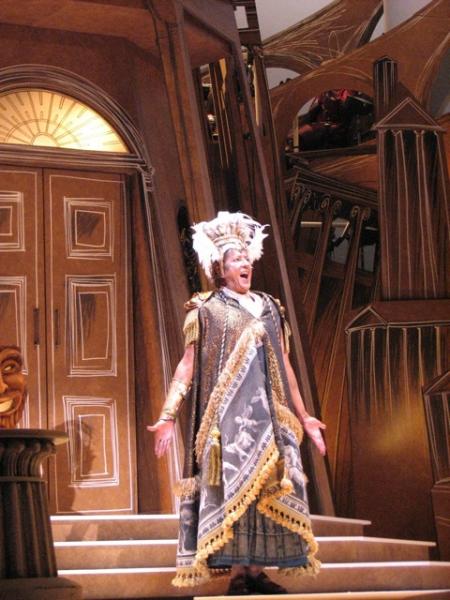 Geoffrey Rush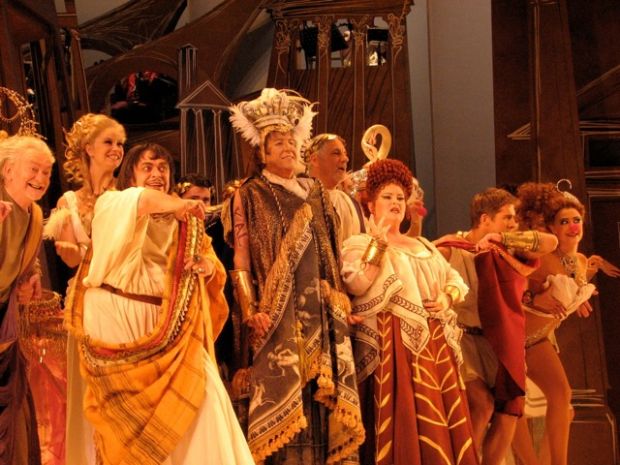 The Forum Company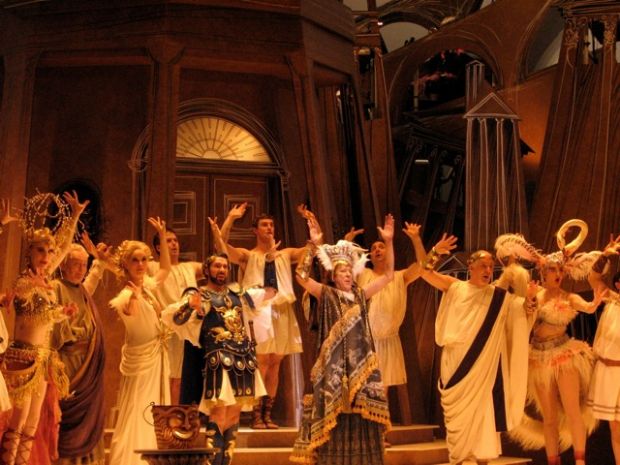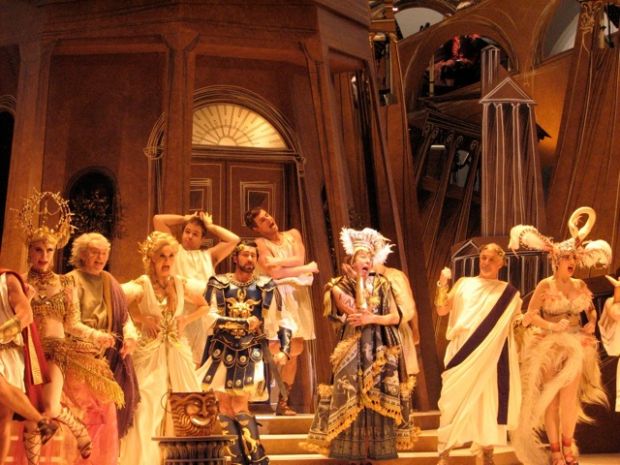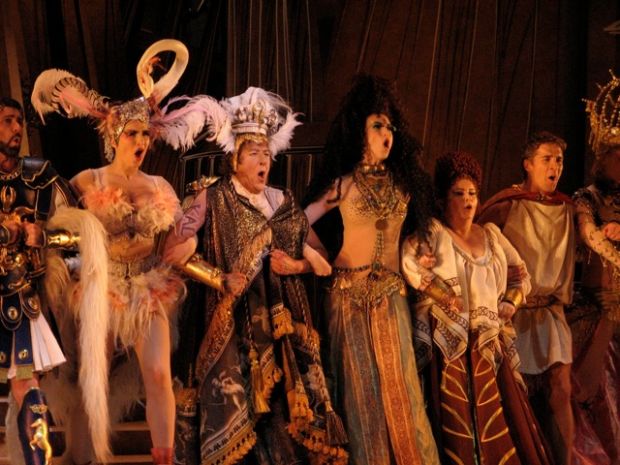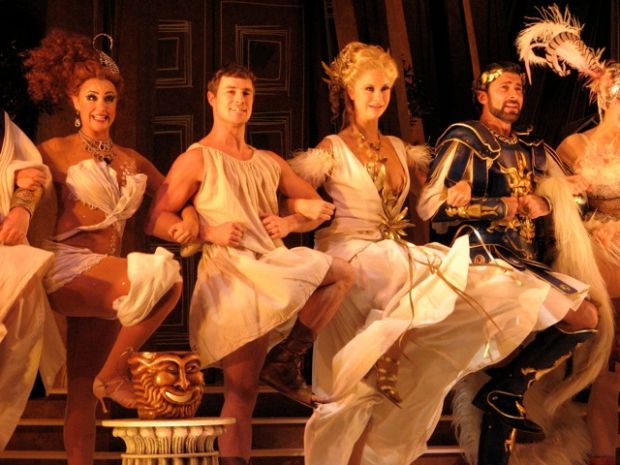 Video - Meet the Forum Cast
Video - Lovely
Our most recent coverage.