It has officially started - Forum Fever. Three of its smiling victims, Mitchell Butel, Shane Bourne and Bob Hornery, diagnose their symptoms, and for Coral Drouyn the laughs prove infectious.
Defined as an overwhelming feeling of excitement and energy coupled with trepidation and a strong attack of the heebie-jeebies, Forum Fever has been incubating since June 2012, but reached epidemic proportions in Melbourne on Sept 17th, when the cast finally started rehearsals for Stephen Sondheim's A Funny Thing Happened on the Way To The Forum. So far there have been no reported outbreaks of rashes, except a rash of singing – most particularly "Something familiar, something peculiar, something for everyone; a comedy tonight." It's a joyous musical with an amazing cast, but don't be complacent. This is an official caution; it's a fever that is highly contagious and likely to spread like wildfire in Melbourne from October 20th.. I was lucky enough to catch up with three of Forum's comic stars before they were fully infected, and get their take on the up-coming hysteria.
Mitchell Butel plays Hysterium, the head slave in the house of Senex. "technically I'm in charge of Geoffrey Rush," he tells me with his tongue in cheek. "Though actually there's no way I'm in charge of Geoffrey. I'm actually in charge of Pseudolus, played by Geoffrey, a conniving slave trying to gain his freedom; and we're both owned by Senex – who is the henpecked husband of Domina. That's about as much as I've made sense of so far, except there are lots of crazy plot twists concerning children stolen by pirates, mistaken identity, disguises and banging doors. It's all wonderful mayhem."
Mitch is noted as a brilliant comic actor and I won't even mention the amount of awards he has been nominated for or won; it's excessive to say the least. Yet every one of them is deserved. "They're lovely, of course," Mitch says with bashfulness, "Because mostly they are peer awarded; and they do help to raise an actor's profile so that maybe I get offered more exciting roles. But ultimately, I just love the work. I never wanted to do anything else. I put my hand up for every school play and I was happy to play the character roles that no-one else wanted. It didn't matter if it was a freak or a septuagenarian, just something I could get my teeth…or gums…into. I didn't get the girl, but I got the laughs."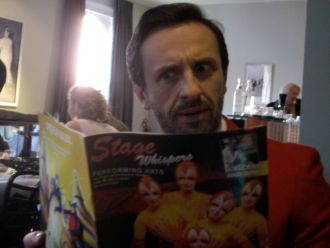 Mitch is philosophical, "My Dad's a great amateur singer, but when you're brought up in Maroubra there's no way you can say 'I want to wear makeup and dress up and be on the stage for a living.' So I went to Uni to study law – figuring I could dress up and act in court. But in the end I got my degree in drama. This business is my home. And strangely enough my Dad is my biggest fan." Mitch delighted audiences in Avenue Q and has a slew of fine credits in both drama and musical theatre, but Sondheim is very different. "Sondheim is always wonderful, complex and challenging" Mitch explained, "I've actually performed his Assassins, which is quite dark. The good thing about this show, in contrast, is the sheer joy of it. It's possibly the last of the true Musical Comedies as they were defined up to the end of the sixties." It's an added bonus that Mitch and the cast will meet Sondheim himself on opening night. "I just have to ask him if Bernadette Peters is fun to work with. I'm such a big fan."
I've crossed paths with Shane Bourne many times over the last 30 years so it was fun to actually sit and just chat. We both had family members "In the business" though Shane's father Stan was absent for most of his life. We both became stand up comics before moving on to other sides of performing, and we both know how addictive a live audience can be. "You can't beat it. It's the immediacy," Shane says, "The spontaneity of the audience. You tell a gag and they laugh or they don't…but if they do, then they're yours, and they'll go with you. I suppose it's validation or one of those buzz words, but there's nothing like it."
Shane is playing the henpecked, sardonic senator Senex. " I'm a bit daunted in some ways to be doing a comedy book show like this, rather than my own shtick, even though I've done a musical before. But I've got Magda (Szubankski) on one side playing my wife (Domina) and Geoffrey Rush…I mean (chuckling) THE Geoffrey Rush, on the other side playing my servant (Pseudolus) – If I can't have a ball in that company then I don't deserve to be here.
It is going to be a hoot for us and the audience." I can see the joy in Shane's eyes as he talks, like a kid getting ready for an adventure. "We're blessed" he says, "Those of us who 'tread the boards' as they used to say. We earn a living…well most of the time… entertaining people, making them laugh, making them feel good. I mean, come on, most people would give an arm and a leg to do that. They'd have a hard job standing up though!" He laughs.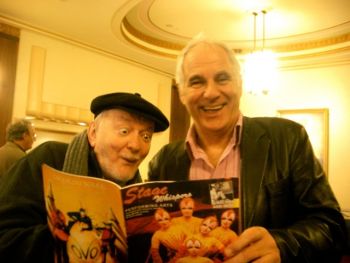 Shane's laugh is infectious as is his natural charm and friendliness. In the past few years though, television drama has taken up most of his time. First MDA for the ABC; then City Homicide for Channel 7 and lately Tricky Business, his new Series for Channel Nine which was given less than a fair go on the programming side. "I have this love/hate relationship with TV," he explains. "Tricky Business had all the ingredients, but it was undercooked and over sauced. It just needed time to evolve. But that's the one thing they never give you."
Is dramatic acting a stretch for him? "It sounds like you've seen me act," he quips, but actually I'm a big fan of his acting. "Well, let's face it, I'm never going to be a threat to Geoffrey in the acting stakes. On the other hand, they say all comics have a dark side – I've heard the saying that manic depression is part of a good comic's job description. I'm not a normally "down" person, but I understand it. I get it. And people don't laugh 24/7 – they can't. Or if they did there would be something radically wrong. I love doing drama, love seeing what I can bring to a role that I didn't know was in me. But boy, I miss comedy when I'm not doing it. It's always going to be where I'm happiest. So this show is the best of both worlds. You know, WC Fields said on his deathbed 'Dying is easy, comedy is hard.' He's probably right – but he forgot to say how much fun it is."
Old actors never die – they just get smaller parts! This could be said of the amazing Bob Hornery who at "84 not out" is an inspiration. Bob plays Erronius, an old man looking for his lost children, stolen years before by pirates. "I'm excited to be alive, let alone working," he tells me. "I was content in retirement, and wasn't sure I even wanted to be back in the thick of it. That feeling lasts a very short time. Once you feel the lights, soak up the ambiance, and find a chair the right height to make up in the dressing room, it's as if you've never been away." Having worked with Geoffrey Rush in the MTC's production of The Importance of Being Earnest he's especially pleased to be on stage with Geoffrey again and with Christie Whelan, who plays Philia. "They're both wonderful to work with. Geoffrey is….well, an amazing actor; quite simply our best. Christie is a very beautiful young woman and has such stage presence. She was so kind and thoughtful to me in Earnest. The whole cast took care of me, and were mindful of my age, but in a respectful way. I was touched. And so, although I truly thought that would be my swansong, when this was offered I thought, well why not?"
Bob's last musical was Crazy for You, but there's a delicious sense of completion for Bob in this production. Bob played Lycus in the original Australian production at the same Melbourne theatre. "I'm hoping I've forgotten all of Lycus' lines," he told me, "Otherwise there's a slight danger I might walk on and say the wrong dialogue. Though, if it gets a laugh we could maybe keep it in."
The delightful Mr Hornery is a theatre legend. From his first acting role in 1949, he has carved out a staggering career both here and in the UK. "I've been very lucky" he says modestly, but his professionalism is known and admired throughout the industry and in 2010 he received the Equity Lifetime Achievement award. "Perhaps I should return it to them for safekeeping," he jests, "Apparently my performing lifetime isn't over yet. And any day I read the obituaries and my name isn't there, is a good day."
"Life upon the wicked stage" is often difficult and disappointing. There are always more knock-backs than knock-outs. But when the chance to create magic appears, as with this cast, we should all embrace it and remind ourselves why we love it so much. Thanks to these three actors for reminding me.
Images: top and bottom by Jim Lee, middle two by Coral Drouyn.
Our earlier coverage.
Stephen Sondheim to attend Forum opening