"Single and ready to mingle."
From understudy to leading lady, Gretel Scarlett steps into the biggest role of her life, as Sandy in the touring production of Grease. Just like the character, made famous by Olivia Newton-John, Gretel has brains to match her good looks, having once studied Nuclear Medicine at Sydney University. David Spicer reports.
At the media call for Grease the chemistry between Gretel Scarlett and her leading man Rob Mills (Danny), was palpable. Hereally wanted to smooch.
Gretel reveals that the feeling is mutual.
"I love Rob Mills. I have a crush on him. He is divine," she swooned.
Do you literally love him I asked?
"No. He is such a gentleman."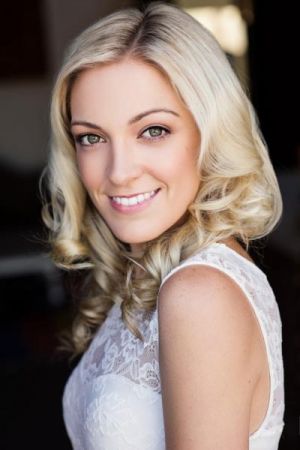 Goodness I thought, wouldn't such on-stage electricity play havoc with your real life relationship? Lucky for Rob there is no boyfriend to get in the way.
"I am single and ready to mingle," she purred.
The pair's mutual attraction helped score them the parts. During the audition a producer told Gretel "You are Sandy."
This is a big rap for a part made famous by Olivia Newton-John.
"It's definitely intimidating. I have not come across a person who doesn't know who Sandy is in Grease. Olivia Newton-John is the benchmark and she is our golden girl. But I am not representing Olivia. I am representing the Aussie girl of Sandy. There is always going to be a little part of us in every performance. That's what makes us unique."
Gretel Scarlett's theatre journey began at four and half, when her parents enrolled her in singing and dancing schools. At eight she 'graduated' into speech and drama.
"When I got to grade ten, I decided I wanted to go to Sydney to the Newtown High School of Performing Arts. I went for five weeks and I was offered a full time ballet scholarship which I did for an entire year," she said.
"However I suffered from stress fractures. I realised ballet wasn't for me. I was (also) not satisfied doing the dancing. I wanted to sing and act as well."
Gretel says she is a true believer in having a backup plan. Instead of going straight into training for performing arts when she left school, she came up with a 'Plan B'.
"I found myself really interested in the bone scans on my stress fractures. I learnt that Diagnostic Radiography can also have a therapeutic role in fighting cancer."
So after school she enrolled in a Nuclear Medicine degree at Sydney University.
If fate had been different you might have met Gretel in lab coat, easing you onto a trolley into a giant scanner. Instead her latest uniform is made of leather.
She found 'joy' in studying nuclear medicine but admits something was missing.
"I knew I belonged to where I am now."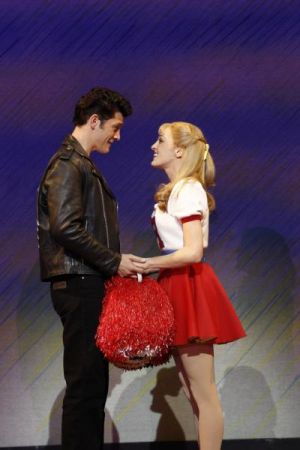 Gretel auditioned for the Musical Theatre degree at WAAPA and got in, graduating at the ripe old age of 20.
"If you use WAAPA to the max, you come out the best person for that age and experience. You don't say I've got a WAAPA degree, I am going to be cast as the lead in the next musical. It just doesn't happen like that.
"Of course it helps get an agent and be recognised. But when you get into the audition room that will show if you have worked hard or not."
Gretel's potential was recognised whilst still studying. She was cast in the production of the Australian musical Breast Wishes. Next came ensemble/minor principal and understudy roles in touring seasons of Wicked and Mamma Mia!
"I had been a professional understudy for the last four years. An understudy isn't meant to go on. I kept rehearsing and waiting for the next thing to happen.
"I didn't even put in to audition for the role of Sandy. It happened out of the blue. This is the big one. This is the big break-through."
How does she find auditions? Are they more nerve-wracking than an opening night?
"Auditions can be quite hard because you have a panel. It could be four people to 14 sitting in front of you. And they can be the most important people, who have the money in the show. And all eyes are on you.
"The thing you have to remember when auditioning is they want you to be good. They don't want you to muck up your lines or fail. So go in there thinking of a positive experience because they want you to be in their cast."
After going in and out of the audition panel the 'immediate chemistry' between her and Rob Mills helped win the audition panel over.
Gretel also feels a connection to the role of Sandy, as she is just the sort of girl who might have studied Nuclear Medicine.
"She is blonde but not dumb. She is an intelligent girl and comes from a privileged background, so I assume she would be the girl that could go to Sydney University. She works hard, goes out and collects leaves for biology, she does her homework, is a very intelligent individual and not well liked."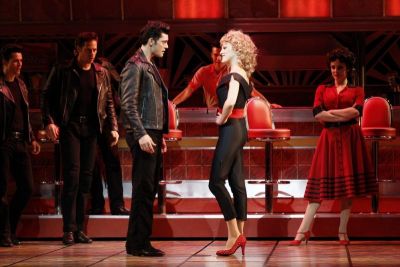 When I spoke to Gretel the cast were just settling in for their Brisbane opening season. Whilst the rest of the cast were meeting at the pub for a drink, she was settling in for a video and home-cooked meal.
"I am a Nanna just like Sandy."
Was she also unpopular at school?
"As a performer we sometimes get targeted at school. I was that girl at school who might try to become a pink lady. I didn't drink or smoke. I did my homework."
At least she won't have to do much homework on the accent - playing an Australian character at an all American school.
"Sandy was written as an American, but Olivia changed it for the movie. It's an interesting experience to do it amongst all the American accents on stage."
But standing out in a crowd is something that comes natural for Gretel Scarlett.
Grease opened in Brisbane at the Lyric Theatre QPAC on August 20, 2013, playing at the Sydney Lyric from October 13 and Her Majesty's Theatre Melbourne from January 2, 2014.
Images: Rob Mills and Gretel Scarlett in rehearsals (Photographer: Matt Watson) and in performance (Photographer: Jeff Busby).
More Grease reading
Interview with Lucy Maunder (Rizzo)
Summer Nights - Australian cast.