Mary Poppins concluded its Sydney season on Saturday December 17, 2011, after a nine month run at Sydney's Capitol Theatre, where it played to an audiences exceeding half a million. The show moves on to Brisbane from December 30, where it plays until March 17, 2012.
In addition to earlier cast changes including Pippa Grandison stepping into the role of Mrs Banks, Simon Burke joins the show as Mr Banks, replacing Philip Quast. Delia Hannah takes over from into Debra Byrne as the Bird woman, and Natalie Gamsu as steps into the role of nasty Nanny, Miss Andrews, taking over from Judi Connelli.
Helpmann Award winning stars Verity Hunt-Ballard (Mary) and Matt Lee (Bert) continue with the show.
Our earlier coverage
The announcement was made today (July 25) by Queensland Premier Anna Bligh and President of Disney Theatre Productions Thomas Schumacher.
Mary Poppins topped the nominations for this year's Helpmann Awards, to be presente at the Sydney Opera House on August 1, with 12 nominations
Mary Poppins creator P L Travers was born Maryborough, in regional Queensland in 1899, so the Brisbane season is a homecoming of sorts. Maryborough holds an annual Mary Poppins Festival celebrating its ties to the famous fictional nanny.
Premier Anna Bligh said:
"I am delighted to announce Mary Poppins is coming to Brisbane, marking the first time a major Disney musical theatre work has been presented in Queensland.
"This story has delighted children and families for generations and now Queenslanders can see this world class production without having to travel overseas or interstate.
"It is especially fitting that Disney's first production here is Mary Poppins as there is a strong Queensland connection to this wonderful story.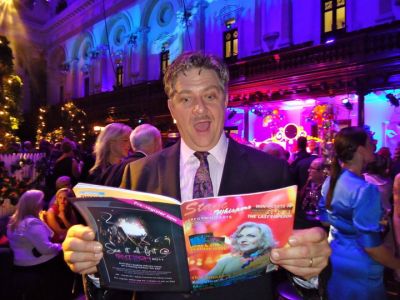 "The creator of these magical characters, Pamela Travers, was born in Maryborough in 1899 in an old bank building which still stands today.
"Each year Maryborough holds a Mary Poppins Festival to celebrate its ties to the world's most famous nanny.
"Now she is coming to Brisbane in a musical production which, since it premiered on London's West End in 2004, has played to millions around the world and won numerous awards."
Disney Theatrical President, Thomas Schumacher said today:
"From the imagination of a young Queensland girl came one of the most enduring characters the world has ever seen.
"We are thrilled to announce that our production of Mary Poppins will open at QPAC this January.
"Walt Disney first fell in love with Pamela Travers' stories when he discovered his own children reading her magical books. 25 years later he made the Academy Award®-winning film and perhaps the greatest triumph of his career.
Many years later and sell-out seasons around the world, we are very proud, together with Cameron Mackintosh, to bring the stage musical of Mary Poppins to Queensland, the state in which Pamela was born."
From London Cameron Mackintosh said:
"The journey of "Mary Poppins" has been a long and magical one thanks to the inspired flight of Pam Traver's imagination from her earliest childhood experiences in Maryborough, where she was born, and her subsequent touring of Australia working as an actress, to the little cottage in Mayfield in Sussex where she first put pen to paper and brought Mary Poppins to life inspiring Walt Disney to make his wonderful movie and now back to the stage, in this hugely successful adaptation, drawn from all her books, finally Mary returns to where it all started in Queensland.
Tom Schumacher and I are thrilled to have assembled one of the world's finest creative teams who will ensure that every night will be practically perfect in every way."
Tickets go on sale on August 8.
Images: Top - Supercalifragilisticexpialidocious - Mary Poppins Melbourne Cast.
Lower - Philip Quast reads our interview.
Our earlier Mary Poppins articles and videos
Pippa Grandison: Stepping in as Mrs Banks.
Mary Poppins Solves Philip Quast's Mid-life Crisis
Practically Perfect in Every Way
Sydney Rehearsal Preview Video.
To keep up with the latest news and reviews at Stage Whispers, click here to like us on Facebook, or follow us on Twitter.